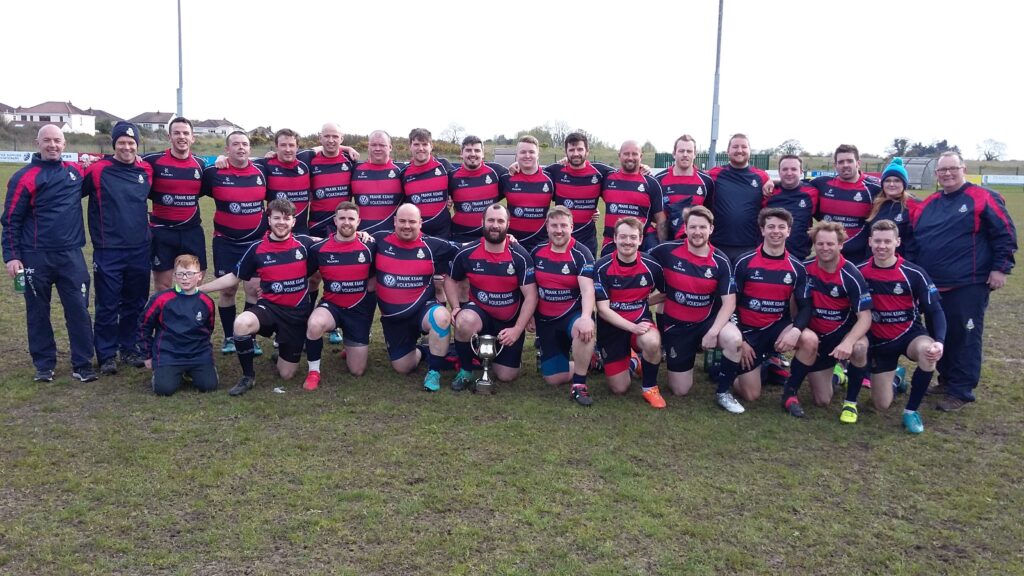 Tallaght 1sts 18
Try: Ken McGovern 2
Con: Rob Hudson
Pen: Rob Hudson, Adam Nolan
DLSP: 10
John Madden Cup Final
Malahide RFC
13/04/2018
The Tallaght men's first team took on DLSP in the John Madden Cup final in Malahide looking to make it a double for the season after they won the Metro 7 league last week. It was an incredibly cold and windy day out by the coast but Tallaght chose to play into the breeze and they put together some good early phases. After some powerful running from Andy Grace, Jack Russell and Joe Ivers, Tallaght earned a penalty near the DSLP line. Skipper Adam Nolan opted against kicking for points and instead took a quick tap. He was stopped but after a couple of phases hooker Ken McGovern forced his way over the line for a try. Rob Hudson converted and Tallaght led 7-0.
Tallaght continued to dominate with centre Padraig Jones making good yards on each carry. Second row Alan Moore was also terrorising the DSLP lineout with several steals. Their pressure eventually led to a penalty near the posts which Rob Hudson converted to give Tallaght a 10-0 lead after 25 minutes. Tallaght perhaps got a little complacent after that and DLSP fought their way back into the game. DLSP had some very dangerous backs and Tallaght were finding it hard to put them down in the tackle. Eventually the pressure told and DLSP went through for a try in the corner and then kicked a superb conversion to make the half-time score 10-7.
In the second half Tallaght had the wind at their backs and they had a clear plan to kick for territory and pin DLSP back in their own half. It didn't quite work out like that though as Tallaght's discipline fell off a cliff and they conceded penalty after penalty to allow DLSP to dominate the first twenty minutes of the half. Eventually they won a penalty in the Tallaght half and kicked it to level the match at 10-10. Tallaght were under pressure now and they suffered a blow when vice-captain Simon Collie, who had been immense in defense, had to withdraw due to a knock to the head.
But they regained their composure and they won a penalty just inside their own half. With the strong wind behind him, Adam Nolan decided to take it on and he sent an excellent kick which just clipped the left post as it went over to give Tallaght a 13-10 lead. DLSP came back strongly but replacement back row Daniel Pomares was putting himself about with some massive hits to maintain Tallaght's lead. Scrum-half Andy Rudd and centre Dave Clarke were also putting in a series of excellent tackles.
Nolan put Tallaght is a good position with a fine kick into the DLSP twenty two from a penalty. Tallaght's pack took over and eventually Ken McGovern, aided by a strong shove by Andy Caswell, forced his way over for his second try of the match in an outstanding performance. The conversion was missed but at 18-10 Tallaght were two scores clear. The referee insisted there was enough time for the restart and after some comically chaotic scenes Tallaght couldn't quite find a way to kick the ball off the pitch. Eventually DSLP knocked on and the referee blew up to spark celebrations on the Tallaght sideline.
Tallaght coach Tom Leigh was again delighted for his players. "We probably weren't at our best today. We had a good start but then we get a little sloppy. But I think the win last week was crucial in terms of our belief. Even when things weren't going great, we didn't panic or throw the towel in. Instead we took the blows and came back stronger which I believe is a mark of the maturity of the team. Fair play to DLSP, they gave us a tough match like always but it was played in a fair spirit."
"A lot of players played well today but man of the match was Ken McGovern who came up with two tries and was big in defence like he always is. But I want to thank all the extended squad, some of which who didn't get to play in the last two weeks. Their commitment to training has been amazing and it's driven everyone else on. I also want to thank our medical team, the mighty duo of Emma-Louise Doyle and Mark Keogh who look after both our men's and women's teams. Their passion and dedication to our players' health and well-being is incredible and they're an invaluable part of the set-up."
"I also want to thank our backs coach Gary Brennan who has come in this season and really challenged everyone to improve their skills and general decision-making. Our chairman Luke Tyrrell has also played a major role again and also I want to thank all our committee for their hard work over the season. Lastly I want to thank our amazing supporters again who make the long trek out to Malahide and stood in the freezing wind to support the lads. This isn't just a sports club, this is a family and we really appreciate everyone who made the time to come out to support us over the whole season. It's been great to have the success but this is just a beginning and we're already looking forward to moving up a division and seeing how we adjust to a higher level. We also want to have two Tallaght teams next season and we hope anyone who's been inspired by our success will come up to play for us next season as new players are always welcome."
Man of the match: Ken McGovern
Tallaght RFC
15. Simon Collie
14. Rob Hudson
13. Padraig Jones
12. David Clarke
11. Aaron Shanahan
10. Daryl Keogh
9. Andrew Rudd
1. Tony McManus
2. Ken McGovern
3. Andy Grace
4. Joe Ivers
5. Alan Moore
6. Alan Sower
7. Jack Russell
8. Adam Nolan (Captain)
Substitute Positions
16. Colin Morrison
17. Daniel Pomares
18. Sean Hanlon
19. Andy Caswell
20. Kevin Quinn
21. Karl Segrave
22. Luke Brady Deegan
Report: Jim O'Connor
Photos: Mark Luttrell