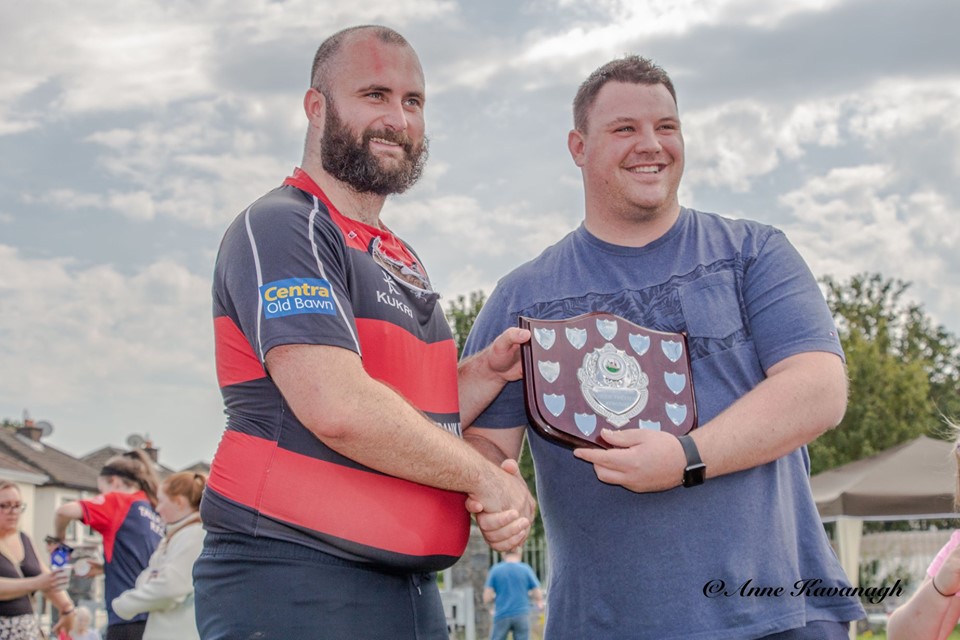 Tallaght R.F.C. 59
Try: Ciaran Rudd, Rob Hudson, Andy Rudd, Daryl Keogh, Gavin McKeon, Alan Sower, James Carr 2, Adam Nolan
Con: Rob Hudson 4, Aaron Shanahan, Adam Nolan 2
Guinness R.F.C. 12
Philip Preston Memorial Trophy
Pitch 100, Firhouse
24/08/2019
The Philip Preston memorial match was played for the first time in Tallaght on a balmy August afternoon. Guinness were short of players and Tallaght needed to lend them a few to make up the numbers but the Crumlin men started the better and got the game's first try off a lineout maul. However Tallaght soon settled and their quick passing was getting the ball wide and causing Guinness problems. Off some good passing from David Clarke and Denny McCarthy, full back Ciaran Rudd was put away for Tallaght's first try. Winger Rob Hudson swiftly followed up with a try which he converted himself to make it 12-7 to Tallaght.
Tallaght fly-half Daryl Keogh was enjoying himself playing against his old club and he broke away through a gap and put his half-back partner Andy Rudd away for a fine try which Hudson converted to make it 19-7 to Tallaght. Guinness then scored off a maul to make it 19-12 but Keogh soon broke away for a fine try of his own and Hudson converted again to make it 26-12. The Tallaght pack was rumbling well now with newcomers in the front row Declan O'Neill and James Carr both carrying impressively. After strong running from Denny McCarthy, left wing Gavin McKeon was put clear to score a fine try to make the half-time score 31-12 to Tallaght.
Tallaght coach Tom Leigh had 32 players togged out yesterday and he made a raft of changes at half-time to give some lads gametime. Despite the changes and with several new players making their debuts, Tallaght kept the quality up and were soon on the scoresheet again when prop James Carr got over for a try after a strong carry from Daniel Byrne. Hudson converted again to make it 38-12. The tries kept coming and backrow Al Sower muscled over for a deserved try in the corner and Aaron Shanahan kicked an excellent touchline coversion to make it 45-12. Two more tries followed as skipper Adam Nolan went over under the posts and then Carr scored his second of the match with the final play of the game. Nolan converted both of them to make the final score 59-12.
Philip's brother Sean presented Nolan with the trophy and thanked the large crowd that attended saying it was the perfect tribute to Philip's memory.
Tallaght coach Tom Leigh was pleased with the start his side has made. "First of all, thanks to Guinness for coming up even though they were struggling for numbers. For us it was great to get a game under our belts and introduce so many new players. We had thirty two players togged out today and there's another twenty or so that weren't available for various reasons. It's massively important to the club that we run two male senior sides this season and with the numbers we have attending training now, the competition for places on both teams is going to be fierce. We have another challange match next Saturday away to Clane so that will be another chance to look at our depth but this is a really exciting time for the club. In terms of performance we had a few issues giving away some unnecessary penalties but overall we played some really nice stuff and scored some excellent tries. It's early days but everything is pointing to a positive season ahead for both our teams."

Man of the match: James Carr
Tallaght RFC

15. Ciaran Rudd
14. Rob Hudson
13. David Clarke
12. Denny McCarthy
11. Gavin McKeon
10. Daryl Keogh
9. Andrew Rudd

1. Ken McGovern
2. Declan O'Neill
3. James Carr
4. Joe Ivers
5. Alan Moore
6. Alan Sower
7. Jack Russell
8. Adam Nolan (Captain)
Substitutes:
16. Colin Morrison
17. Andy Grace
18. Scott Hyland
19. Aaron Shanahan
20. Kevin Quinn
21. Karl Segrave
22. Padraig Jones
23. Cameron Byrne
24. Daniel Byrne
25. Lee McDonald
26. Ben Flynn
27. Scott Hyland
28. Joe Odoemene
29. Mike Corrigan
30. Wayne Stewart
31. Brandon Flowers
32. Alan Bernes
Report: Jim O'Connor
Photos: Anne Kavanagh