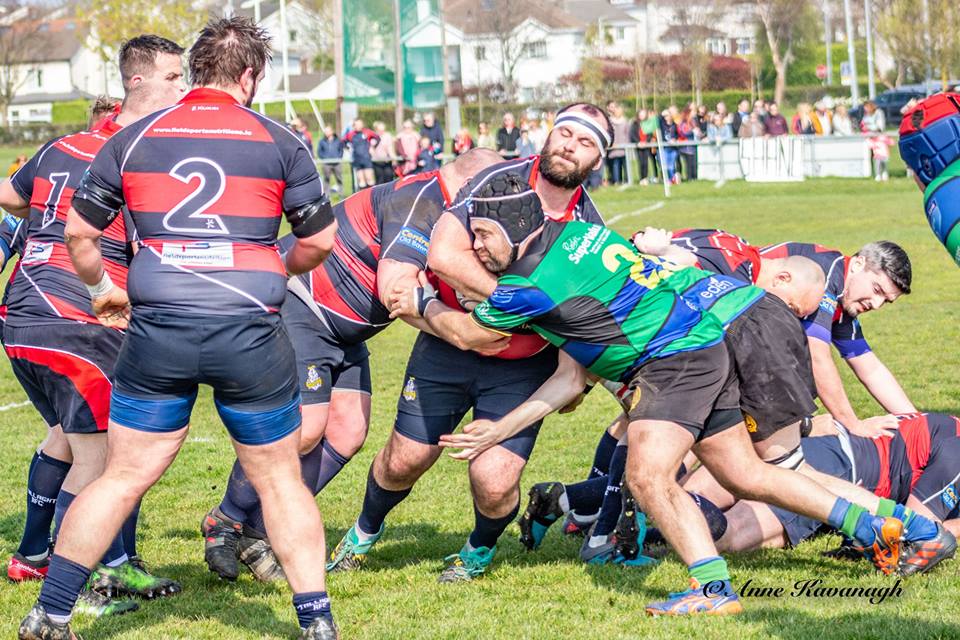 Seapoint 15
Tallaght 1sts 15
Tries: Alan Sower, Simon Collie
Con: Adam Nolan
Pen: Adam Nolan
After extra time Tallaght won 4-3 on penalties
John Madden Cup
Killbogget Park
07/09/2019
The Tallaght men's first team began their defence of the John Madden Cup with a trip to face their regular rivals Seapoint in Killiney. Seapoint started the better and after Tallaght conceded a number of penalties in their own half, Seapoint took a 3-0 lead when they kicked one of them. Tallaght then dominated the next twenty minutes. Tallaght were playing some great rugby with the forwards and backs linking up superbly. Simon Collie and Alan Sower both went close to tries as did Andy Grace. However despite all their possession and territory they couldn't convert it into points. The frustration started to tell and Tallaght wing Luke Maher and his opposite number were both yellow-carded after an off the ball scuffle.
At half-time Tallaght resolved to revert to their normal gameplan to try to stretch Seapoint out wide. However a succession of handling errors and poor decisions undermined their plans. They weren't helped by an increasing number of injuries either. Seapoint took advantage with twenty minutes to go after they made their first linebreak of the match through midfield. After getting close to the line, they just needed a few more phases before crossing for a try which they converted to make it 10-0.
With time running out things were getting desperate for Tallaght, but they kept battling. They went agonisingly close to a try when Adam Nolan passed out wide but Alan Sower couldn't hold the pass. However they regrouped and Sower made amends with a great individual try when he took the ball from a ruck, broke a tackle and then showed a nifty turn of pace to score a try under the posts which Adam Nolan converted to make it 10-7. Then Tallaght were awarded a penalty and with time almost up Nolan opted to kick it over which meant the game ended 10-all at full-time.
After much discussion between the teams and the referee, it was decided we would need extra-time. Seapoint played with the wind in the first half and they took advantage of a loose ball at a lineout to race over for a try to take a 15-10 lead. However once again Tallaght hit back in the second half of extra time. After great work from the forwards Aaron Shanahan broke through and then offloaded to Simon Collie who scored a try in the corner. The conversion was missed and extra-time finished with the teams still level on the scoreboard. Since both teams had the same number of tries and yellow cards, a penalty shoot-out (which is incredibly rare in rugby) was needed to separate the teams.
Tallaght won the toss and chose to let Seapoint take the first penalty which were all in the middle on the pitch on the twenty two metre line in front of the posts. Seapoint missed their first one and then Jack Russell stepped up and sent his kick over the posts. Then Seapoint scored with their second kick but Tallaght's Gavin McKeon missed his attempt so the teams were back level. Seapoint then missed their next kick and Luke Maher scored for Tallaght to give them the advantage again. Seapoint kicked their last two penalties and Aaron Shanahan scored for Tallaght so it was left to skipper Adam Nolan to finally settle the contest with Tallaght's last penalty. He coolly knocked it over to give Tallaght the win.
Tallaght now play AIB away in the next round. Tallaght coach Tom Leigh was pleased with the character his team showed if not with the performance. "Fair play to Seapoint, they gave us a tough battle as always and both teams are fairly sore after a really physical cup-tie. We started well and played some nice rugby in the first twenty minutes. However when we didn't get the reward on the scoreboard we started to panic a bit and go away from our gameplan. We started to play the physical forward game that Seapoint wanted us to play and that's why we didn't score for so long. However I can't say enough about the character of the team that we battled back twice in normal time and extra time to take it to penalties. It's certainly a strange way to win a game but we're fortunate that we have a couple of forwards who are also skillful footballers too. So we're delighted to get the win but we'll need to improve our performance significantly to beat AIB away next weekend."
Man of the match: Simon Collie
Tallaght RFC
Andrew Caswell
Andy Grace
Tony McManus
Colin Morrison
Alan Moore
Alan Sower
Jack Russell
Adam Nolan (Captain)
Andrew Rudd
Daryl Keogh
Luke Maher
Joe Odoemene
Padhraig Jones
Luke Brady
Simon Collie
Joe Ivers
Aaron Shanahan
Kevin Quinn
Gavin McKeon
Mark Keogh
Report: Jim O'Connor
Photo: Anne Kavanagh