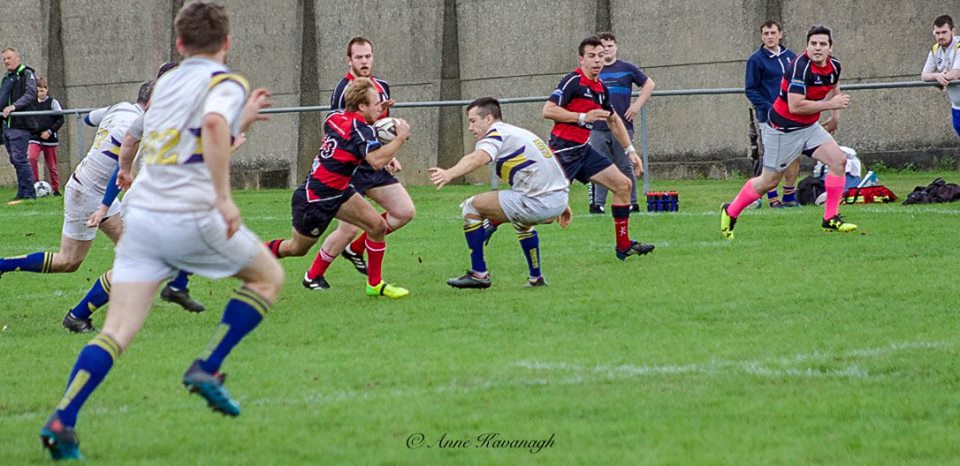 Guinness RFC: 7
Tallaght 1sts: 17
Try: Adam Nolan, Simon Collie
Con: Rob Hudson 2
Pen: Rob Hudson
John Madden Cup semi-final
Iveagh Grounds
21/09/2019
The Tallaght men's first team travelled to Crumlin to take on Guinness in the semi-final of the John Madden Cup. On a sunny autumn day that was made for running rugby Tallaght began brightly with full back Simon Collie starting a smart counter attack in his own twenty two and then the ball was moved onto Denny McCarthy and Padraig Jones. However the chance was gone when the ball was lost at the breakdown. Guinness were playing with the wind behind them though and they pinned Tallaght in their own half for most of the first half hour.
Guinness were dominating possession and Tallaght conceded several penalties. Guinness attempted to kick two of the penalties but both efforts went wide. Tallaght had two kicks on goal themselves from penalties but both efforts into the wind also went wide. Tallaght were doing a lot of defending and debutant scrum-half Keith Fitzsimons made several excellent tackles to stem the tide. Lock Ben Flynn forced a couple of big turnovers with some aggressive counter-rucking. However, Guinness finally made their domination tell when they scored a try after 35 minutes after a series of pick and drives from their big pack. They converted to take a 7-0 lead. Tallaght hit back quickly when wing Rob Hudson took a clearance kick near the touchline and set off on a slashing run leaving several defenders in his wake. He looked certain to score a try but lost his balance just yards from the line and came up inches short. However Adam Nolan was in support and he was able to force his way over for a try which Hudson converted to make the half-time score 7-7.
Tallaght had the wind at their back in the second half and Nolan and out-half Luke Maher kicked intelligently to get some good territory for Tallaght. Tallaght full back Simon Collie made a fine break which was stopped by a high tackle from the Guinness full back which earned him a yellow card. Tallaght started applying pressure with some strong carries from Alan Moore and Andy Grace up front. The Tallaght scrum was dominant and the lineout was also going well with Ken McGovern throwing in superbly.
They were also finding gaps out wide and Hudson looked certain to score a try of his own but was stopped by a high tackle. It looked like a penalty try and a yellow card would be awarded but instead the referee opted only for the penalty. Tallaght took advantage of a knock-on by Guinness in their own twenty two and looked certain to score had the ball been worked wide but Guinness cynically killed the ball to prevent it getting out into space. Again the referee opted against showing a yellow card but Hudson kicked the penalty to give Tallaght a 10-7 lead.
Guinness were showing signs of fatigue now and Tallaght applied the killer blow. Jack Russell took a clearance kick close to the touchline just inside his own half and passed inside to Simon Collie. Collie scanned the Guinness defensive line for weaknesses and found a gap to slice through and stepped several attempted tackles to score a fine try under the posts. Hudson converted to make it 17-7. Tallaght's disciplinary issues resurfaced though and they spend the last twenty minutes playing with 14 men as first Andy Caswell and then Niall Mahon were shown yellow cards for persistent fouling. Guinness were camped near the Tallaght line but they couldn't break through and the game finished 17-7 to Tallaght. Tallaght will now face either the Dublin Dogos or Garda in the final which will be played later in the season.
Tallaght coach Tom Leigh was happy with the result but felt Tallaght's performance could be improved upon. "They were the better team in the first half and we did well to go in level at half-time. However we were a lot better in the second half and really we should have had another couple of tries to win the game more comfortably. Some of our decision-making wasn't great though and our discipline was poor throughout with close to twenty penalties conceded plus two yellow cards. So we've a lot to work on before we start our league campaign in two weeks time. But we showed great character to win today and it's great to be in another final after an excellent pre-season."
Man of the match: Ken McGovern
Tallaght RFC
Tony McManus
Ken McGovern
Alan Sower
Alan Moore
Ben Flynn
Niall Mahon
Jack Russell
Adam Nolan (Captain)
Keith Fitzsimons
Luke Maher
Luke Brady
Denny McCarthy
Padraig Jones
Rob Hudson
Simon Collie
Andy Grace
Andy Caswell
Kevin Quinn
Marc Keatinge
Andrew Rudd
Joe Odoemene
Sean Hanlon
Report: Jim O'Connor
Photos: Anne Kavanagh