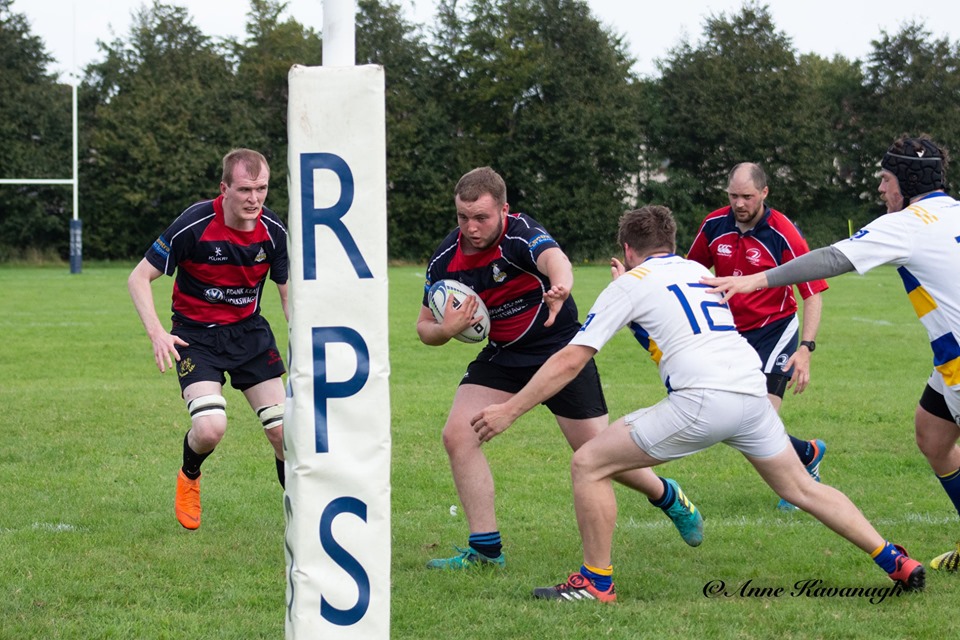 Emerald Warriors 0
Tallaght 2nds 71
Tries: James Carr 2, Nick Ahearne, Joe Ivers, Jordan Corrigan 2, Wayne Stewart 2, Kevin Quinn, Cameron Byrne, Sean Judd
Conversions: Kevin Quinn 3
Metro League Division 11
Templeville Road
28/09/2019
The Tallaght men's second team started their Metro League Division 11 campaign with a resounding win over the Emerald Warriors at Templeville Road. Tallaght settled down early in the game and scored their first try after two minutes through prop James Carr. Kevin Quinn converted but the score came at at a cost as out-half Leigh McDonald hurt his knee and had to be replaced by Ciaran Stewart. Tallaght kept motoring though with strong carries from Rob Carthy and Colin Morrison leading to a Warriors scrum near the Warriors line. The ball squirted out of the scrum and Tallaght scrum-half Nick Ahearne took advantage to score a try to give Tallaght a 12-0 lead.
It wasn't long before Tallaght were on the scoresheet again and it also came from a Warriors set-piece. Second row Joe Ivers stole a Warriors lineout and took off on a twenty yard run to score in the corner to make it 17-0. The Tallaght outside backs then started coming into the match with inside centre Gavin McKeon creating space with several strong runs. His midfield partner Jordan Corrigan, playng his first game for the club, took advantage by scoring a fine try to make it 22-0. Jordan's brother Mick went very close to following him onto the scoresheet when he very nearly got to a kick ahead from Ciaran Stewart but he just couldn't get to the ball first. However it was only a brief respite for the Warriors as good handling from the backs put full back Wayne Stewart in for a try to make it 27-0. Jordan Corrigan then scored his second of the match just before the break to make the half-time score 32-0.
Tallaght kept up the intensity in the second half with Sean Hanlon and Dave Kelly carrying strongly and Padraig O'Ciadha putting in a massive shift in terms of workrate. Kevin Quinn scored the first try of the second half which was richly deserved for his overall performance. Replacement prop Cameron Byrne soon followed him over the line to make it 42-0. Daryl Keogh also came off the bench to score a fine try and after Kevin Quinn finally scored a second conversion of the match after a raft of misses to make it 49-0. Another replacement Sean Judd got over for a try after a big carry from Shane Mooney and Quinn converted again. That was followed by Wayne Stewart and Daryl Keogh both scoring their second tries of the match. James Carr, the scorer of the game's first try, came back on to score the final try of the game to make it 71-0 on the final whistle.
Tallaght skipper Simon Gaskell was delighted with the team's start. "In fairness to the Warriors they had a lot of inexperienced players out there but we paid them respect by playing hard for the eighty minutes. We played well in the first half but we said at half-time that we needed to work harder on the basics and I felt we got even stronger in the second half. There will certainly be much tougher tests to come but if we keep working as a group in training then we're well able for this league."
"It was a tough choice to pick a man of the match today. Kevin Quinn carried a huge amount of ball and Gavin McKeon had a very strong game in the centre. We also had four players in James Carr, Jordan Corrigan, Wayne Stewart and Daryl Keogh score two tries each. However we went for Padraig O'Ciadha who put in a huge shift in the second row constantly carrying, tackling and hitting rucks with real agression. It's only his second game of rugby ever but it certainly didn't look like that. We've a few tough games coming up now in Clondalkin, Stillorgan-Rathfarnham and Railway Union but if we keep working hard we can stay at the top of this league."
Man of the match: Padraig O'Ciadha
Tallaght
James Carr
Simon Gaskell
Robert Carthy
Joe Ivers
Padraig O'Ciadha
Sean Hanlon
Colin Morrison
Kevin Quinn
Nick Ahearne
Leigh McDonald
Brandon Wilson
Jordan Corrigan
Gavin McKeon
Michael Corrigan
Wayne Stewart
Cameron Byrne
Dave Kelly
Shane Mooney
Shane Maguire
Daryl Keogh
Sean Judd
Ciaran Stewart
Mark Keogh
Report: Jim O'Connor
Photos: Anne Kavanagh