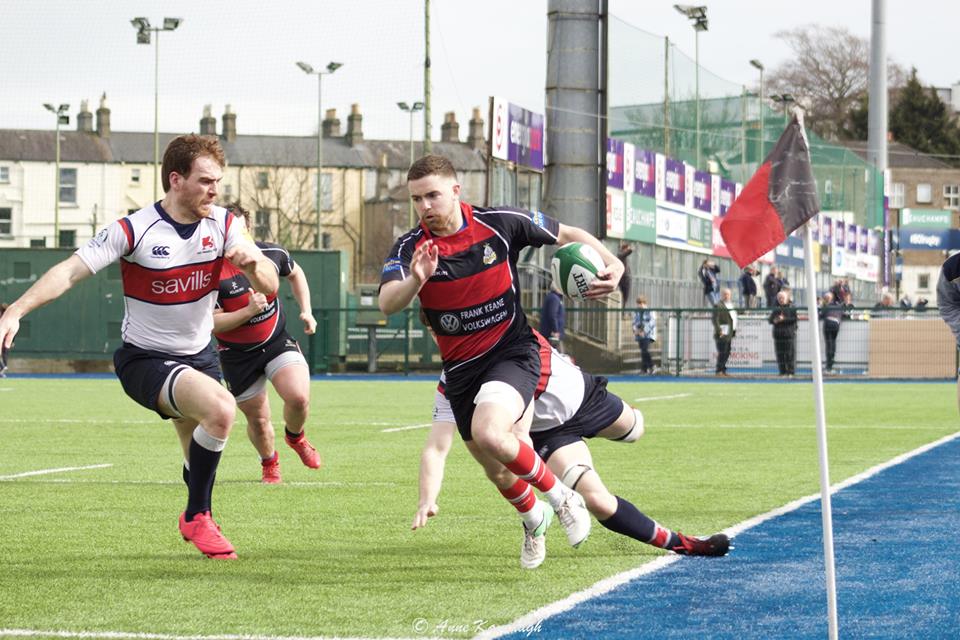 Tallaght 1sts: 29
Try: Rob Hudson 2, Denny McCarthy, Karl Segrave
Con: Rob Hudson 2, Denny McCarthy
Pen: Rob Hudson
Seapoint R.F.C. 17
Metro League Division 6
Tymon Park
12/10/2019
The Tallaght men's first team began their Metro League Division 6 campaign with yet another game against their old rivals Seapoint. Tallaght had beaten Seapoint in last year's Division 7 final and also in the John Madden Cup earlier this season so were looking to make it a hat-trick of wins. They started the game very positively and dominated the first quarter despite losing prop James Carr to injury early on. They created three great chances for tries and flanker Niall Mahon got the ball over the line but the referee ruled the pass forward. The other chances were squandered through a mixture of poor handling and decision-making.
Tallaght did eventually take the lead after twenty minutes when Rob Hudson kicked a penalty but Seapoint equalised straight from the kick-off with a penalty of their own to make it 3-3. Seapoint then had a period of dominance and had a chance to take the lead with another penalty but it went wide. Tallaght were working hard in defence with scrum-half Andy Rudd making several fine tackles. Seapoint's dangerous centre broke through a number of tackles and looked set to score a try but Tallaght full back Simon Collie smashed him into touch with a tackle to save the day.
Eventually Tallaght got back into the Seapoint half off some strong carrying from Ken McGovern and Niall Mahon and were camped on the Seapoint line. The ball went loose but Rob Hudson scooped the ball up and went over for the try which he converted himself to make the half-time score 10-3 to Tallaght.
Ten minutes into the second half Hudson was on the score-sheet again. It was another excellent back-line move with Dave Clarke and Simon Collie involved heavily. Centre Padraig Jones was put clear near the line and he cleverly kick-passed to Hudson who raced away for a second try to make it 15-3 to Tallaght.
However some poor discipline from Tallaght gave Seapoint a chance and their number eight raced away for a superb individual try. But Tallaght hit back with a superb individual try of their own as Denny McCarthy broke two tackles and then showed a clean pair of heels to the Seapoint defence to score a try under the posts. Hudson converted again to make it 22-10.
Tallaght then rounded the game off with an excellent try as Adam Nolan, Tony McManus and Daryl Keogh passed sharply to put winger Karl Segrave over in the corner. Denny McCarthy then showed his place-kicking skills by knocking over a splendid touchline conversion. Seapoint scored a converted try towards the end to make the final score 29-17 to Tallaght.
Tallaght coach Tom Leigh was pleased with his side's performance. "We were a bit rushed in the first half and left a few scores behind us. But we addressed the issues at half-time and we were much improved in the second half and won well with the whole squad making a strong contribution especially the lads who come off the bench. Seapoint are a fine team who'll take plenty of points off teams in this league. We've still got plenty to work on but we're happy to kick off our league season with a fine home win."
The whole of Tallaght Rugby Club wish to send our warmest congratulations to our player Alan Moore and his wife Clare on the recent birth of their son Finn.
Man of the match: Niall Mahon
Tallaght RFC
James Carr
Ken McGovern
Andy Grace
Alan Sower
Kevin Quinn
Jack Russell
Niall Mahon
Adam Nolan (Captain)
Andrew Rudd
David Clarke
Ciaran Rudd
Denny McCarthy
Padraig Jones
Rob Hudson
Simon Collie
Tony McManus
Andy Caswell
Alan Moore
Joe Ivers
Daryl Keogh
Marc Keatinge
Kark Segrave
Report: Jim O'Connor
Photo: Anne Kavanagh