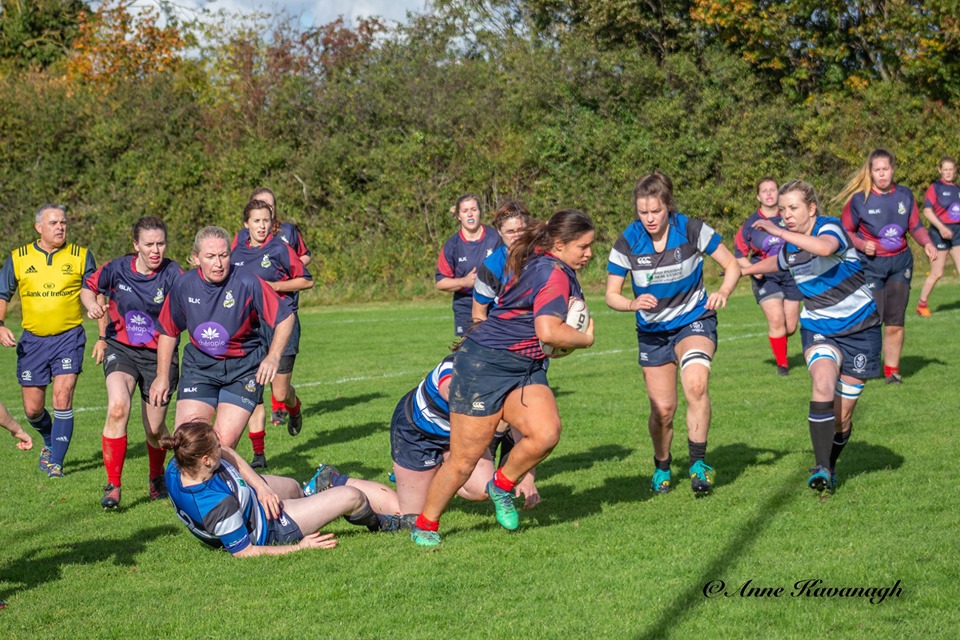 Tallaght R.F.C. 12

Tries: Aisling Pyke, Ellen Crotty
Con: Caoimhe Hogan
Wanderers R.F.C. 27

Women's League Division 4
Tymon Park
20/10/2019
The Tallaght women's team took on Wanderers in Tymon Park looking for their first win of the season in Division 4. Tallaght suffered a blow when they lost centre Marta Hoppe to an ankle injury and had to play most of the first half with fourteen players against fifteen. Wanderers took advantage to score two tries to lead 10-0 at half-time.
In the second half Tallaght tried to build some phases of play but they were guilty of over-playing it in the forwards until the ball was eventually turned over. Though they had generally defended well, they began falling off tackles in a ten minute spell which saw them concede three tries to end the match as a contest.
However they did finish the match with the final two scores. First the tireless Aisling Pyke, who had worked hard all day in attack and defence, broke through for a deserved try. Caoimhe Hogan converted to make it 27-7. Then in the final act of the game Tallaght winger Ellen Crotty finally got a decent pass and showed her strength and pace to break away and score a try in the corner to make the final score 27-12 to Wanderers.
Wanderers were deserved winners but Tallaght need to ask themselves why they couldn't play like they did in the last ten minutes while the game was still a contest.
Tallaght's coach Colin Keogh and Niall Mahon were disappointed with the result. "We had to play down one player for most of the first half, but when we had equal numbers I felt we did fairly well against them" said Mahon. "I thought in terms of individuals Dara Silva Oliveira put in some strong hits before going off injured and Lisa Connors make a lot of strong carries. But Aisling Pyke led by example today and was constantly involved in both attack and defence so she gets the nod as the women of the match."
Woman of the match: Aisling Pyke
Tallaght
1. Dara Silva Oliveira
2. Karen Corrigan
3. Martina Fitzpatrick (Captain)
4. Vicky Cobbe
5. Aimee Travers
6. Lisa Connors
7. Seana Greenhalgh
8. Aisling Pyke
9. Eileen Shanahan
10. Caoimhe Hogan
11. Ellen Crotty
12. Megan Fogarty
13. Marta Hoppe
14. Lisa O'Connell
15. Ciara McLaughlin
16. Louise Lombard
Report: Jim O'Connor
Photos: Anne Kavanagh