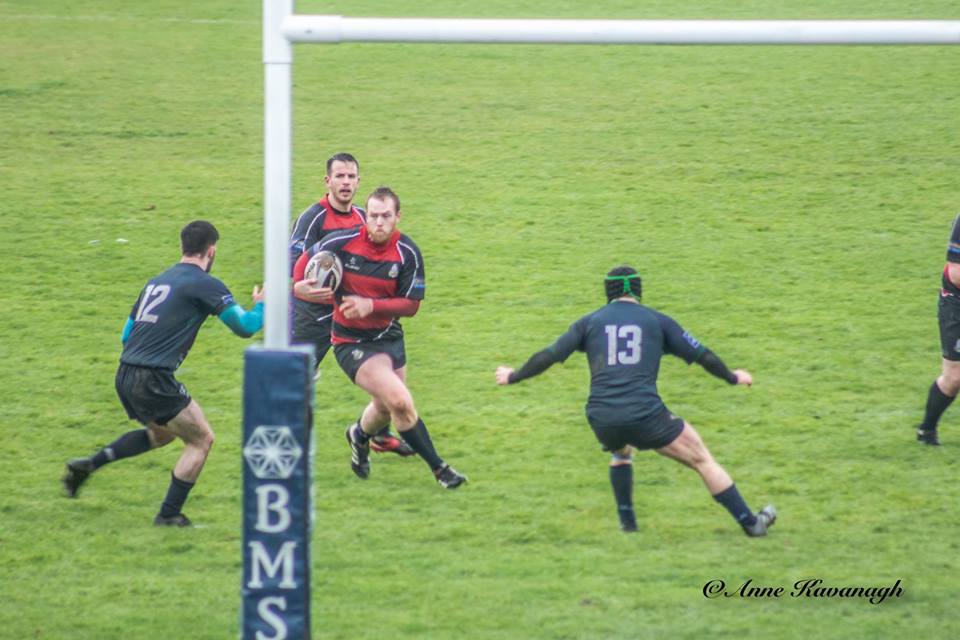 Terenure R.F.C. 10

Tallaght 1sts: 12
Try: Adam Nolan, Denny McCarthy
Con: Rob Hudson
Metro League Division 6
Lakelands
19/10/2019
The Tallaght men's first team made the trip to Terenure in the Metro League Division 6. Tallaght began well and looked set to score the first try of the match after five minutes when good passing from David Clarke and Denny McCarthy put full back Simon Collie clear but he was stopped by a high tackle around the collar ten metres out. Tallaght took a quick tap with the resultant penalty and looked to have scored but were called back for a forward pass and the chance was gone. Tallaght continued to dominate possession but struggled to convert it into points and suffered a blow when they lost their influential flanker Jack Russell to a facial injury early on.
Tallaght's scrum was dominant against the smaller Terenure pack but their lineout started to struggle and it soon proved costly. They lost a lineout in their own half and Terenure took advantage and won a penalty that they kicked to the corner. Terenure opted to maul the ball and though it appeared the Tallaght pack had done enough to drive them into touch, they just managed to ground the ball in the corner for a try. They kicked a fine conversion to take a 7-0 lead which they held until half-time.
In the second half Tallaght started putting together some good phases of play and were aided by a strong showing from the bench with replacements Colin Morrison and Andy Caswell putting in several strong carries. After 55 minutes the pressure finally told when a good run from Denny McCarthy created space and then Andy Rudd put skipper Adam Nolan through for a try. Rob Hudson converted to tie the game at 7-7. Terenure hit back though with a long range penalty to retake the lead at 10-7 with just over ten minutes left. Terenure were then shown a yellow card for a hit tackle on David Clarke but Tallaght missed the kick at goal that came from the penalty.
Tallaght kept on coming with Kevin Quinn carrying aggressively and Clarke was hit high again with a tackle that was arguably worse than the previous one but this time the referee kept his card in his pocket. Tallaght opted for the scrum and Nolan and Rudd put Denny McCarthy into space and he powered through two tacklers to score a try to give Tallaght a 12-10 lead with five minutes to go. Terenure came hard at Tallaght looking for the winning score but Tallaght's defence held them at bay and they won a big turnover penalty five metres from their line to seal a tight win.
Tallaght coach Tom Leigh was pleased with his side's performance."It's never easy to come to Terenure and get a win, so I'm delighted with the result. We dominated the first twenty minutes but left a few scores behind us. Then some basic mistakes started to undermine us and allowed Terenure to take the lead. But the lads showed great resolve in defence and really good discipline too to concede so few kick-able penalties. They didn't panic and eventually scored two fine tries which was just enough to win the match. So we feel we can still improve massively but we're delighted to be second in the table with two wins from two."
Man of the match: Kevin Quinn
Tallaght RFC
1. Tony McManus
2. Ken McGovern
3. Andy Grace
4. Alan Sower
5. Kevin Quinn
6. Niall Mahon
7. Jack Russell
8. Adam Nolan (Captain)
9. Andrew Rudd
10. David Clarke
11. Rob Hudson
12. Denny McCarthy
13. Padhraig Jones
14. Karl Segrave
15. Simon Collie
16. Marc Keatinge
17. Andy Caswell
18. Colin Morrison
19. Joe Ivers
20. Ciaran Rudd
21. Wayne Stewart
Report: Jim O'Connor
Photo: Anne Kavanagh