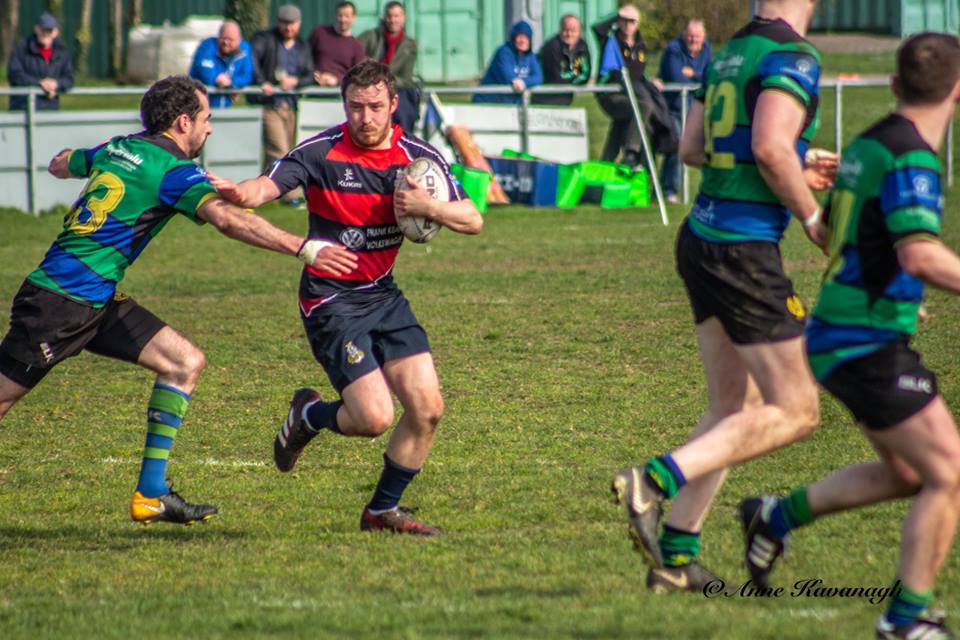 Coolmine: 11

Tallaght 1sts: 21
Try: David Clarke, Adam Nolan, Padhraig Jones
Con: Rob Hudson 3
Metro League Division 6
Ashbrook
02/11/2019
The Tallaght men's first team made the trip to league leaders Coolmine in Metro League Division 6 looking to maintain their 100% start to the season. Tallaght made light of the constant rain falling to make a great start to the match when out-half Dave Clarke slipped through a gap to score a try after two minutes. Rob Hudson converted to give Tallaght a 7-0 lead. Ten minutes later Tallaght doubled their lead when skipper Adam Nolan broke away down the line to score a fine try. Hudson kicked an excellent conversion to make it 14-0.
Coolmine hit back with two penalties to make it 14-6 but Tallaght were soon on the attack again. This time centre Padhraig Jones took an excellent line to break free for a try which Hudson converted to make it 21-6. However Coolmine showed they were still in the game when they scored a try from a quick tap near the line to make the half time score 21-11. In the second half Tallaght were playing against the wind and found it hard to get out of their half. Coolmine were shown a yellow card for a high tackle on full back Simon Collie but Tallaght couldn't take advantage.
Coolmine started to dominate territory and possession and were camped several times on Tallaght's line. But Tallaght kept tackling until Coolmine eventually knocked the ball on. One time Coolmine did get over the line but the referee ruled that the ball was held up. With Coolmine getting frustrated with their inability to score the game took on an increasingly fractious air with several off the ball incidents. Denny McCarthy got involved in one too many verbal rows with the Coolmine players for the referee's liking and he was eventually shown a yellow card just before the end of the match. He may wonder why Coolmine's main instigators were allowed stay on the pitch though despite numerous warnings from the referee. Tallaght's defence ultimately held out and Tallaght now go top of the table as the only unbeaten team in the division.
Tallaght coach Tom Leigh was delighted with a third league win in a row. "We're top of the table now and we want to stay there. It's always hard to win away in the league so to do it two games on the bounce is exceptional. The first forty minutes was probably the best rugby we produced all season. The second half was more of a defensive slog and we needed to make a lot of tackles. But the lads kept turning up and Coolmine ultimately didn't score a point in that forty minutes despite all their possession. We probably could have managed the game better in terms of territory in the second half to make our lives a bit easier but we'll learn from that. We also got involved in some off the ball handbags towards the end of the game and we need to be smarter than that."
"In terms of individuals I thought our skipper Adam Nolan led by example and Jack Russell, Alan Moore and Kevin Quinn also had strong games. But we picked Padhraig Jones as our man of the match as he led the defensive line with real aggression and also scored a fine try. Once again we showed how important the whole squad is as Padraig O'Ciardha and Wayne Stewart came in to make their first starts for the first team and both made big contributions to help us see the game out. We've got a big month ahead of us with Trinity and Guinness at home and Barnhall away before the Christmas break. We are very pleased with our start but we know we need to improve to win a really competitive league."
Man of the match: Padhraig Jones
Tallaght RFC
1. Alan Sower
2. Andy Grace
3. Andy Caswell
4. Alan Moore
5. Kevin Quinn
6. Niall Mahon
7. Jack Russell
8. Adam Nolan (Captain)
9. Andrew Rudd
10. David Clarke
11. Rob Hudson
12. Denny McCarthy
13. Padhraig Jones
14. Karl Segrave
15. Simon Collie
16. Tony McManus
17. James Carr
18. Padraig O'Ciardha
19. Aaron Shanahan
20. Wayne Stewart
Report: Jim O'Connor
Photos: Anne Kavanagh