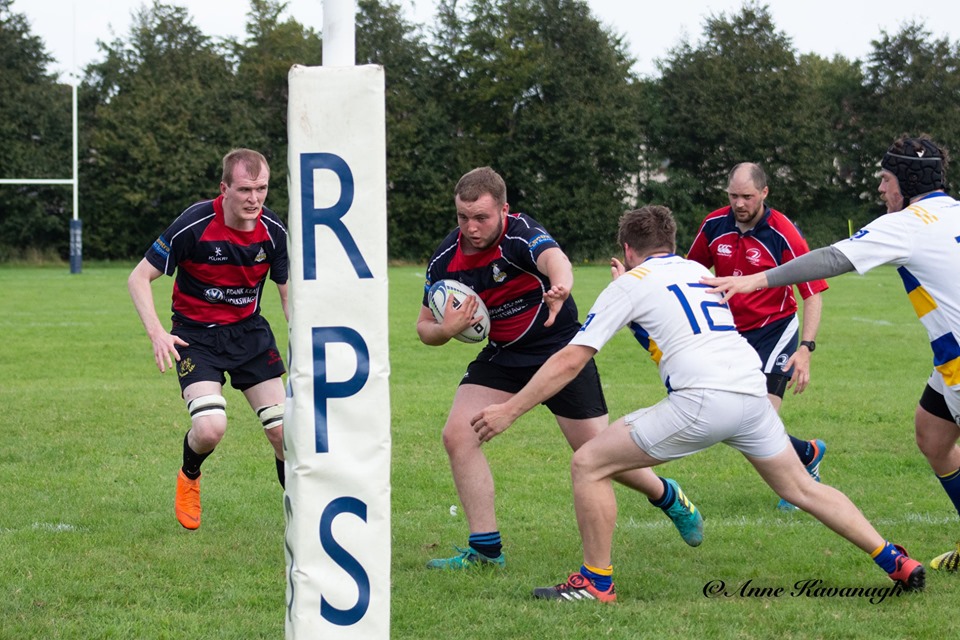 Coolmine 7

Tallaght 2nds 32
Tries: James Carr 2, Nick McGuinness, Niall Mahon, Jordan Corrigan, Tony O'Loughlin
Conversion: Brandon Wilson
Metro League Division 11
Ashbrook
29/11/2019
The Tallaght men's second team took on Coolmine in Metro League Division 11. Tallaght were delighted to finally have a game as they'd only played two league matches this season because of either concessions or postponements due to the wet weather. But Tallaght were on the back foot from the start and conceded a yellow card after only a minute. Wayne Stewart was sent to the sideline for ten minutes for not being back ten yards when tackling a Coolmine player near the Tallaght line. Coolmine looked set to take advantage but the Tallaght defence led by the voracious tacklers Padraig O'Ciadha and Gavin McKeon stood firm and eventually Coolmine knocked on.
Tallaght then started getting into the game and after big carries from Cameron Byrne and Rob Carthy, full back Brandon Wilson took off on a strong run that faltered when the ball went loose. Tallaght survived the ten minutes with 14 men comfortably enough and after fifteen minutes they scored their first try of the match. Scrum-half Nick McGuinness make a break and offloaded to hooker James Carr who was too powerful for the Coolmine tacklers and he got the ball down for a try. Brandon Wilson converted and Tallaght led 7-0.
Tallaght's achilles heal however were the penalties they kept conceding. This let Coolmine back into the match and their big forwards eventually got over the line for a converted try to make it seven points each. However Tallaght hit back almost straight away when replacement out-half Niall Mahon offloaded for Nick McGuinness to break through for a try to make it 12-7 to Tallaght at half-time.
In the second half Tallaght trapped Coolmine in their own half but they struggled to get the points their domination deserved. Time and again they got themselves in great positions to score only to throw the chance away (literally) with poor passing. Coolmine were under pressure and they got a yellow card of their own for one too many high tackles. Finally the breakthrough came when winger Gary Kinsella took the ball on the right wing and cut back inside beating several tacklers and was only denied a try when the last Coolmine defender brought him down. However when the ball was recycled James Carr forced his way over for his second try of the match to make it 17-7.
That score settled Tallaght down and they played their best rugby in the final quarter of the match. First Niall Mahon broke through to score a fine try. Then good passing put Jordan Corrigan over in the corner and Tony O'Loughlin rounded off the scoring with a fine individual try to celebrate his return from injury. The win puts Tallaght joint second in the table with CYM.
Manager Simon Gaskell was delighted with the team's performance, especially in the second half. "In the last match we played we took a bad beating from Clondalkin but we were determined to bounce back tonight. We gave away too many soft penalties in the first half and that kept them in the game. However our discipline improved massively in the second half and once we got going we won comfortably in the end. There was a lot of players who put their hand up for man of the match. Both our wings Gary Kinsella and Adam Clarke had strong games and James Carr and Sean Judd were awesome ball carriers up front. But our scrum-half Nick McGuinness was playing his first match in over a year after a serious shoulder injury and he was excellent and set the tempo for the performance. We've still got two big games before Christmas against the Warriors and CYM and if we can win those, we'll be in great shape."
Man of the match: Nick McGuinness
Tallaght 2nds
1. Andy Caswell
2. James Carr
3. Robert Carthy
4. Patrik Toth
5. Joe Ivers
6. Padraig O'Ciadha
7. Cameron Byrne
8. Sean Judd (Captain)
9. Nick McGuinness
10. Wayne Stewart
11. Adam Clarke
12. Gavin McKeon
13. Jordan Corrigan
14. Gary Kinsella
15. Brandon Wilson
16. Niall Mahon
17. Tony O'Loughlin
18. Marc Keatinge
Report: Jim O'Connor
Photos: Anne Kavanagh