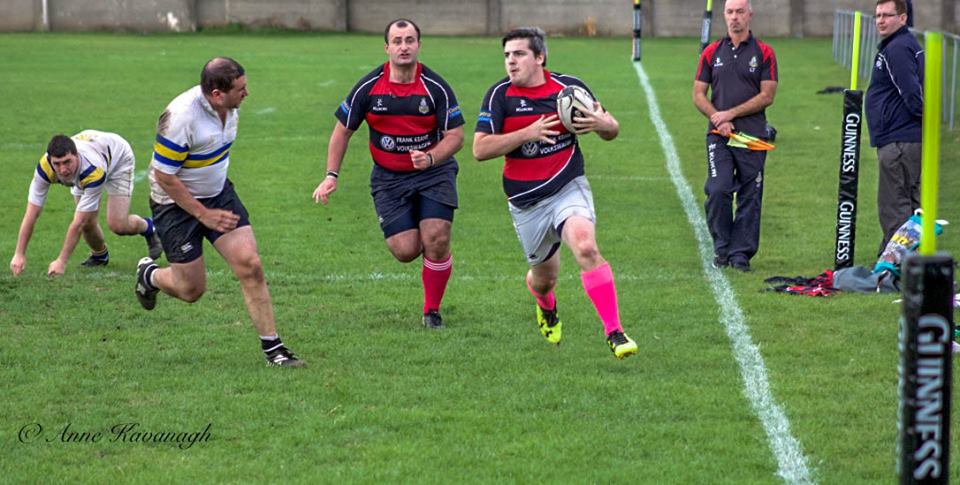 Tallaght 2nds 85
Tries: Adam Clarke, Colin Morrison, Daryl Keogh, Pádraig Ó Ciardha, Jordan Corrigan 3, Michael Corrigan 2, Aaron Morgan, Keith Fitzsimons 3, Tony O'Loughlin, Brandon Wilson
Conversions: Brandon Wilson 5

Emerald Warriors 0

Metro League Division 11
Tymon Park
07/12/2019
The Tallaght men's second team took on the Emerald Warriors in Division 11 of the Metro League. Tallaght started well and after a strong run from James Carr, the ball was passed wide to winger Adam Clarke. Clarke broke a tackle on his way to scoring his first try for the club to give Tallaght a 5-0 lead. That lead was extended when Tallaght captain Colin Morrison forced his way over from close range after being put away by a smart pass from scrum-half Luke Brady. It was the Scotsman's first try for the club and Brandon Wilson kicked the conversion to make it 12-0. Then Tallaght suffered a blow when James Carr was forced to leave the field after hurting his knee winning a turnover at the breakdown.
Tallaght kept the pressure on with fly-half Daryl Keogh made a break and showed his pace to run clear to score a try that made it 17-0. Then it was second row Pádraig "Whacker" Ó Ciardha's time to score his first try for the club to make it 22-0. The warriors were struggling to deal with Tallaght's power and the strong running from Aaron Morgan, Shane Mooney and centre Shane Maguire. Inside centre Jordan Corrigan was next to score after a series of offloads to make it 27-0. Then replacement scrum-half Keith Fitzsimons showed his pace to race clear to score his first try for the club. Wilson converted to make it 34-0. Then when a ball went loose Jordan Corrigan kicked it ahead and his brother Michael kicked the ball on and then collected it to also score his first try for the club. Wilson converted again to leave the half-time score at 41-0.
The only thing that had let Tallaght down in the first half was their discipline and they endeavoured to correct that in the second half. After scoring his first try for the club just before half-time it wasn't long before Michael Corrigan got his second. Pádraig Ó Ciardha offloaded to Corrigan and the winger showed his pace to race clear and step the last defender to score under the posts. Wilson converted to make it 48-0. Number eight Aaron Morgan then powered his way way over from a scrum to make it 53-0. Morgan then tried a bizarre overhead backheel chip-kick. In fairness to him he re-gathered and offloaded the ball and it almost led to a try.
Replacements Neal Cronly and Arran O'Loughlin were making a big impact in the pack and Arran's brother Tony was next to put his name on the scoresheet when he capped a fine all round performance with a great try from a powerful run. Wilson converted to bring up the 60 points. Tallaght scored five more tries before they were done. Both Jordan Corrigan and Keith Fitzsimons scored two each to complete their hat-tricks and Brandon Wilson also scored his first try for the club to make the final score 85-0.
Tallaght captain Colin Morrison wanted to make a point after the game. "After we were about sixty points up the referee asked us and the Warriors if we wanted to finish the game early. We were fine with it, but to their credit the Warriors said no and insisted we play to the final minute. That sums up the Warriors right there, their spirit is incredible. As for our lads, I just want to thank each and every one of the eighteen players who turned up today. With Al Sower's wedding on today, we were really struggling for numbers and at one point in the week we looked like we may have to concede. But a couple of club legends Aaron Morgan and John Cowan answered the call and put in great shifts for us. Other lads like Arran O'Loughlin, Neal Cronly and Keith Fitzsimons came in off the bench and were excellent. We also had a lot of backs playing in the forwards like Gary Kinsella and Tony O'Loughlin and they really stepped up. Our discipline was poor in the first half but we spoke about it at the break and it improved massively in the second half. Overall it was a great performance but we know we'll have a tough game next week against CYM and we need to work hard this week to prepare for that."
Man of the match: Tony O'Loughlin
Tallaght
1. Gary Kinsella
2. James Carr
3. Shane Mooney
4. John Cowan
5. Padraig O'Ciadha
6. Tony O'Loughlin
7. Aaron Morgan
8. Colin Morrison (Captain)
9. Luke Brady
10. Daryl Keogh
11. Michael Corrigan
12. Jordan Corrigan
13. Shane Maguire
14. Adam Clarke
15. Brandon Wilson
16. Neal Cronly
17. Arran O'Loughlin
18. Keith Fitzsimons
Report: Jim O'Connor
Photos: Anne Kavanagh