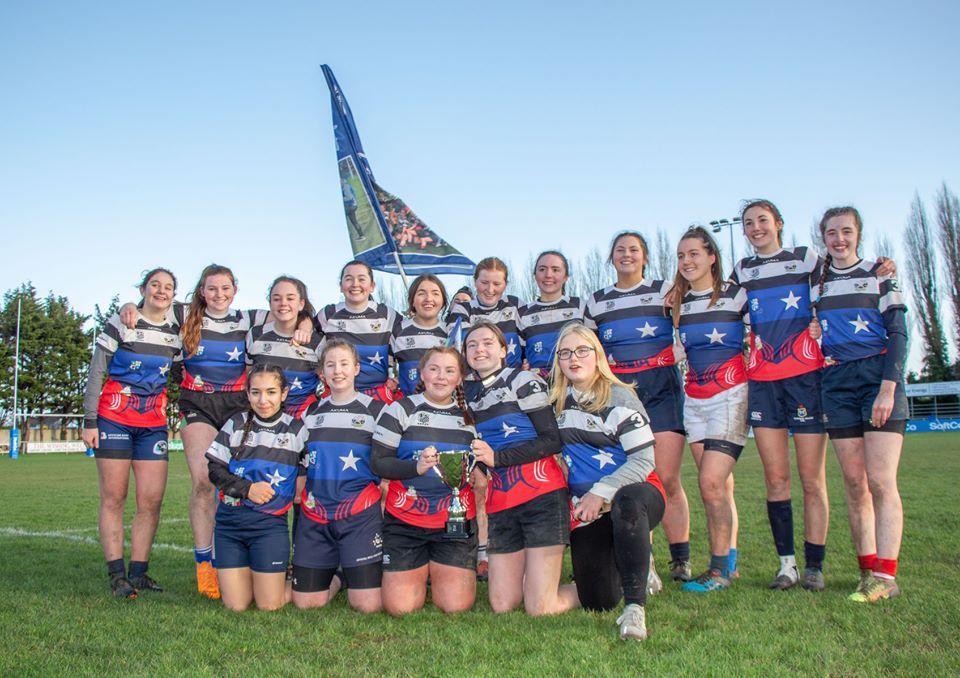 Bisto's 33

Athy 5
Tries: Laoise Devlin, Lily Marron 2, Benedetta Belini, Penalty Try
Conversion: Abbie Keeley 3
Leinster under-18's Shield Final
Teompleville Road
14/12/2019
The Bisto's team are made up of Tallaght, St. Marys, Old Belvedere and Blackrock players and are named after their late great coach Philip "Bisto" Preston. They took on Athy RFC in the Leinster under-18's shield final on the main pitch in St. Mary's ground on Templeville Road. One a bitterly cold, windy day both teams struggled in the first half to cope with the conditions.
The Bisto's scored the only try of the first half after five minutes when centre Laoise Devlin broke clear to touch down in the corner. It gave the Bisto's a 5-0 lead that they would take to half-time. In the second half Athy started strongly and broke away for an excellent try to level the game up at 5-5. However the game wasn't level for long. Centre Lily Marron made a brilliant run up the middle breaking several tackles and then showed great power to get the ball over the line for an outstanding individual try. Out-half Abbie Keeley kicked the conversion to make it 12-5 to the Bisto's.
That score gave the Bisto's confidence and they began to get their passing game going. A superb offload from Keely to Marron nearly created another try but the ball went forward near the line. It was only a brief respite for Athy though. After strong carries from skipper Emma Irvin and number eight Aimee Brennan, the ball was worked out wide. It reached Benedetta Belini on the left wing and she took off down the line, beat the last Athy defender and touched the ball down under the posts. Keely added the extras to give the Bisto's a 19-5 lead.
To their credit Athy kept fighting and they had the Bisto's under pressure on their line. But led by the likes of Linn Staunton and Keva Condren O'Brien, the Bisto's defence held firm and eventually they won a penalty to relieve the pressure. The Bisto's then got back up the pitch and Lily Marron was through again but was stopped from scoring a certain try by a high tackle. The referee correctly awarded a penalty try to make the score 26-5 to the Bisto's. Marron eventually get a second try in the last play of the game. Abbie Keeley kicked the conversion to the seal a 33-5 win and spark scenes of wild celebrations from the players, coaches, parents and supporters.
The Bisto's impressive handling skills and strong mentality are a testament to the work of coaches Aileen McGovern from Tallaght RFC, Sarah Brennan and Barry Marron from St Marys, Nick Hodges from Blackrock RFC and Moia Flannery from Wexford RFC.
One of the victorious coaches Aileen McGovern was delighted with their team. "It was a brilliant performance from the whole Bisto squad. All the coaches are proud of their teamwork, skill and determination. It's a credit to the hard work they have put in over the last few years. On behalf of the coaches and the team I would also like to thank the huge numbers of support from Tallaght Rugby Club and all the other local clubs who had players out there. The coaches couldn't pick out a single player as everyone did their job so well so the player of the match goes to the entire squad. The future is bright!"
Player of the match: The entire squad
Bisto's
1. Deirdre Turner
2. Sinead Brennan
3. Emma Irvin
4. Katie Carr
5. Keva Condren O'Brien
6. Linn Staunton
7. Hannah Hodges
8. Aimee Brennan
9. Nicole Fanning
10. Abbie Keeley
11. Benedetta Belini
12. Lily Marron
13. Laoise Devlin
14. Natalia Piriz Saldanna
15. Helen McGrath
16. Anna Brennock


Report: Jim O'Connor
Photos: Anne Kavanagh