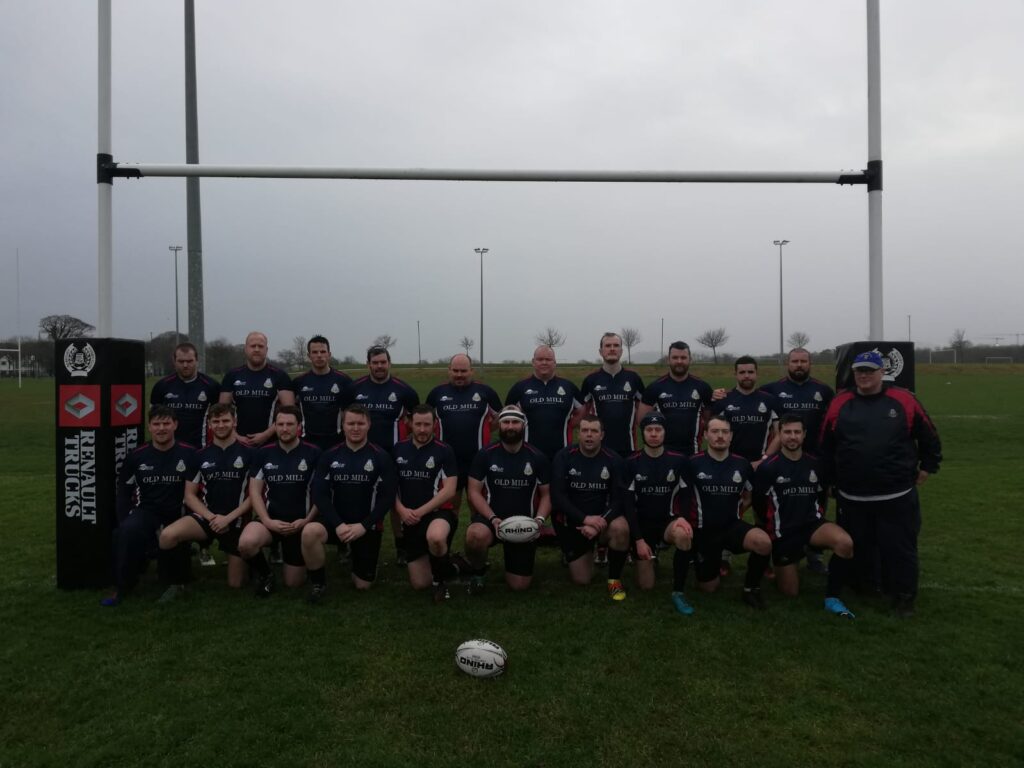 Seapoint R.F.C. 12

Tallaght 1sts: 17
Try: Adam Nolan, David Clarke
Con: Rob Hudson 2
Pen: Rob Hudson
Metro League Division 6
Kilbogget Park
11/01/2020
The Tallaght men's first team resumed their Metro League Division 6 campaign after the Christmas break with a trip to take on Seapoint. With leaders Terenure not playing this week, Tallaght would go top with a win. However both teams initially struggled to cope with the wind and constant driving rain. Tallaght did make a great break through flanker Niall Mahon that got them close to the Seapoint line but when the ball went wide it was knocked on.
It was a consistent trend for Tallaght with the likes of Denny McCarthy and Dave Clarke also making good breaks only for the ball to be knocked on afterwards in the wet conditions. Tallaght's cause wasn't helped when Niall Mahon had to go off with a serious ankle injury. Tallaght did take a 3-0 lead from a Rob Hudson penalty on 22 minutes. Then Seapoint were shown a yellow card for a cynical foul at the ruck and Tallaght had an easy kick at goal to double their lead. However Tallaght chose to go for a scrum instead but the planned move was botched and Seapoint were able to clear their lines. Tallaght couldn't take advantage of having the extra man and the half-time score remained 3-0.
In the second half both teams kept struggling to hold onto the ball. Then on the 50 minute mark Tallaght prop Tony McManus was shown a yellow card for taking a man out off the ball. Strangely, having struggled when a man up in the first half, being a man down actually sparked Tallaght into life. Strong carries from Jack Russell and Ken McGovern got Tallaght into position and then skipper Adam Nolan scored a try in the corner. Rob Hudson kicked a magnificent touchline conversion to make it 10-0 to Tallaght. Four minutes later Tallaght were on the scoresheet again. Replacement scrum-half Nick McGuinness made a fine break and then popped the ball to David Clarke to go over for the try which Hudson converted to make it 17-0 with twenty minutes left.
Tallaght were probably guilty of thinking the game was over too early and they let Seapoint back into the match in the last ten minutes. Seapoint scored tries on the 75 and 79 minute mark and converted one of them to make it 17-12. It made for a bit of nervy finish but Tallaght were able to regain the ball and kick it out to win the match and Seapoint got a losing bonus point for their troubles.
Tallaght coach Tom Leigh was pleased with his win. "Seapoint is always a hard place to come to and win so we're delighted. The conditions were brutal and we were probably guilty of trying to play too much rugby in the first half. We hung in there and got the crucial scores to win the game when down a man. Fair play to Seapoint, they kept going and got a losing bonus point but we're content to get the win to put us top of the table. We've now got Terenure and Coolmine at home in the next two weeks. It's going to be a massive challenge but if we can win both those games it will put us in prime position for a home play-off final. I also want to thank the sponsors of the men's first team, the Old Mill bar and restaurant in Firhouse. We were playing in the new strip that they payed for today and though it was a very dark day to get a good picture, we're very grateful for their continued support."
Man of the match: David Clarke
Tallaght RFC
1. Tony McManus
2. Ken McGovern
3. Andy Grace
4. Alan Moore
5. Alan Sower
6. Jack Russell
7. Niall Mahon
8. Adam Nolan (Captain)
9. Andrew Rudd
10. David Clarke
11. Karl Segrave
12. Denny McCarthy
13. Padraig Jones
14. Rob Hudson
15. Ciaran Rudd
16. Andy Caswell
17. Colin Morrison
18. Kevin Quinn
19. Scott Hyland
20. Nick McGuinness
Report: Jim O'Connor
Photos: Ciaran Keane (Blame him so!!)