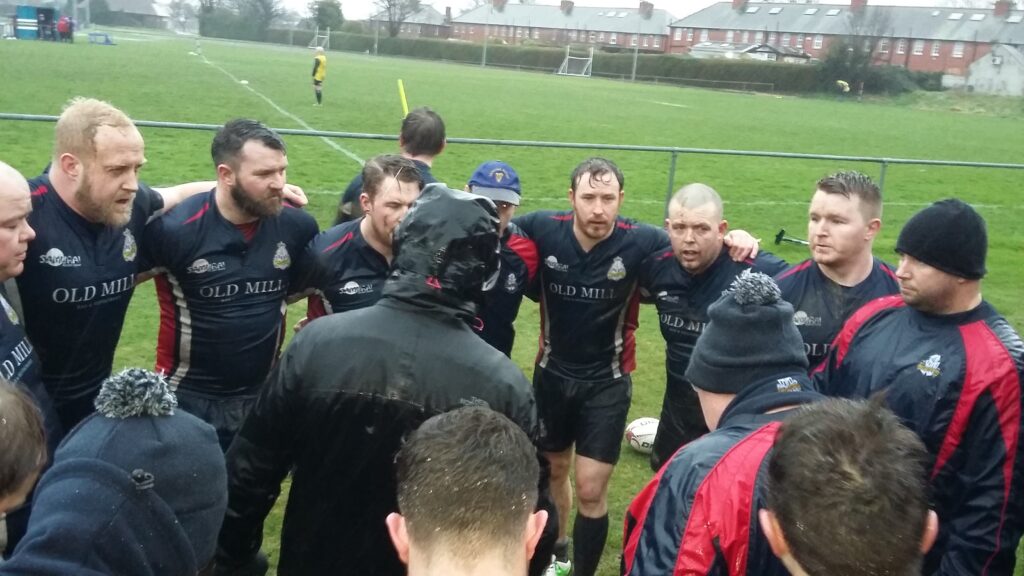 Trinity College 0

Tallaght 1sts: 31
Tries: Niall Mahon, Kevin Quinn, Rob Hudson, Jack Russell, Andy Rudd
Con: Rob Hudson 3
Metro League Division 6
Tymon Park
15/02/2020
The Tallaght men's first team took on Trinity College in Metro League Division 6 in a game moved from Santry to the Iveagh Gardens in Crumlin. The game was played in horrendous conditions as storm Dennis raged. Tallaght had the strong wind at their backs and they made smart use of it with Adam Nolan and Dave Clarke constantly pinning Trinity back in their own half with booming kicks.
With the constant driving rain making handling a nightmare, mistakes were inevitable. The Trinity scrum-half attempted to clear his lines but his box kick was blocked down by Niall Mahon who regathered to score his first try for the Tallaght first team. Rob Hudson kicked an excellent conversion to make it 7-0 to Tallaght. It wasn't long before Tallaght were on the scoresheet again. Once again it came on the back of a Trinity mistake as a kick ahead was fumbled near the Trinity line. Tallaght pounced and after a couple of phases, Kevin Quinn forced his way over to score his first try of the season for the first team. Hudson again converted to make it 14-0.
Tallaght kept the pressure with aggressive carrying from Andy Grace, Alan Moore and Ken McGovern getting them on the front foot. Tallaght full back Simon Collie opted to run a kick back and took off on a fantastic run breaking several tackles. He looked certain to score a try but lost his footing ten metres from the line. However the ball was recycled and eventually Rob Hudson forced his way over from close range to make it 19-0. Tallaght kept going and after a break from Denny McCarthy, Jack Russell got over the line to score his first try of the season. Hudson converted to make it 26-0 at half-time.
In the second half Tallaght had to play into the wind and for the first fifteen minutes of the half they were trapped in their own twenty two. Trinity came at them time and time again and even when Tallaght won the ball back they couldn't clear their lines because of the strength of the wind. The Tallaght defence held out but then they suffered a blow when centre Denny McCarthy was shown a red card for a tip tackle. The referee accepted that the tackle was more reckless than malicious but as the Trinity player had landed on his neck he felt he had no choice but to send McCarthy off.
Despite being reduced to fourteen men, Tallaght continued to defend resolutely and eventually they were able to get out of their half. Strong carries from replacements Andy Caswell and Joe Ivers got Tallaght into a strong position and then they won a scrum five metres out. Adam Nolan broke from the scrum and got close to the line and then scrum-half Andy Rudd sniped from the ruck and got over for his third try of the season to make it 31-0. There was no more scoring and both teams were delighted to hear the final whistle so that they could run off to get into the hot showers in the dressings rooms. The win put Tallaght into the final with two games to spare, the fourth year in row they've made their league final.
Tallaght coach Tom Leigh was pleased for his team. "First of all, I'm delighted to be into another final. This is our first year in this league, so to make the final with two games remaining is a great tribute to all the hard work the players and coaches have put in. But we're not going to rest on our laurels as we know one more win will guarantee us a home final for the first time ever."
"The conditions were absolutely horrendous out there but the lads played really smart rugby especially in the first half when we had the wind behind us. We weren't afraid to play either and scored some really good tries. In the second half we defended really well especially considering we were down to fourteen men for twenty five minutes. It was a really tough game to pick a man of the match as basically everyone played well. But we went for Andy Grace who's one of our unsung heroes in the front row. Andy always puts in a strong shift for us and he sets the tone for the pack with his physicality and work-rate. Finally on behalf of the whole squad we want to thank the supporters who came out in dreadful weather to cheer us on."
Man of the match: Andy Grace
Tallaght RFC
1. Alan Sower
2. Ken McGovern
3. Andy Grace
4. Alan Moore
5. Kevin Quinn
6. Jack Russell
7. Niall Mahon
8. Adam Nolan (Captain)
9. Andrew Rudd
10. David Clarke
11. Ciaran Rudd
12. Denny McCarthy
13. Padhraig Jones
14. Rob Hudson
15. Simon Collie
16. Andy Caswell
17. Tony McManus
18. Colin Morrison
19. Joe Ivers
20. Nick McGuinness
21. Daryl Keogh
22. Karl Segrave
Report: Jim O'Connor
Photo: Jim O'Connor