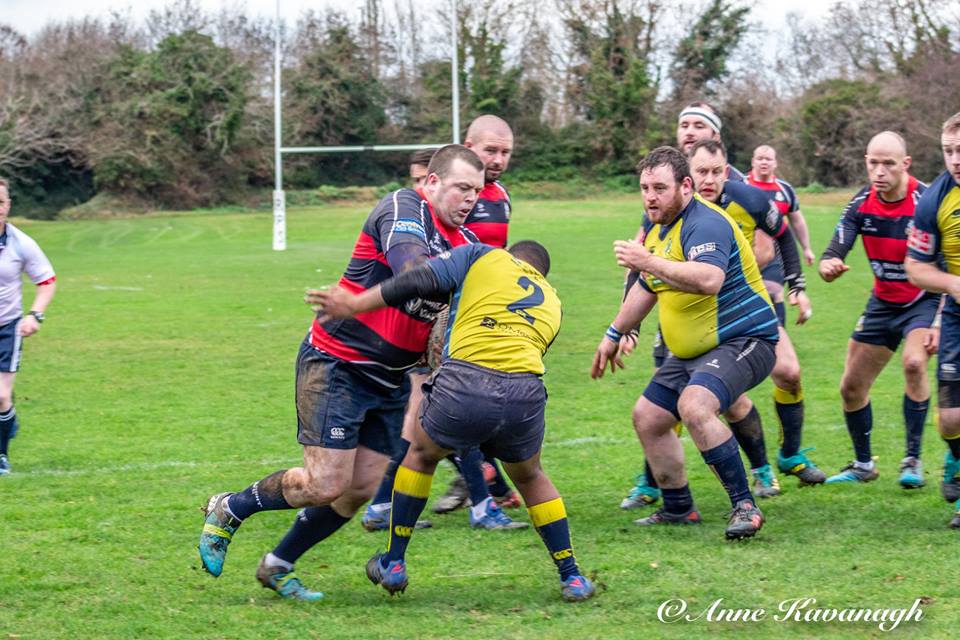 Tallaght 1sts: 13

Try: Simon Collie
Con: Adam Nolan
Pen: Rob Hudson, Adam Nolan

Barnhall: 0

Metro League Division 6
Maynooth University
22/02/2020
The Tallaght men's first team took on Barnhall in Metro League Division 6 in a game moved to Maynooth University as Tymon Park was deemed unplayable. Tallaght qualified for the final last week but needed another couple of points to ensure they had home advantage for it. Once again the conditions made things difficult with the bitterly cold wind and a heavy rain shower arriving just as the game kicked off.
Barnhall dominated the first twenty minutes of the match as Tallaght struggled to get any ball. Tallaght's defence held out though and they created a couple of chances themselves when they got the ball wide. However some poor decisions in possession let Barnhall off the hook. Barnhall suffered a blow when they were shown a yellow card for a high tackle after twenty five minutes. However Tallaght couldn't made the extra man count.

Finally just before half-time a good run from winger Rob Hudson got Tallaght close to the Barnhall line. Tallaght had numbers out wide but couldn't get the ball out quick enough and had to settle for a Hudson penalty to make the half-time score 3-0. In the second half it was more of the same as both sides struggled to create chances. Barnhall were shown a second yellow card for another high tackle after fifty minutes.

The big moment of the game happened after fifty five minutes. Barnhall were on the attack but Kevin Quinn stripped the ball in the tackle and passed it out wide to full back Simon Collie deep in the Tallaght half. Collie assessed his options and knew Barnhall lacked cover so he took off on a counter-attacking run. He beat a couple a tackles and then cut back inside to outpace the Barnhall winger and score a terrific individual try under the posts. Adam Nolan took over kicking duties from the injured Hudson and knocked over the conversion to make it 10-0 to Tallaght.

With a clear lead Tallaght now just had to see the game out. Barnhall kept coming at them though and when a ball went loose they broke away and Tallaght looked in trouble. However prop Andy Caswell showed great pace to catch the Barnhall player but he did so illegally and the referee correctly showed him a yellow card for a high tackle. Tallaght survived that ten minutes though and Jordan Corrigan came on to make his first start for the senior team and made several big tackles. No sooner was Caswell back on the pitch though, that Tallaght were down to fourteen man again. This time it was out-half Dave Clarke's turn to get a yellow for a high tackle but this time the card looked very harsh as the contact seemed on the shoulder. However Tallaght earned a long range penalty and Nolan kicked it to make the final score 13-0 and ensure Tallaght will be at home for a final for the first time in they club's history.

Tallaght coach Tom Leigh was proud of his team. "It was yet another tough day to play rugby with the weather. We also had to give up home advantage as our pitch was deemed unplayable by the council. We made life hard for ourselves at times, but once again the lads showed great character to find a way to win. There was a lot of good performances out there but we went for Jack Russell as man of the match as he put in a typical all action display in the back row. We've now confirmed home advantage for the final and we're really excited about that. We've one more match next week away to Guinness and then it's all about preparing for the final which should be on the 14th of March but that's still to be confirmed. We're especially delighted for all our supporters who came out in force again today that for the first time, they won't have to travel far for a final."

Man of the match: Jack Russell

Tallaght RFC
1. Alan Sower
2. Andy Grace
3. Andrew Caswell
4. Alan Moore
5. Kevin Quinn
6. Niall Mahon
7. Jack Russell
8. Adam Nolan (Captain)
9. Andrew Rudd
10. David Clarke
11. Rob Hudson
12. Padhraig Jones
13. Nick McGuinness
14. Ciaran Rudd
15. Simon Collie
16. Jordan Corrigan
17. Tony McManus
18. Colin Morrison
19. Joe Ivers
20. Karl Segrave
21. Daryl Keogh
22. Aaron Shanahan

Report: Jim O'Connor
Photo: Anne Kavanagh