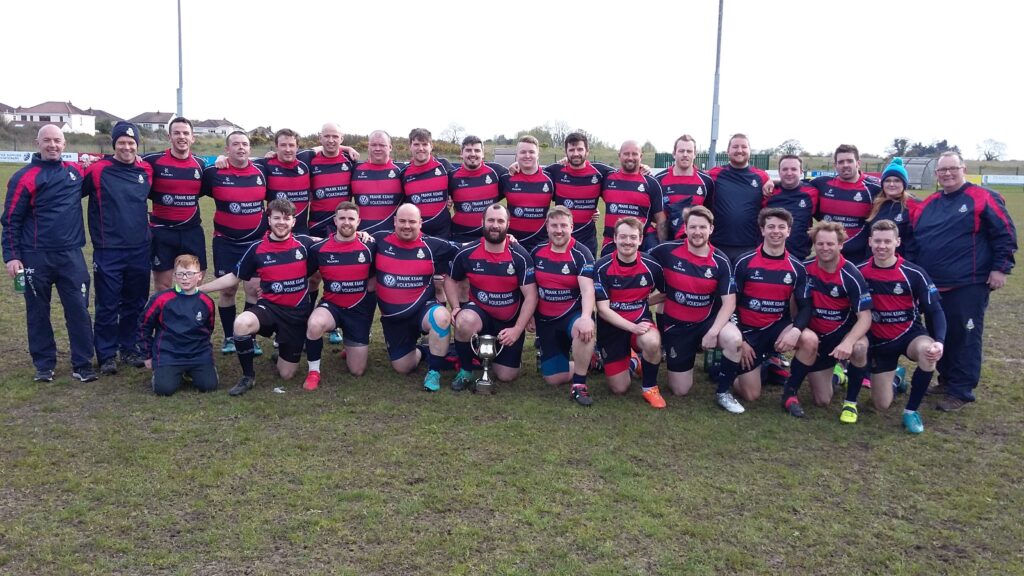 After the domestic season was halted due to the Covid-19 crisis, the Leinster branch have declared the Tallaght first team champions of Metro Division 6. As the final against Terenure cannot now be played, the table topping Tallaght team were declared champions and have been promoted to Division 5 for next season.
Tallaght would have much preferred to win the league by beating Terenure in the final which would have been the first ever to be hosted in Tallaght. But after finishing nine points clear having only lost one game all season, they are worthy champions.
The flip side of the coin of the branch's decision means that the Tallaght seconds team will have to settle for runner-up spot in Metro Division 11 as table toppers Clondalkin were declared champions. However they should be commended for finishing second in what was their first season as a team. The second team introduced several new players to the club this season and they'll be raring to go next term.
Tallaght head coach Tom Leigh was proud of his squad's achievement. "Last year was the most successful season Tallaght RFC had achieved, so we knew this year was going to be a huge step up. We had to improve both as individuals and as a team unit to be competitive in this new league. As early as August the momentum was building with huge numbers at training. There was a desire to get better, to have our own seconds team."
"At this stage we knew that, not only would we be competitive, but we could actually win the league. Our belief was backed up with a couple of pre-season matches where we played well and won quite convincingly. Then we reached the John Madden final, which was another great achievement. The standard at training was improving all the time with the new players blending into the club and enjoying the learning environment."
"The new players Niall Mahon, Ben Flynn, Scott Hyland, Leigh McDonald, Nick McGuinness, Brandon Wilson, Jordan Corrigan, Michael Corrigan, Wayne Stewart, Gary Kinsella, Shane Mooney, Padraig O'Ciardha and the returning Denny McCarthy and Ciaran Rudd all added value to the rugby club. We also saw an influx of younger players like James Carr, Marc Keatinge, Daniel Byrne, Keith Fitzsimons, Cameron Byrne and Sean Gardner who we hope will make a big contribution to the club in years to come."
"The key strength this year was the squad. We used a lot of players over the season so the success is to be celebrated among the whole squad. Our league record was almost 100% but for one off-day versus Trinity but in fairness on the day they played well and we only lost by a point. We had loads of tight matches but always had the belief and hunger to get the result. We went unbeaten away from home which is rare in any league and shows the mental strength of the squad. "
"But the key was the last three games which were all played in terrible conditions as the various storms raged in January and February. But we won all three game and only conceded five points combined. We were building towards the final and beginning to peak for that. Unfortunately the final didn't get played and it would have been a huge battle against our local rivals Terenure having only beaten them narrowly both times in the league."
"But we're delighted the league season wasn't declared null and void so that we have something to show for all our hard work over the last seven months. I want to thank the coaches and managers Gary Brennan, Luke Tyrrell and Ciaran Keane for all their hard work and guidance this season. I also want to thank our amazing supporters who still came out in big numbers over the whole season, especially in some of the worst weather I ever saw for rugby. While it was hard on the seconds team to not get a chance to play their final, they still had a great season and I want to thank Simon Gaskell for all the hard work he put in over the season."
"I also want to thank our many sponsors The Old Mill, The Maldron Hotel, Origina, Welltel, Ashley Ford, Jones Engineering, Firetrade and Landscape Depot for their fantastic support this season. Finally I was to wish the whole Tallaght RFC family good health at this tough time and I can't wait until the time comes that we can get together to celebrate a second league win in a row."
Whenever normality resumes, Tallaght will have the awards night and the team will be presented with their trophy and medals along with the normal awards for all the teams. Until that happy day please all stay safe and well until we can all come together again as a club.