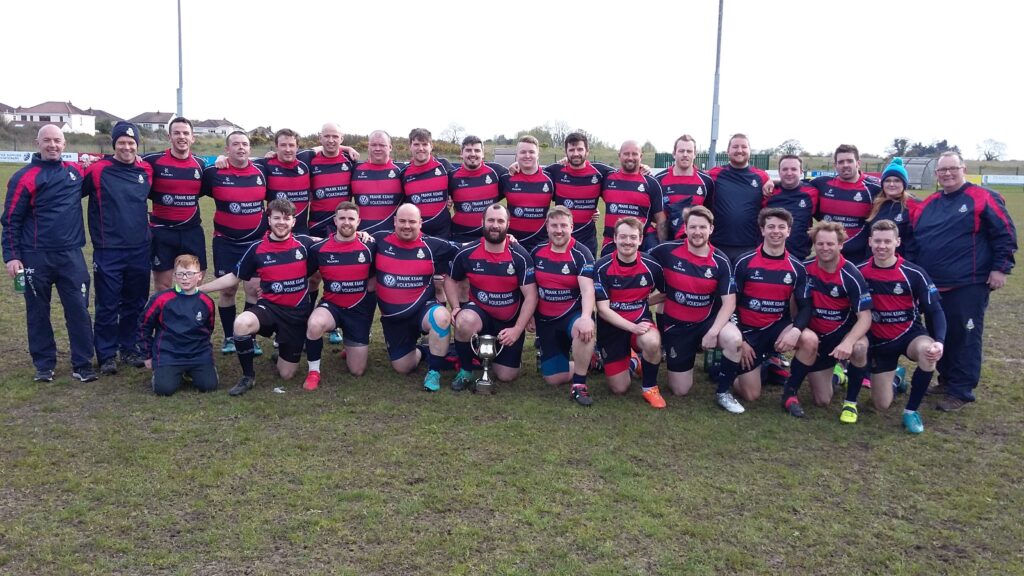 Tallaght rugby's season started in late July of 2019 with great expectations that we were going to kick on from last year. At the end of the 2018-2019 season, we finished with two trophies; the John Madden cup and the Metro League Division 7 trophy which was the most successful season to date for Tallaght Rugby Club. When we started preseason training in July there was a huge increase in numbers attending. We had returning players like Denny McCarthy, Ciaran Rudd, Shane Maguire, Wayne Stewart, Jordan and Michael Corrigan and Brandon Wilson. We also had new players coming in like Niall Mahon, Shane Mooney, Ben Flynn, Padraig O'Ciardha, Leigh MacDonald, Declan O'Neill, Gary Kinsella and Scott Hyland. At the same time there was an influx of younger players in the likes of James Carr, Keith Fitzsimons, Mark Keatinge, Cameron Byrne and Sean Gardner joining again. In August with a limited side we travelled again to Youghal in County Cork for a preseason tournament and that set the tone for the year and we had another enjoyable experience in Cork.
We won a couple of preseason games against Guinness and Clane RFC before we commenced competitive action in the John Madden cup. In the first round we faced Seapoint who we have beaten previously in the league final last April. After a very hard battle throughout the match we went to extra time and then in the unusual circumstances we had to win a penalty shoot-out to progress to the next round. In the semi-final we beat Guinness 17-6 to reach the final.
Numbers at training were excellent and our squad depth was getting bigger which was to prove key as the season progressed with players unavailable and injured. Unfortunately we lost a number of players to long-term injury through the season like Declan O'Neill, Sean Gardner, Ben Flynn, Leigh McDonald, Ciaran Keane, James Carr, Rob Carthy and Mick Corrigan. Despite these losses lads kept stepping up to take their place and maintain the quality of performance.
The league campaign commenced in October with a hard fought win against Seapoint at home in Tymon Park. The next match was against Terenure in Lakelands Park which seen as a important match against one of the most established clubs in Leinster. In a tight battle Denny McCarthy's late try was the key moment in the match and we came away with a 12-10 victory. The next match away to Coolmine was going to be a huge challenge having not beaten them in a long time. The key moment in the match came before kick off when the referee made a decision that the home team had to change their jerseys because they clashed with ours. This had them all over the place for the first 25 minutes and we took our advantage and came away with the victory.
The next fixture was to be the key fixture of the season when we lost to Dublin University at home by a single point in a match where the opposition were better on the day. The result focused the mind for the rest of the season and we didn't lose again. This resulted in wins over Barnhall, Seapoint, Terenure and Coolmine. Then the last 3 wins came against Dublin University, Barnhall and Guinness in the worst conditions we have seen in a long time and more importantly only conceding 5 points in 240 minutes. This put us a great position going into our home final in Tymon Park against second placed Terenure.
The final was cancelled because of the Covid 19 situation and we were gutted that we couldn't play a Leinster rugby final in Tallaght for the first time. The final was going to be very tough having just beaten Terenure twice during the season by small margins. The Leinster Branch awarded the league to Tallaght because we had finished top of the table by a 9 point margin. This is another huge achievement for Tallaght RFC to go back to back league winners. This is a credit to all the players and everyone involved with Tallaght RFC.
We really want to kick on again next year both on the field and off the field to keep improving and challenging ourselves. It is an honour to be involved with Tallaght RFC and their commitment to their team and community is second to none. We are not only developing great rugby players but wonderful people for their community and families.
This has been proven many times this year as the team and the rest of the club raised money for the Tallaght Hospital frontline staff during the present pandemic and also helped support one of our men's team Wayne Strewart who sadly lost his father Paul recently. We also increased our Tallaght RFC family this year with newborns from a number of players that included Al Moore, Tony McManus, Shane Maguire, Nick Hearn, Mark Keogh and Daniel Pomares. I want to congratulate all of the above and their partners and wish them the best of luck in their new adventure with their families. There are also a few weddings coming up this year for a few players. I would also like to wish them the best of luck for their big days and not to forget Al Sower who was married in December to Laura and the very best to them in their new life together.
The rugby season is finished for another season but we still have a few nights to celebrate our success when we are allowed and restrictions are eased. We can look forward to being presented with the Division 6 trophy from the Leinster Branch, our awards night, AGM and then to plan for next year when hopefully we can keep improving on and off the pitch.
I want to thank a few special people who made this season such a success again. Simon Gaskill, Padraig O'Ciardha and Colin Keogh were the driving force behind the second team and looked after them on match days. They were denied a final in Division 11 due to the restrictions and I know they want to get back to that level again. Many of the issues most people don't see on a weekly and monthly basis are sorted by people within the club who just get on with it. Our Chairman Luke Tyrrell is always there willing to solve a problem and support us and I want to thank him on behalf of every player in the club for the work he does. I also want to thank everyone on our committee for all their hard work over the season to put the club on such a solid footing.
Adam Nolan captained the club again this year and was outstanding in supporting the team on and off the pitch. He also coached the under-16's boys team which shows his commitment to the club now and into the future, many thanks Adam for all your support this year. On the day of the matches Ciaran Keane stepped into the role of manager and was always there to help and support the players and coaches in whatever we needed, many thanks Ciaran. I also want to thank Jim O'Connor for all his hard work with the fixtures and the match reports throughout the year, many thanks Jim.
Colin Keogh and Niall Mahon took over as coaches of the women's team and it was great to see their commitment to bringing through new players and thanks again to the women's captain Martina Fitzpatrick for the leadership she shows on and off the pitch. Our youth's teams have continued to grow and the Bisto's team won the under-18's girls shield final on a great day in St. Mary's. So thanks to Aileen McGovern, Audrey and Gerry Fanning and all the other coaches and parents who are helping to create our stars of the future.
I also want to thank the Leinster Branch especially all the referees who we could not play without and Dermot O'Mahony for administration of the Metro Leagues and Leinster Coach Development Officer for Tallaght RFC and the Metropolitan Area Damien McCabe. Our own Audrey Fulham is going from strength to strength in her refereeing career and it's great to see her representing the club so well in that area.
Also huge thanks to Gary Brennan who again this year has been such a great inspiration to all the players. He challenges them every week to improve and we have really seen his work come through with the backline on both the men's teams. Gary has also been involved with Richie Murphy coming down to take a kicking session and Colin McEntee taking a couple of sessions for Tallaght RFC and all of us have learned from these training sessions. Many thanks Gary for all your work this year. It is very much appreciated.
Last but not least I was to thank all the partners, family and friends of all our players and coaches who come out to support the team in all kinds of weather. They also support the club through buying tickets, attending fundraisers and looking after children when players train. Without their support, we'd be nowhere so thanks to everyone in the TRFC family.
Yours in Rugby
Tom Leigh
Tallaght RFC
#tallaghtraising