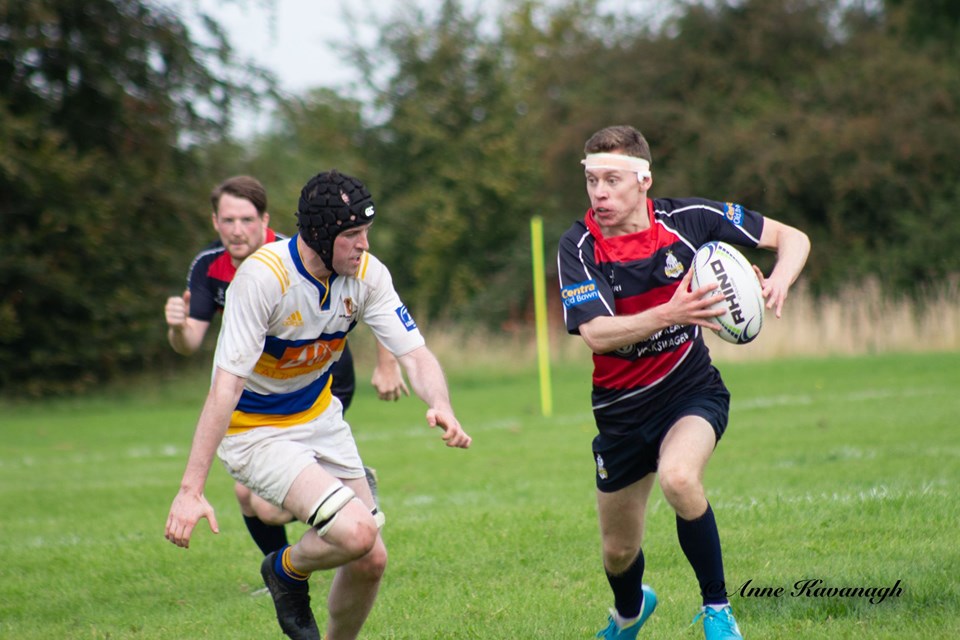 Dublin Dogos 5

Tallaght 1sts 27

Tries: Rob Hudson, Andy Rudd 2, Ken McGovern
Con: Rob Hudson 2
Pen: Rob Hudson

Leinster League Division 3
Sydney Parade
04/10/2020
The Tallaght men's first team took on the Dublin Dogos in their first competitive match in seven months. After winning Metro League Divisions 6 & 7 in consecutive seasons, the Tallaght first team have joined the Leinster League for this season which means Sunday rugby.

With the heavy rain in the morning, there was a fear the fixture might not go ahead but the pitch was in excellent condition. Tallaght started slowly and were stuck in their own half defending for most of the first quarter. After five minutes Tallaght looked stretched on the flanks but left winger Rob Hudson intercepted the ball and showed his pace to run the ball back 80 metres to score a try.

The Dogos should have hit back three minutes later but their penalty attempt in front of the posts went wide. Finally after twenty minutes Tallaght got into the Dogos half for the second time. Skipper Adam Nolan made a powerful burst and linked up with Simon Collie who was only denied a try by the last defender. But Tallaght were awarded a penalty which Hudson converted to make it 8-0.

Josh Sweeney (son of former Tallaght player and coach Simon) and Jordan Corrigan were both making their first starts for the 1sts. Sweeney made several big tackles and Corrigan carried impressively. The Dogos were the next to score though when they worked the ball wide and broke through for a deserved try after 30 minutes. They missed the conversion though and another penalty attempt in front of the posts which really should have levelled the game.

Instead Tallaght took advantage when winger Ciaran Rudd caught a punt in his own half and kicked it long. He was taken out as he chased his own kick but his brother Andy was following up as well and he skilfully gathered the ball and touched it down for the try to give Tallaght a 13-5 lead at half-time.

In the second half Tallaght dominated possession more but their lineout let them down a number of times. The Dogos seemed to tire and they conceded a lot of penalties. With twenty minutes left, the referee lost patience and they were shown a yellow card for persistent offending. Tallaght went for the lineout and though the maul was collapsed the forwards picked and drove a number of times. Eventually Andy Rudd spotted a gap and sniped over for his second try of the match which Rob Hudson converted to make it 20-5.
The game was Tallaght's now but for the first time ever they had a four-try bonus point to go for. Previously they'd always played in leagues where there was only losing bonus points. Their cause was helped by the Dogos getting another yellow card for a high tackle. A superb kick from Rob Hudson from his own twenty two to the Dogos twenty two put Tallaght in a great position to score.
Once again they attacked from a lineout and after another series of picks and drives, hooker Ken McGovern forced his way over for a try to earn the bonus point. Hudson converted and the final score was 27-5 to Tallaght.

Tallaght coach Tom Leigh was satisfied with the game. "We started slowly and they dominated the ball early on. But we got a couple of opportunistic scores and in the second half, we were a lot better. There's lots to work on, like our lineout and our protection of the ball at the ruck. But we defended well and played some decent rugby in tough conditions. The Dogos are a fine team who finished fourth in this league last year. So to come here and get a win and our first ever four try bonus point is an excellent day's work. It was also great a to see a number of young players make their debuts for the first team and they fitted in seamlessly. We have the Dogos again next week and we'll be looking to improve but overall we're delighted."
Man of the match: Adam Nolan

Tallaght RFC
1. Alan Sower
2. Ken McGovern
3. Andy Grace
4. Alan Moore
5. Colin Morrison
6. Josh Sweeney
7. Jack Russell
8. Adam Nolan (Captain)
9. Andrew Rudd
10. David Clarke
11. Rob Hudson
12. Jordan Corrigan
13. Nick McGuinness
14. Ciaran Rudd
15. Simon Collie
16. Andy Caswell
17. Padraig O Ciardha
18. Joe Ivers
19. Darryl Keogh
20. Karl Segrave


Report: Jim O'Connor
Photo: Anne Kavanagh