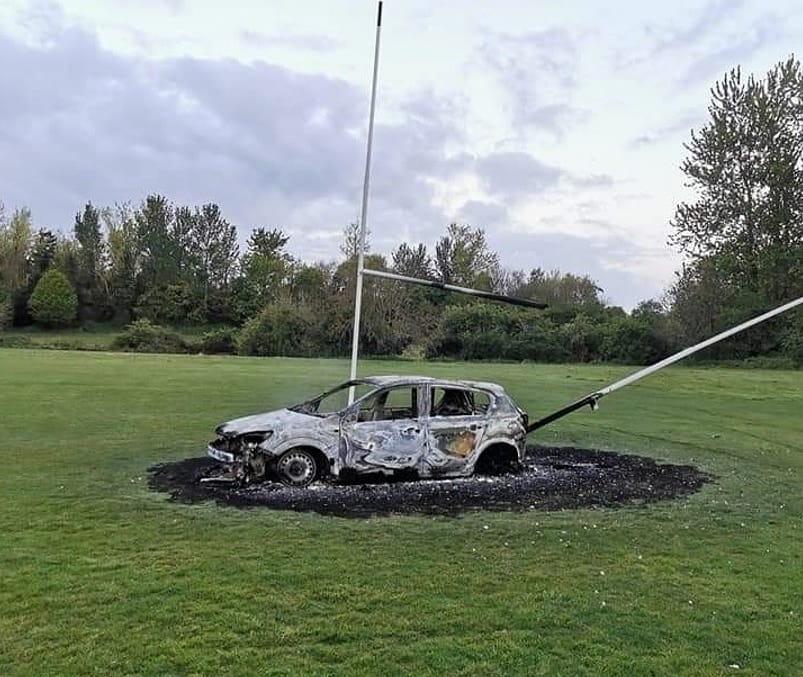 Tallaght Rugby Club was set up in 2002 as part of the "Tallaght Project", an IRFU initiative designed to introduce rugby in non-traditional areas. Over the last 19 years the club has come on leaps and bounds with the inclusion of a second senior men's team, a women's team, under 16 girls, under 16/18 boys and an ever expanding youth division ages 5 upwards. Although our club is growing in numbers and flourishing, we have yet to find a permanent safe place to call "Home".
Over the last number of months our club has been at the receiving end of several anti social behaviour incidents which has led to our club property and council provided pitches being damaged. Most recently upon welcoming back our Senior teams to training, we discovered our pitch in Tymon Park was callously destroyed by vandals. Our posts were knocked down, a car burned out, the pitch scorched rendering it unusable. We have no idea when we will get to use this pitch again. Having no control over our ground is not feasible long-term. As a club we have decided that enough is enough. The time has come where we need to find a safe secure space for our rugby family. This is why we are launching the "Tallaght RFC Forever Home Campaign".
We are asking to kindly help us raise funds so that we are in a better position to look at securing a space to call our own. The funds we raise might get us as far as a deposit for grounds to create a pitch or even (dreaming big here) develop a clubhouse.
No donation is too small as you are helping realise big dreams for our rugby family. Thank you for your continued support and we look forward to when we can welcome you to our new home in the hopefully near future.
If you can't donate please share our story with your family and friends. We are also always seeking new players to join our club from ages 5 upwards! No experience necessary. Feel free to contact us on our social media pages for more details.
Thank you….Don't stop believing ❤️
Donate here.