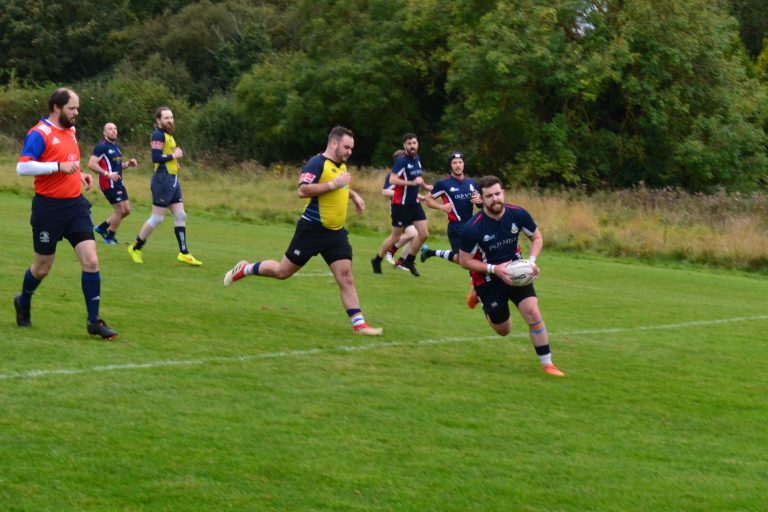 Tallaght 1sts 10

Tries: Al Sower, Rob Hudson
Ardee 19
Leinster League Division 3 Cup Semi-final
Tymon Park
12/09/2021
The Tallaght men's first team took on Ardee in the Leinster League Division 3 cup semi-final in their first competitive home game in Tymon Park in over eighteen months.

Like last week Tallaght began slowly again and were tackling way too high and were too slow off the line. Ardee had lots of powerful ball carriers and they made ground easily as Tallaght soaked too many tackles. They didn't have to wait long to take advantage as they scored their first try after four minutes to take a 5-0 lead.

Ardee kept the pressure on and looked likely to score again in the corner but wing Rob Browner saved the day with a timely interception. In the second quarter of the first half, Tallaght finally got going and started to earn some decent territory. Finally the pressure told when prop Al Sower was put away to score in the corner to make it 5-5.

However Ardee hit back with a superb individual try as their inside centre took the ball in his own half and beat several Tallaght tacklers to score. Ardee converted to make it 12-5. Tallaght hit back with some positive carries from Ken McGovern and Andy Caswell. Ardee also had a man yellow carded for a high tackle. Then from a scrum Adam Nolan broke from number eight and passed to Nick McGuinness who offloaded to David Clarke who showed good hands to put wing Rob Hudson away for a try to leave the half-time score at 12-10.

Tallaght got a boost in the second half when Ardee were show a second yellow card, and then a straight red card, both for high tackles. However the referee then quickly showed Tallaght skipper Adam Nolan a yellow card, also for a high tackle. Despite the one man advantage, Tallaght couldn't make it count and the game devolved into a very scrappy affair. Ardee broke away again through more poor Tallaght tackling and finally scored out wide and converted to make it 19-10. Tallaght were dominating the scrum but couldn't make anything of it and the game finished 19-10 to Ardee who will now play Dogos/AIB in the final next weekend.
Tallaght coach Tom Leigh was unhappy with the performance. "We never really got going to be honest. Our linespeed and our tackle height just weren't good enough and that cost us throughout the game. When we focused long enough to get through some phases we were able to score easily enough. Our set-piece generally went well again too. But there's a lot of issues we need to address and we need to get the numbers up in training to fix them. Good luck to Ardee in the final."
Man of the match: Al Sower

Tallaght RFC
1. Alan Sower
2. Ken McGovern
3. Andy Caswell
4. Mark Keogh
5. Joe Ivers
6. Josh O'Brien
7. Kevin Quinn
8. Adam Nolan (Captain)
9. Andrew Rudd
10. Darryl Keogh
11. Rob Browner
12. David Clarke
13. Nick McGuinness
14. Rob Hudson
15. Ciaran Rudd
16. Andy Grace
17. Mick Corrigan
18. Graham O'Brien
19. Niall Mahon
20. Jordan Corrigan
21. Josh Sweeney
Report: Jim O'Connor