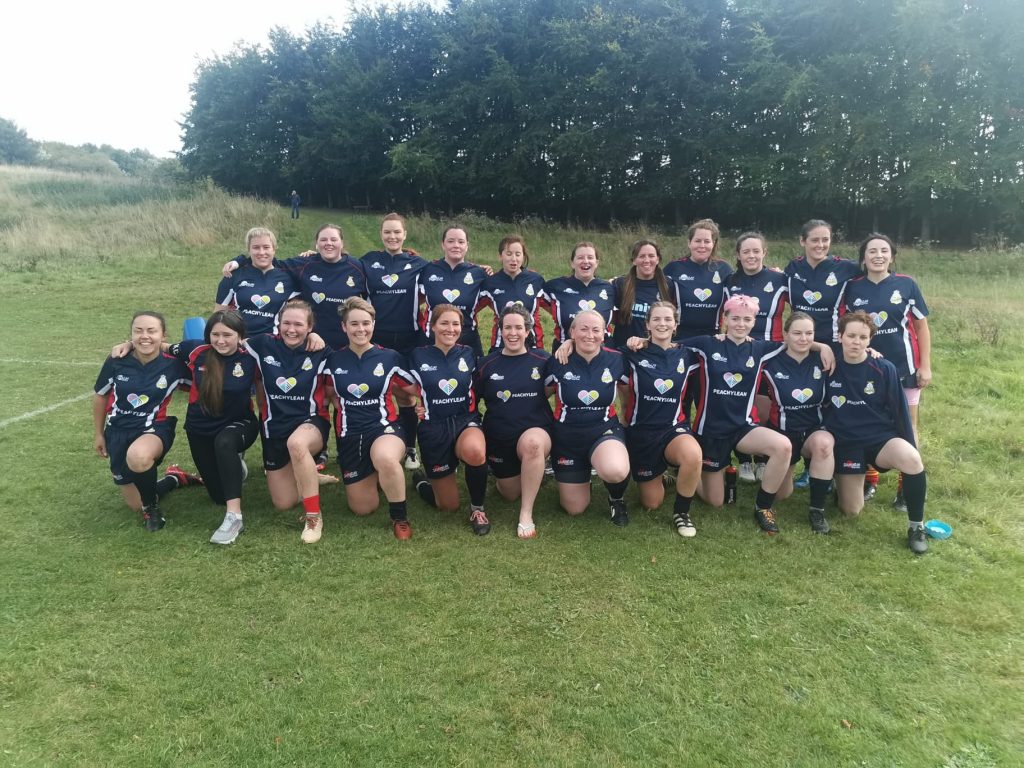 Tallaght R.F.C. 24
Try: Lisa Connors, Chloe Conroy, Abbie Keely, Erica Keegan
Con: Grainne Flood 2

DLSP 7

Women's Leinster League Division 5
Tymon Park
10/10/2021
The Tallaght women's team played their first league game of the game of the season in Division 5. They took on DeLaSalle Palmerston in front of a massive home crowd. There was also a little bit of club history made as a parent and their child played together for the first time in a competitive club game. Skipper Martina Fitzpatrick took the field with her daughter Abbie Keeley, a star of Tallaght youth rugby in recent years, who made her first senior rugby start at full back.
Tallaght began really well building their way through the phases off strong carries from Louise Leonard and Samantha Leddin, who was playing her first game for the club in five years. The ball was worked wide and centre Chloe Conroy made one of her trademark powerful bursts to get Tallaght into the DLSP twenty two. The pack followed up strongly and scrum-half Eileen Shanahan managed the next couple of phases well before putting flanker Lisa Connors over for her first try for the club. Grainne Flood converted to give Tallaght a 7-0 lead.
DLSP came back strongly with some good carries, but the Tallaght scrum was well on top with Karen Corrigan and Larissa Marinelli dominating their opposite numbers. They managed to win two scrums against the head and it was a shame that shortly after that a DLSP prop had to retire injured and the game went to uncontested scrums, removing the advantage for Tallaght. This didn't upset Tallaght unduly though and they scored another fine try built off good phase play with the likes of Aimee Travers and Hilary Martin putting in big shifts with consistent carries. The ball went wide and winger Lisa O'Connell made great ground but looked to be swallowed up in the tackle. But she showed great strength to stand up in the tackle and offload to centre Chloe Conroy who went over for the try. Flood converted again and Tallaght led 14-0 after 18 minutes.
To DLSP's credit they came back into the game in the second quarter. They had a couple of powerful ball carriers who made big ground although Tallaght didn't help themselves by sometimes tackling too high. Tallaght defended bravely with the likes of Jelizaveta Maguire and Roisin Doyle making several fine tackles. But consistent pressure from DLSP finally got them over the line for a converted try to make the half-time score 14-7 to Tallaght.
Tallaght started the second half brightly and replacement back row Vicky Cobbe was back and making a number of customary strong carries. Lisa O'Connell again made a big play when she first made a tackle and then got on her feet quickly enough to win a turnover penalty. Tallaght skipper Martina Fitzpatrick took the resulting tap penalty and made some good ground and then the ball was worked out to Chloe Conroy who burst through the line yet again. Full back Abbie Keeley took a superb trailing line on Conroy and was there to take the offload and score her first senior try in the corner to make it 19-7 to Tallaght.
DLSP didn't give up though and they kept coming hard and Tallaght replacements Amy Dalton and Sorcha Burns were required to make some big tackles in defence. Kim Letterfield came on for his first ever game of rugby and made a smashing tackle with her first involvement. But it was the final replacement Erica Keegan who settled the game with a super try (again her first for the club) in the corner to leave the final score at 24-7 to Tallaght.
Head coach Sean Bishop was thrilled for his team to get their first win of the season. "I just want to thank all the players for their hard work, not just the ones that took the field today but the whole squad. I also want to thank all the coaching staff, including Ciaran Rudd who came down here to coach before he had to go off and play for the men's team."
"I honestly couldn't pick a woman of the match as literally everyone made a strong contribution so we awarded it to the whole squad. There are still areas we can and will improve on but I want the whole squad to really enjoy that win tonight because they deserve it. But this is only the start of things and we really want to have a crack at this league. On behalf of the whole squad I also really want to thank the huge crowd of supporters who came out to cheer the team on. I also want to thank our new sponsors Peachylean and Inivo Medical whose support is already making a massive difference. Our next game is on Friday away to Kilkenny and we're looking forward to it already."
Woman of the match: The whole squad
Tallaght RFC
Larissa Marinelli
Samantha Leddin
Karen Corrigan
Aimee Travers
Hilary Martin
Martina Fitzpatrick
Lisa Connors
Louise Leonard
Eileen Shanahan
Grainne Flood
Jelizaveta Maguire
Roisin Doyle
Chloe Conroy
Lisa O'Connell
Abbie Keeley
Sorcha Burns
Erica Keegan
Amy Dalton
Clodagh Collough
Kim Letterfield
Vicky Cobbe
Report: Jim O'Connor
Photos: Emma-Louise Doyle