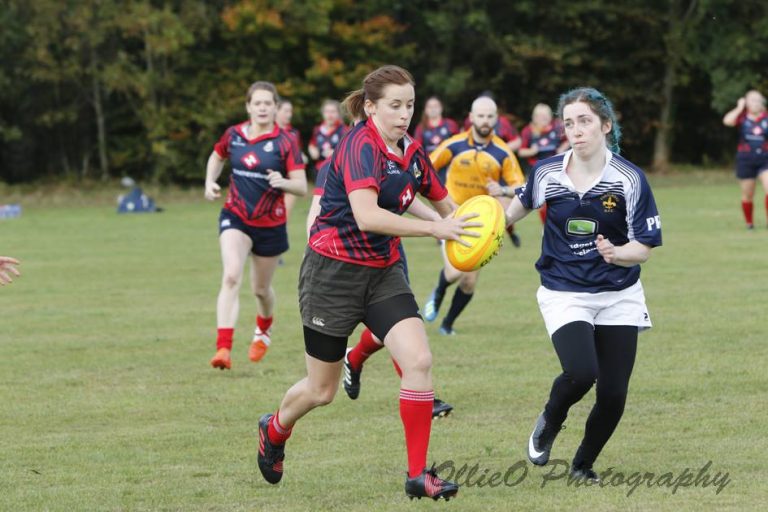 Kilkenny R.F.C. 10

Tallaght R.F.C. 0

Women's Leinster League Division 5
Foulkstown
15/10/2021
The Tallaght women's team played their first away league game of the game of the season in Division 5 with a trip to Kilkenny.
Tallaght suffered a big blow minutes after kick-off when centre Chloe Conroy went off injured. Kilkenny dominated the first quarter of the match and were camped in the Tallaght half. But Tallaght tackled bravely and ultimately survived with their line intact.
In the second quarter of the match, it was Tallaght's turn to dominate. They set up stall in the Kilkenny half as the home team were forced to concede penalty after penalty. A try looked certain on a couple of occasions if the ball had gone wide but some poor decisions left Kilkenny off the hook. Ultimately Kilkenny survived and the first half ended scoreless.
Kilkenny came out stronger in the second half as they began to launch their dangerous backs. Tallaght were guilty of tackling too high on too many occasions and Kilkenny took advantage to breakaway and score tries in the 53rd and 59th minute to take a 10-0 lead.
Tallaght kept fighting to the end with Louise Leonard, Lisa Connors and Roisin Doyle making strong carries and Kim Letterfield and Sorcha Burns made some big tackles. Ultimately their attack was too narrow though and they never really launched their outside runners to really test the Kilkenny defence. They also weren't helped by more injuries to Karen Corrigan, Vicky Cobbe and Aimee Travers. The game finished 10-0 to Kilkenny but Tallaght remain top of the league on points difference.
Skipper Martina Fitzpatrick was disappointed to lose but proud of her team's effort. "We won last week and it was great, but today was tougher and we weren't able to get over their line. A few things went against us, but at times we didn't help each ourselves at times either. But we fought hard to the end and once we keep that spirit, and improve technically, the wins will come again."
Tallaght have two weeks off now until their next game on the 31st of October when they're at home to Monkstown.
Woman of the match: Louise Leonard
Tallaght RFC
Larissa Marinelli
Samantha Leddin
Karen Corrigan
Aimee Travers
Hilary Martin
Martina Fitzpatrick
Lisa Connors
Louise Leonard
Abbie Keeley
Grainne Flood
Erica Keegan
Roisin Doyle
Chloe Conroy
Lisa O'Connell
Sorcha Burns
Amy Dalton
Kim Letterfield
Vicky Cobbe
Eileen Shanahan
Report: Jim O'Connor