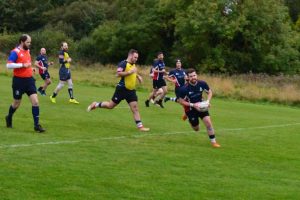 Tallaght 2nds 10
Try: Rob Hudson
Con: Rob Hudson
Pen: Rob Hudson
Clondalkin 15
Metro League Division 9
Tymon Park
16/10/2021
The Tallaght men's second team played their first home game of the season in a local derby against Clondalkin in the Metro League Division 9.
Tallaght started brightly with Colin Morrison and Sean Judd making strong carries. Both teams struggled to find their rhythm though and it took 20 minutes before the deadlock was broken when Clondalkin scored a try to take a 5-0 lead.
Tallaght hit back well though minutes later when good work from Kevin Quinn put Rob Hudson in for a try which he converted himself to make it 7-5 to Tallaght at half-time.
Clondalkin started to get on top in the second half and they scored a converted try and a penalty to take a 15-7 lead. Tallaght didn't give up though and centre Ken Lynch, making his first start for the club, was impressive in both attack and defence.
Hudson kicked a penalty to make it 15-10 and Tallaght had a couple of good chances late in the game but couldn't get over the line. Clondalkin hung on to win a typically spicy local derby and Tallaght had to settle for the losing bonus point. But it was a much improved outing from Tallaght's second team and hopefully things will improve as the season goes on and more players return from injury.
Man of the match: Ken Lynch
Tallaght RFC
1. Gary Kinsella
2. Mark Curley
3. Dave Kelly
4. Joe Ivers
5. Garreth Fitzpatrick
6. Kevin Quinn
7. Colin Morrison
8. Sean Judd
9. Pedro Silva
10. Rob Hudson
11. John Cowan
12. Ken Lynch
13. Michael Corrigan
14. Leon Tanfin
15. Wayne Stewart
16. Niall Mahon
Report: Jim O'Connor
Photo: Mark Luttrell