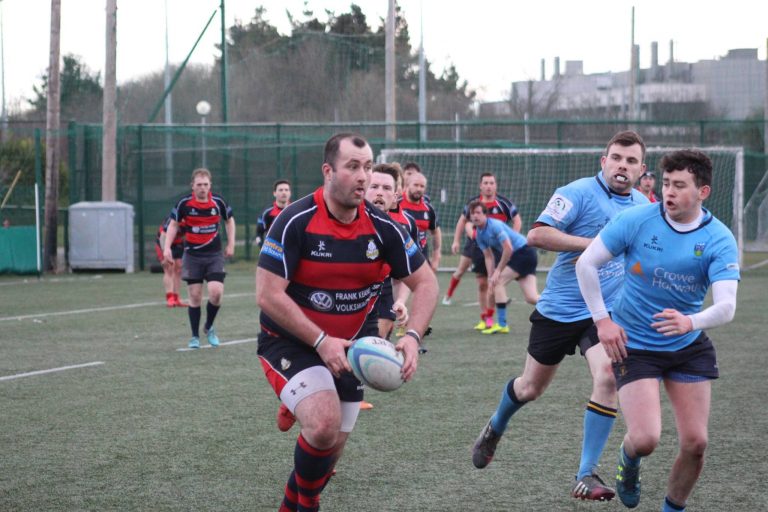 AIB/Dogos 50
Tallaght 1sts 27
Tries: Adam Nolan 2, David Clarke, Leön Tanfin
Conversions: Adam Nolan 2
Penalty: Adam Nolan
Leinster League Division 3
Tymon Park
05/12/2021
The Tallaght men's first team travelled to Sandymount to take on second placed AIB/Dogos in Division 3 of the Leinster League. Tallaght started very well and scored two tries through Adam Nolan and David Clarke. Nolan converted both of them to give Tallaght a 14-0 lead.

Unfortunately Tallaght then lost back rows Aaron Hickey and Niall Mahon to injury in quick succession which meant Tallaght had to reshuffle their pack. The Dogos took advantage of the disruption to get themselves back into the game. They started attacking Tallaght out wide and crossed for three tries and converted one of them to take a 17-14 lead.
Nolan kicked a long range penalty to make it 17-all but then Dogos got their fourth try to take the lead again at 22-17. Tallaght hit back again with Adam Nolan scoring his second try of the match to leave the teams level on 22 points each at halftime.
In the second half Tallaght suffered further injuries to Al Sower and Aaron Shanahan and the Dogos took advantage to score four converted tries. The game took on a nasty atmosphere with the Dogos' persistent (and classless) verbal goading,. When Tallaght inevitably reacted, they were the ones penalised and while Tallaght's discipline should have been better, you could understand their frustration. After reacting one too many times, Tony McManus was shown a yellow card.
Tallaght kept fighting and a great skip pass from Nick "Put me in the match report" McGuinness put Leön Tanfin away to score an excellent try. It was his first try for the Tallaght first team and it earned Tallaght a four try bonus point. It left the final score at 50-27 to the Dogos.

Tallaght coach Tom Leigh was proud of his player's effort. "We lost one of our main players Simon Collie yesterday and then lost two more early in the game. Despite that, we started the game really well and even when they came back at us, we were still level at half-time."
They pulled away in the second half but every lad out there out everything on the line and it was a just reward to get a four try bonus point to earn something for the day. We have our last game before the Christmas break next week against North Meath/Athboy and hopefully we can have a great week in training to prepare for it."
The Tallaght men's second team were in action earlier in the day in Metro Division 9 also against the AIB Dogos seconds. They lost 53-5 with Colin Morrison scoring a consolation try for Tallaght.
Man of the match: Adam Nolan

Tallaght RFC
1. Alan Sower
2. Adam Nolan (Captain)
3. Tony McManus
4. Al Moore
5. Patrik Toth
6. Niall Mahon
7. Kevin Quinn
8. Aaron Hickey
9. Andy Rudd
10. David Clarke
11. Aaron Shanahan
12. Daryl Keogh
13. Nic McGuinness
14. Ciaran Rudd
15. Rob Browner
16. Andy Caswell
17. Gary Kinsella
18. Graham O'Brien
19. Colin Morrison
20. Leön Tanfin
21. Mick Corrigan