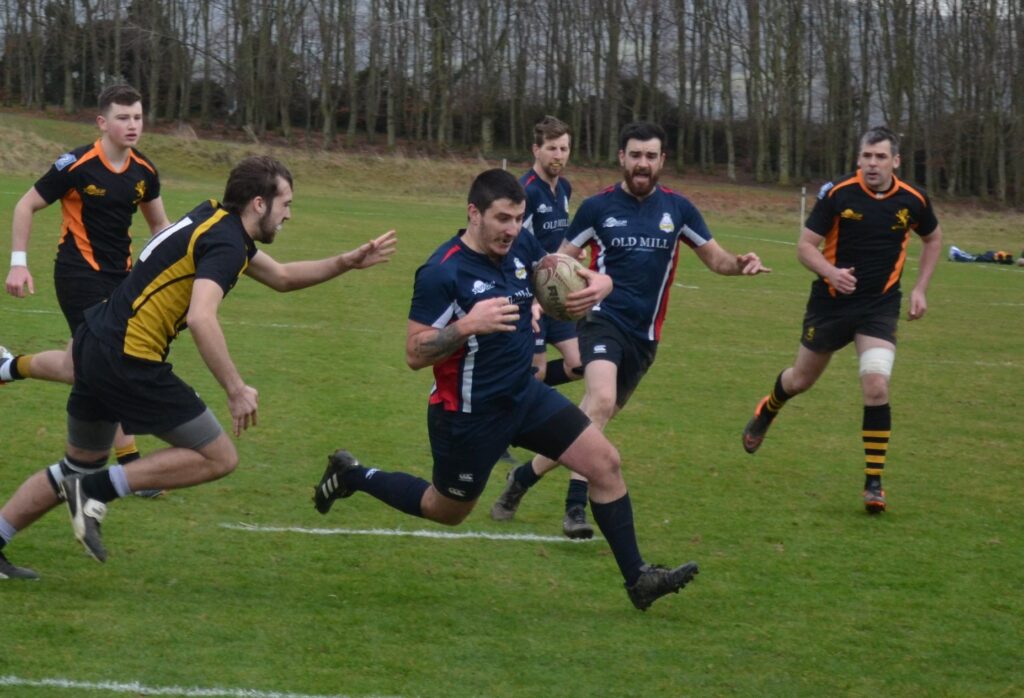 Tallaght 2nds 14
Try: Jordan Corrigan, Penalty try
Con: Leön Tanfin
Malahide 49
Metro League Division 9
Tymon Park
28/01/2022
The Tallaght men's second team took league leaders Malahide in the Metro League Division 9 on a windy January afternoon.
Malahide played with the wind behind their back and took advantage to kick two long range penalties which they added to an early converted try to build a 13-0 lead after twenty minutes. Tallaght began to improve in the second quarter of the match on the back of strong carries from Daniel Pomares and Kevin Quinn.
From a scrum near the Malahide line out-half put Jordan Corrigan away and the big centre went over for a try. Leön Tanfin converted to make it 13-7. Tallaght nearly scored again moments later when number eight Colin Morrison made a sensational fifty yard run and was only stopped ten metres out. Tallaght had an overlap out wide but it was ignored and the chance was ultimately wasted. Malahide hit back with a try to make the half-time score 18-7.
Malahide started to pull away in the second half increasing their lead to 30-7 with two more tries. However Tallaght kept fighting and both Ken Lynch and Kevin Quinn went close to scoring tries after fine breaks. Wing Leön Tanfin made a great break and kicked ahead but was taken out as he chased the ball and the referee awarded a penalty try to make it 30-14. However Malahide took advantage of a tiring Tallaght side to score three more tries to make the final score 49-14. However the scoreline was not really reflective of what was a decently competitive game for long spells.
Tallaght coach Tom Leigh was proud of the attitude of his team. "Malahide are top of the table for a reason and they deserved their win and good luck to them in the competition. But despite the scoreline, they knew they were in a game today and we played a lot of good rugby at times. The big difference today was we a full 21 man squad, probably for the first time this season with the 2nd team. It meant we were able to bring players off when they needed a break and keep the team fresh. We've three league games left and hopefully if we can maintain the strong numbers, we can be competitive in those games though which makes it much more enjoyable for everyone."
Man of the match: Daniel Pomares
Tallaght RFC

1. Camero Byrne
2. Kevin Quinn
3. Gary Kinsella
4. Arran O'Loughlin
5. Adam McCarthy
6. Daniel Pomares
7. John Cowan
8. Colin Morrison (Captain)
9. Pedro Silva
10. Ciaran Stewart
11. Leön Tanfin
12. Jordan Corrigan
13. Gavin McKeon
14. Michael Corrigan
15. Wayne Stewart
16. Ken Lynch
17. Ciaran Keane
18. Andy Caswell
19. Mark Curley
20. Shane Maguire
21. Brian Donnolly
Report: Jim O'Connor
Photo: Mark Luttrell