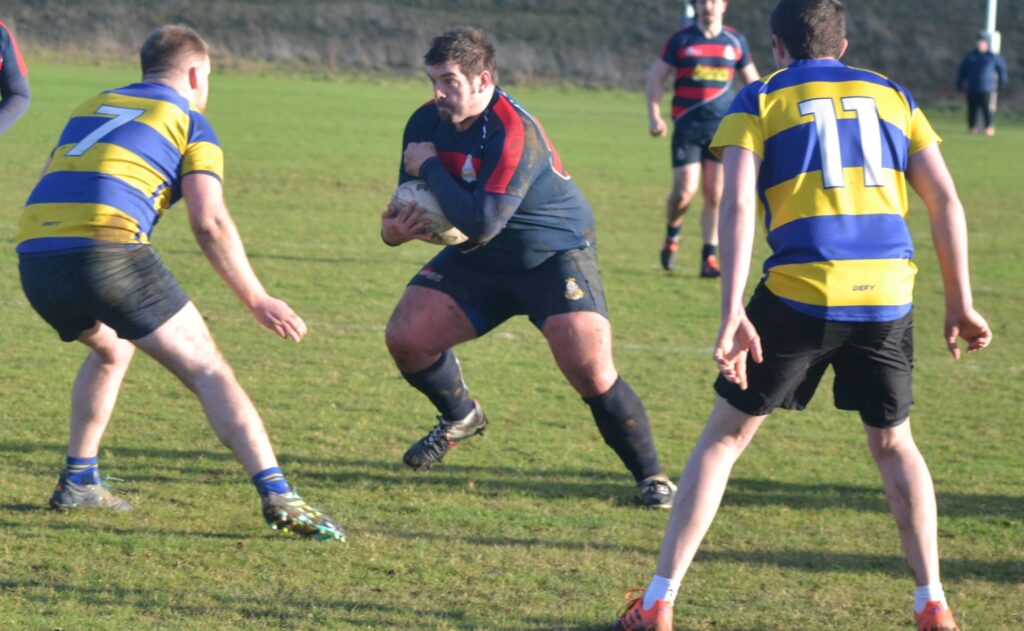 Tallaght 1sts 20
Try: Aaron Hickey, Simon Collie, Ken McGovern
Conversion: Adam Nolan
Penalty: Rob Hudson
Ratoath 7
Leinster League Division 3
Tymon Park
06/02/2022
The Tallaght men's first team took on Ratoath in their final home game in Division 3 of the Leinster League. Tallaght had beaten Rotaoth earlier in the season in the Cup but lost to them away in the first game in the league.
Ratoath started the game brightly but Tallaght's defence held firm with good linespeed and excellent tackles from the likes of Simon Collie and Karl Segrave. Openside flanker Aarron Hickey also made a number of turnovers at the ruck. Hickey has had an injury hit season, but when he's been fit he's been outstanding for Tallaght. He made one of his customary powerful bursts up the middle to put Tallaght into the Ratoath twenty two. After the ball went through a few phases Adam Nolan put Hickey over the line for a try to give Tallaght a 5-0 lead.
Tallaght started to get on top with Ken McGovern and Jordan Corrigan making a number of powerful carries. Rob Hudson tacked on a penalty to make it 8-0. Ratoath were still dangerous and Tallaght needed an important tackle from full back Rob Browner to prevent a breakaway try. Tallaght came close to scoring again twice before half-time. First it looked like Ken McGovern had gotten the ball over the line but the referee ruled it had been held up. Then Simon Collie made a brilliant jinking run beating several defenders but his attempted offload on the line was knocked on. The half ended on an unfortunate note when a Ratoath player suffered a serious looking knee injury just before halftime. Tallaght RFC wishes the player a speedy recovery.
Ratoath started the second half well and scored a converted try to cut Tallaght's lead to 8-7. Tallaght responded well though and after a few near misses, they finally scored a try in the left corner through Simon Collie to make it 13-7. Ratoath were given a yellow card for persistant penalties but they still remained a dangerous team. They broke up the middle and Tallaght needed a desperate cover tackle from Andy Rudd to prevent the try.
However Tallaght finished the game off when Ken McGovern got over for a try his overall performance deserved and skipper Adam Nolan kicked an excellent conversion to make the final score 20-7 to Tallaght.
Tallaght coach Tom Leigh was delighted to get another win. "It was one of our more complete performances all season in both attack and especially in defence. The lads have been working hard in training and it was very pleasing to see that work rewarded and I hope all the players take real pride in the win. We really want to have a crack at the two cup competitions we're in so we want to use our remaining two league games to build momentum for those".
Man of the match: Aaron Hickey
Tallaght RFC
1. Alan Sower
2. Ken McGovern
3. Tony McManus
4. Colin Morrison
5. Patrick Toth
6. Karl Segrave
7. Aaron Hickey
8. Adam Nolan (Captain)
9. Andy Rudd
10. David Clarke
11. Aaron Shanahan
12. Jordan Corrigan
13. Simon Collie
14. Rob Hudson
15. Rob Browner
16. Andy Caswell
17. Kevin Quinn
18. Daryl Keogh
19. Leön Tanfin
20. Joe Ivers
21. Mick Corrigan
22. Matty Knight
Photo: Mark Luttrell