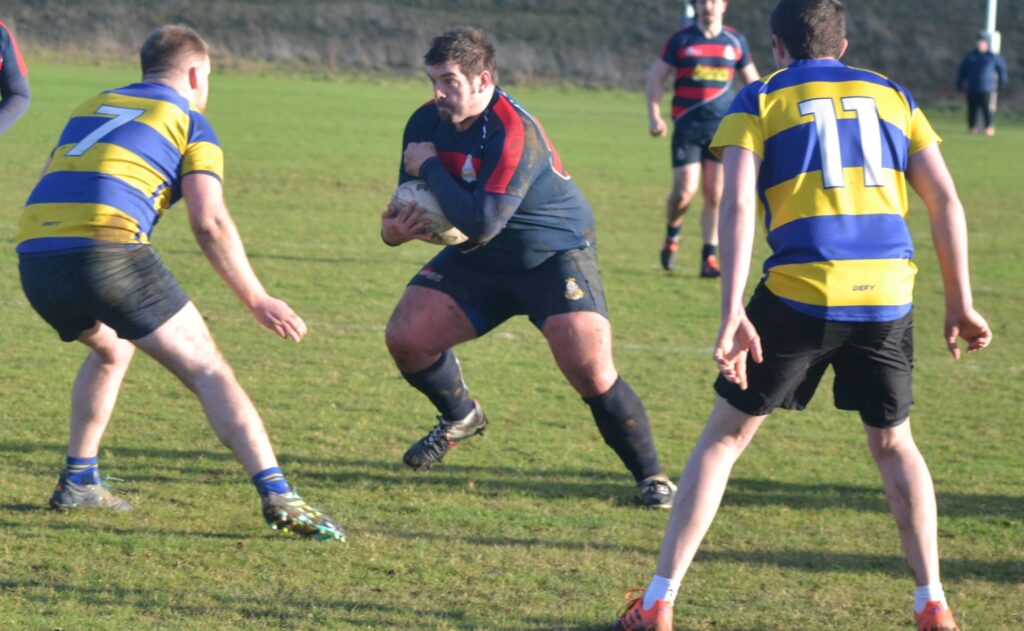 Portarlington 22

Tallaght 1sts 14
Try: Josh O'Brien, Ken McGovern
Conversion: Rob Hudson, Aaron Shanahan
Leinster League Division 3
Lea Road
20/02/2022
In their final game of the Leinster League Division 3 the Tallaght men's first team took on champions Portarlington. Portarlington had won all their league games so far and had beaten Tallaght 40-0 earlier in the season so it was a daunting task. With the various storms hammering the country, the fixture was in doubt up until Sunday morning but the pitch was inspected and given the go ahead.
The strong freezing wind and the frequent heavy showers made it very difficult to play and a high kick that got stuck in the wind led to to a mix-up in the Tallaght back three. Portarlington took advantage to score a try to take a 7-0 lead. But then a similar error at the back from Portarlington gifted possession to Tallaght ten yards out. After a couple of phases flanker Josh O'Brien got over to score his first try for the club. Rob Hudson converted to level things at seven points each but he had to leave the pitch shortly after with a shoulder injury.
As the half progressed Tallaght started to dominate in the scrum helped in a large way by Al Sower's move from the front row to the second row. The power he brought alongside Colin Morrison helped the front row of Tony McManus, Ken McGovern and Andy Caswell dominate their opposite numbers and they drove Portarlington back several times. Tallaght's defence also held up very well frustrating the home team. However the pressure eventually told and Portarlington scored two unconverted tries either side of half-time to take a 17-7 lead.
But Tallaght weren't done yet and off the back of some great carries from Aaron Hickey, David Clarke and Jordan Corrigan, Tallaght earned a penalty near the Portarlington line. Skipper Ken McGovern tapped and powered his way over for the try. Aaron Shanahan kicked an excellent conversion into the gale force wind to reduce the deficit to 17-14. However from the restart Portarlington put a grubber kick through and chased up to touch down for a try to make it 22-14. For the rest of the game Tallaght struggled to get out of their half playing into the strong wind and Portarlington messed a few good try chances with the muddy ball. No one was too upset when they referee blew up early to let everyone retreat to the warmth of the clubhouse.
Afterwards in the bar, Tallaght enjoyed wonderful hospitality from Portarlington as they celebrated their league win and promotion to Division 2B.
Head coach Tom Leigh was proud of his team's performance. "We were on a hiding to nothing coming here against an undefeated team that dominated the division completely. But we competed really well against them and that was the narrowest win at home they had all season. This league campaign didn't go as we hoped but I think we've learned a lot about the Leinster League from this season and it will stand to us next term."
"It was a brutally cold and wet day so the lads showed real character to even tog out so it was a real bonus that they put in such a great performance against the best team in the league. We had a great few hours in the clubhouse afterwards before we had to get on the coach back home so thanks to Portarlington for being great hosts."
Man of the match: Al Sower
Tallaght RFC
1. Tony McManus
2. Ken McGovern (Captain)
3. Andy Caswell
4. Alan Sower
5. Colin Morrison
6. Josh O'Brien
7. Patrick Toth
8. Aaron Hickey
9. Andy Rudd
10. David Clarke
11. Leön Tanfin
12. Simon Collie
13. Daryl Keogh
14. Rob Hudson
15. Rob Browner
16. Mark Curley
17. Kevin Quinn
18. Simon Gaskell
19. Mick Corrigan
20. Karl Segrave
21. Jordan Corrigan
22. Aaron Shanahan
Photo: Mark Luttrell