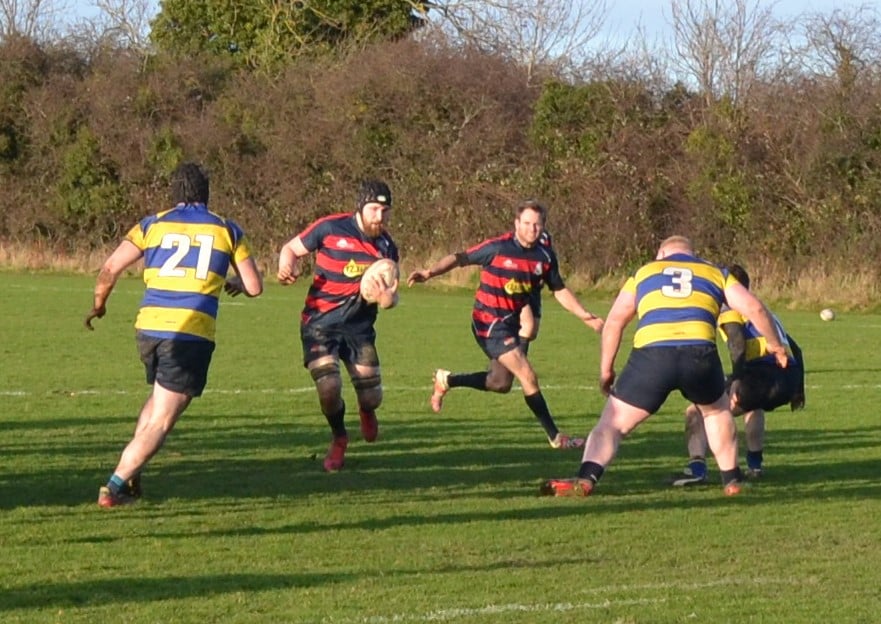 Coolmine 14

Tallaght 1sts 32
Try: Niall Mahon, Andy Rudd 2, Aaron Hickey 2
Penalty: Adam Nolan
Conversion: Aaron Shanahan 2
John Madden Cup
Lea Road
12/03/2022
Tallaght were originally meant to take Coolmine at home in the John Madden Cup, but with the perfectly fine Tymon Park pitch deemed unplayable by the council, it had to be switched to Coolmine.
So Tallaght agreed to move the fixture and it looked like a good decision when smart passing put Tallaght flanker Niall Mahon away for a try in the corner after five minutes gone. Coolmine hit back with a converted try to make it 7-5 to them. But Tallaght edged in front with an Adam Nolan penalty to make it 8-7 to Tallaght.
Then Simon Colie was put into space by smart passing from Nick McGuinness and he took advantage to streak away. Collie lost his footing after stepping the covering Coolmine defender but he offloaded to scrum-half Andy Rudd who was running a great support line to get over to score to make it 13-7. But Coolmine's dangerous centres combined to get their big prop over the line to make it 14-13 to the home team.
Then Tallaght effectively sealed the win in two minutes. First the Tallaght scrum drove Coolmine off their own ball and Tallaght flanker Aaron Hickey tapped raced away to score a try. Then directly from the restart Ken McGovern won a turnover penalty and Hickey tapped and ran again. This time he couldn't quite make the line but he offloaded to Andy Rudd who raced away to score his second try of the match. Aaron Shanahan converted both of the tries to give Tallaght a 27-14 lead at half-time.
In the second half prop Tony McManue sought to reclaim his Bad Boy "rep" from ould lad sinbin machine Joe Ivers by getting yellow carded for defending the honour of Simon Collie. But despairingly for Coolmine they couldn't take advantage to score. Adam Nolan put Hickey in to score his second try of the match with an excellent pass. It turned out to be the only score of the second half with the final score 32-14 to Tallaght.
Tallaght coach Tom Leigh was delighted to be back to winning ways. "We had almost everyone training this week and I think it showed in the performance. There were a lot of great performances today but Aaron Hickey was simply outstanding today in everything he did and was a deserved man of the match."
Man of the match: Aaron Hickey
Tallaght RFC
1. Alan Sower
2. Ken McGovern
3. Tony McManus
4. Patrick Toth
5. Colin Morrison
6. Niall Mahon
7. Aaron Hickey
8. Adam Nolan (Captain)
9. Andy Rudd
10. Nick McGuinness
11. Leön Tanfin
12. David Clarke
13. Simon Collie
14. Aaron Shanahan
15. Daryl Keogh
16. Mark Curley
17. Gary Kinsella
18. Alan Moore
19. Mick Corrigan
20. Karl Segrave
21. Jordan Corrigan
22. Josh O'Brien
Photo: Mark Luttrell