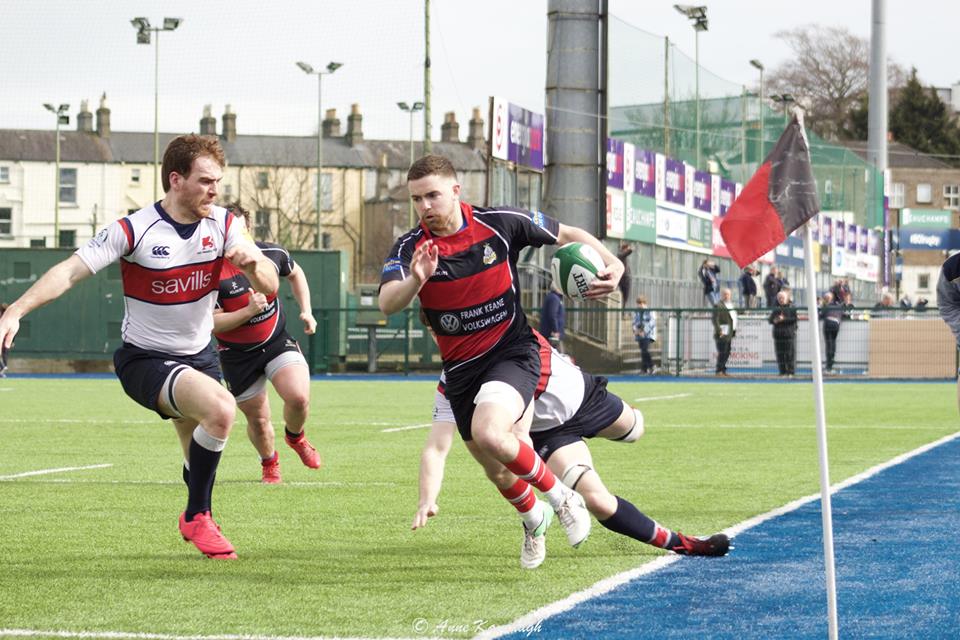 AIB/Dogos 48

Tallaght 2nds 22
Try: Rob Hudson 2, Kevin Quinn
Con: Leön Tanfin, Rob Hudson
Pen: Leön Tanfin
Guilfoyle-James Cup (Metro J6)
Sydney Parade
26/03/2022
The Tallaght men's second team took on AIB/Dogos in the Guilfoyle-James Cup on a warm afternoon in Sydney Parade. The Dogos started strongly and only a great cover tackle by Mick Corrigan denied them a try in the opening minute. However it was only a temporary reprieve as the Dogos broke through to score the first try of the match to lead 5-0.
Tallaght then hit back after a mad sequence of play. First Jordan Corrigan broke through and looked certain to score but then he lost his balance on the sandy pitch and fell over. Prop Gary Kinsella followed up to take the ball and showed great pace to get close to the line but then the Dogos turned over the ball. They launched a counter attack and Tallaght looked in trouble but then full back Rob Hudson intercepted the ball and ran it back for a try which Leön Tanfin converted to make it 7-5 to Tallaght.
Tallaght's lead didn't last long as the Dogos hit back with a converted try and they added two more tries to take a 22-7 lead. However then their winger was shown a yellow card for a deliberate knock on and Kevin Quinn took advantage to power through a number of tackles to score a try which Hudson converted to make the half-time score 22-14 to the Dogos.
Tallaght kept coming strong at the Dogos at the beginning of the second half off strong carrying from the likes of Quinn, Gavin McKeon and Gareth Bradshaw and Pedro Silva's constant sniping. This earned a long range penalty which Tanfin kicked superbly to reduce the Dogos lead to just five points at 22-17. That was as good as it got for Tallaght though and the Dogos went through the gears with their offloading game again. Tallaght were short of numbers out wide and in his desperation Gareth Bradshaw make a misjudged high tackle that he was justifiably shown a yellow card for and the referee awarded the Dogos a penalty try to make it 29-17.
The Dogos then started showboating as they ran in three more tries to take a 48-17 lead. But Tallaght kept fighting and were rewarded with the final score of the match when Hudson nipped over from close range to score his second try of the match.
Despite the scoreline skipper Simon Gaskell was proud of his players' effort. "This turned out to be our last game of the season and I couldn't be prouder of the performance. The last time we played here the Dogos beat us out the gate by seventy odd points. But today we competed really well for long periods and gave them a real scare. Ultimately they were in the position to bring on some really experienced players to turn the tide but I want to thank every single player who turned up today for us. Special mention to Tony O'Loughlin who played his first game in nearly two years and also Kevin Quinn, Rob Hudson and man of the match Leön Tanfin. It's been a tough old season in terms of getting numbers out to play but everyone who played today represented the Tallaght jersey with pride and despite the scoreline it was a nice way to end the season."
Man of the match: Leön Tanfin
Tallaght RFC

1. Gary Kinsella
2. Simon Gaskell (Captain)
3. Arran O'Loughlin
4. Graham Timmins
5. Garreth Fitzpatrick
6. Gavin McKeon
7. Tony O'Loughlin
8. Kevin Quinn
9. Pedro Silva
10. Ciaran Stewart
11. John Cowan
12. Jordan Corrigan
13. Leön Tanfin
14. Michael Corrigan
15. Rob Hudson

Report: Jim O'Connor
Photo: Anne Kavanagh