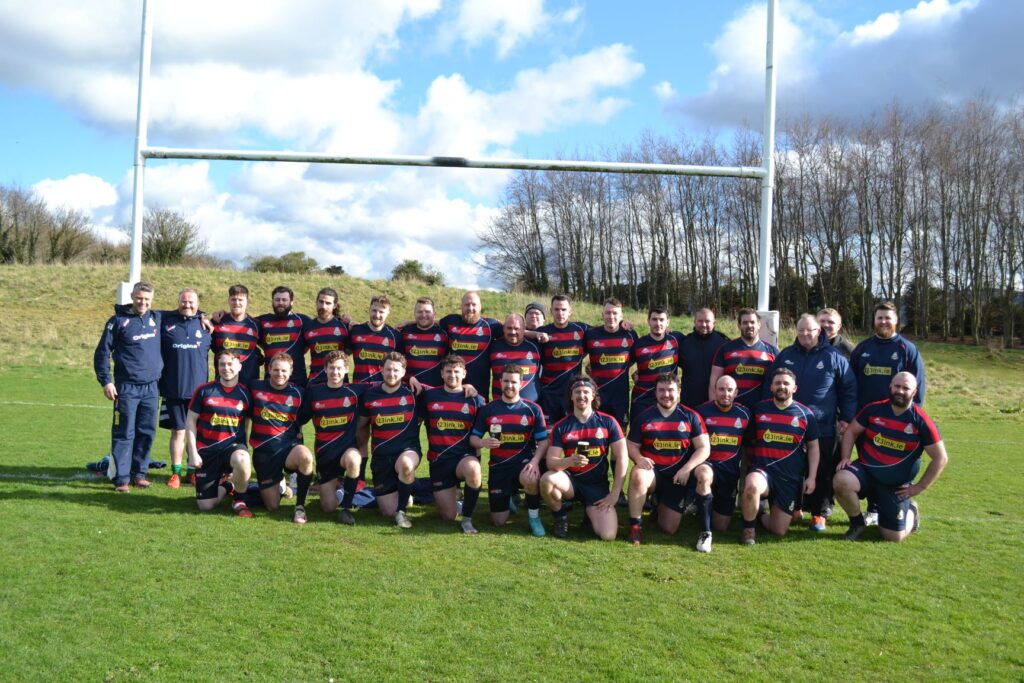 Tallaght 1sts 25
Try: Andy Rudd, Leön Tanfin, Ken McGovern
Penalty: Rob Hudson 2
Conversion: Rob Hudson 2
AIB/Dogos 5
Winters Cup
Tymon Park
02/04/2022
Tallaght took on AIB/Dogos at home in the quarter-final of the Winters Cup. Tallaght suffered two heavy defeats to the Dogos in the Leinster League earlier in the season so they were desperate for some payback.
On a bright but chilly April afternoon, Tallaght began well. Off the back of strong carries from Niall Mahon and Adam Nolan, they were awarded a penalty which full back Rob Hudson kicked to give Tallaght a 3-0 lead after four minutes. Then winger Aaron Shanahan made a great break and linked up with Hudson who offloaded to Andy Rudd who broke through a tackle to score an excellent team try. Hudson converted to make it 10-0 to Tallaght.
Tallaght's confidence was up and it wasn't long before the backline struck again. Nick McGuinness and Dave Clarke combined to release winger Leön Tanfin who showed his gas to race away for a fine try, which Hudson converted to make it 17-0 to Tallaght. The Dogos dominated possession for the rest of the half but the Tallaght defence was resolute with second rows Colin Morrison and Patrik Toth making countless tackles. On a rare visit to the opposition half, Hudson kicked an excellent long range penalty to make it 20-0.
The Dogos kept coming and were camped in the Tallaght 22 for a long period. However when the Dogos looked certain to score, number eight Aaron Hickey put in a massive hit on his opposite number. Then Ken McGovern tackled the Dogos hooker and with Al Sower and Al Moore latched on in support he drove him back about fifteen metres. It was a massive psychological blow for Tallaght to keep the Dogos scoreless at half-time despite all their possession and territory.
In the second half Tallaght wisely played for territory with smart tactical kicking from McGuinness and Clarke. Off a lineout close to the Dogos line, Niall Mahon put Ken McGovern in for a try near the corner flag to increase Tallaght's lead to 25-0. Tallaght should really have ended the game as a contest with Aaron Shanahan and Simon Collie combined for Collie to score a superb try. However controversially the touch judge ruled that Collie was out even though he looked well in and the try was disallowed.
Tallaght's discipline, which had been excellent for most of the game, began to fray in the last fifteen minutes and they were fortunate not to get a yellow card after conceding a string of penalties in their own half. The Dogos took advantage to finally score a try. But it mattered little as Tallaght ran out 25-5 winners and will play Dublin University in the semi-final next Saturday in Tymon park with a 3PM kick off.
Tallaght coach Tom Leigh was delighted with his team. "It was our best performance of the season. We know how dangerous the Dogos can be as they put over eighty points on us in the two league games. So to hold them to one late consolation try was really satisfying. Our defence was excellent all day and it was a reward for a great week's training."
"Our set-piece went very well too and our half backs Andy Rudd and Nick McGuinness ran the game superbly, launching our dangerous outside backs. It was really tough to pick a man of the match as it was a real team performance where all the starting players and the replacements were excellent. But we went with Aaron Shanahan who put in a massive shift. As good as we were today, we know we can be even better and we'll need to be to win this trophy. But we've got Trinity College at home again next Saturday in the semi-final. Thanks to everyone who came out to support the team today and hopefully they'll be back again next weekend."
Man of the match: Aaron Shanahan
Tallaght RFC
1. Alan Sower
2. Ken McGovern (Captain)
3. Adam Nolan
4. Patrik Toth
5. Colin Morrison
6. Niall Mahon
7. Al Moore
8. Aaron Hickey
9. Andy Rudd
10. Nick McGuinness
11. Leön Tanfin
12. David Clarke
13. Simon Collie
14. Aaron Shanahan
15. Rob Hudson
16. Mark Curley
17. Gary Kinsella
18. Josh O'Brien
19. Graham Timmins
20. Tony McManus
21. Jordan Corrigan
22. Mick Corrigan
Photo: Mark Luttrell