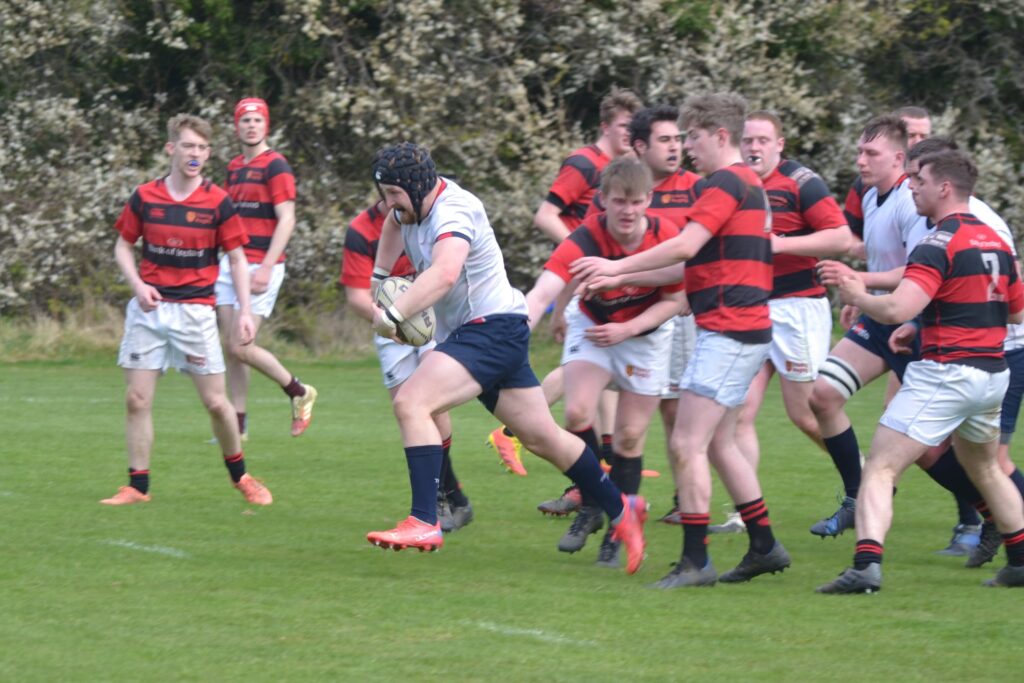 Tallaght 1sts 15
Try: Nick McGuinness, Aaron Hickey
Penalty: Rob Hudson
Conversion: Rob Hudson
Dublin University 26
Winters Cup
Tymon Park
09/04/2022
Tallaght took on Trinity College in the semi-final of the Winters Cup. Tallaght took an early lead when Rob Hudson kicked a long-range penalty but they struggled to get their hands on the ball after that as Trinity dominated possession. Trinity's gameplan was to run everything out wide and while their handling let them down at times, the pace of their game was wearing Tallaght down.
Aaron Hickey, Alan Moore and Ken McGovern took the fight to Trinity with some strong carries but poor handling skills left Trinity off the hook. Eventually the pressure told and Trinity broke through to score a converted try to take a 7-3 lead. They then kicked two superb long range penalties to take a 13-3 lead at half-time.
In the second half Tallaght got their attack going and scored a "try of the season" contender. Number eight Aaron Hickey make a superb burst and offload to flanker Josh O'Brien, who in turn offloaded to scrum-half Andy Rudd, who finally offloaded to out-half Nick McGuinness to touch down to make it 13-8. Unfortunately as he was tackled Rudd suffered a nasty finger injury that required him to depart immediately to the hospital where thankfully the injury wasn't a bad as it looked.
At 13-8 Tallaght were well in the game but the re-organisation because of Rudd's departure led to some confusion in the Tallaght defence. Trinity took advantage to score a try up the middle and converted to take a 20-8 lead. Trinity tacked on another penalty to increase their lead to 23-8. Tallaght kept fighting and Aaron Hickey scored a fine try which Rob Hudson converted to make it 23-15. However Trinity kicked a final penalty for a deserved 26-15 win.
Tallaght coach Tom Leigh was disappointed for his team. "I couldn't fault the effort of the lads. But in cup rugby you need to take your chances and we left a few tries behind us. Our discipline let us down too which is especially bad when you're up against the kind of top-class place-kicker Trinity have. But we'll regroup now and focus on the John Madden Cup to try to end the season on a high note."
UPDATE: After the match, Dublin University were found to have fielded ineligible players. So the tie has now been awarded to Tallaght who will play Old Wesley in the final in Energia Parkin in Donnybrook on the 23rd of August. Kick off time tbc.
Man of the match: Alan Moore
Tallaght RFC
1. Alan Sower
2. Ken McGovern (Captain)
3. Mark Curley
4. Patrik Toth
5. Alan Moore
6. Niall Mahon
7. Josh O'Brien
8. Aaron Hickey
9. Andy Rudd
10. Nick McGuinness
11. Rob Hudson
12. Jordan Corrigan
13. David Clarke
14. Aaron Shanahan
15. Daryl Keogh
16. Andy Caswell
17. Joe Ivers
18. Simon Gaskell
19. Wayne Stewart
20. Ciaran Rudd
21. Mick Corrigan
Photo: Mark Luttrell