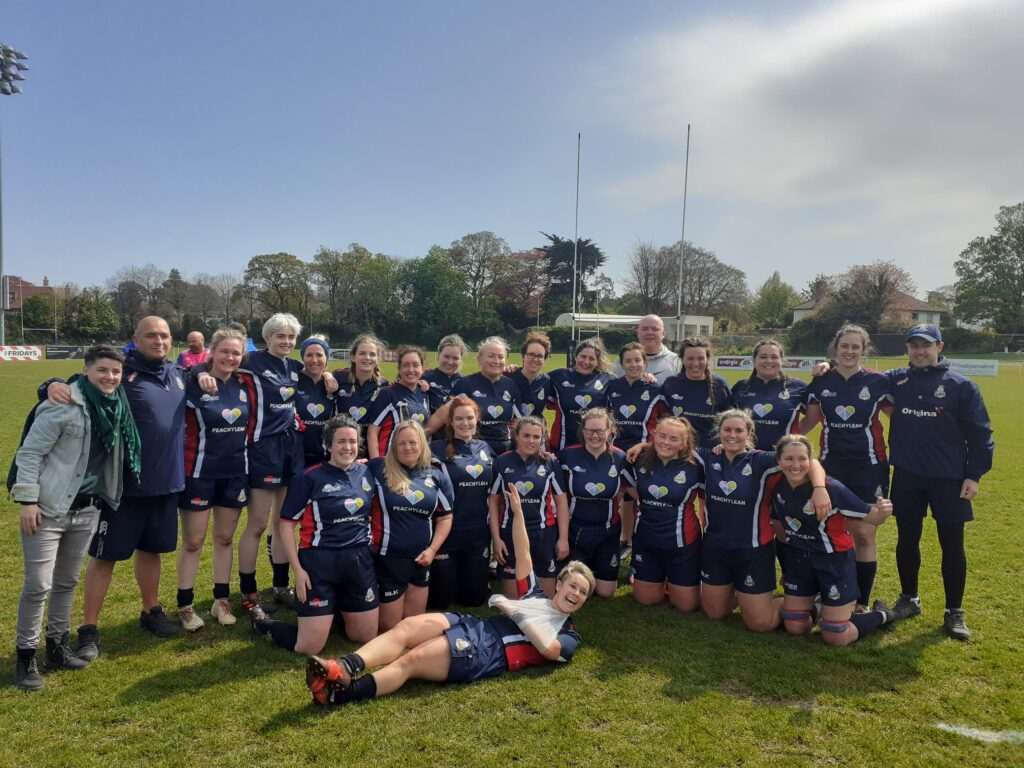 Kilkenny 33

Tallaght R.F.C 14
Try: Martina Fitzpatrick, Chloe Conroy
Conversion: Grainne Flood 2

Women's Leinster Division 5 Cup final
Ollie Campbell Park
23/04/2022
The Tallaght women's team took on Kilkenny in the final of the Division 5 cup with an early 11AM kick-off in Old Belvedere.
Perhaps it was the early start but Kilkenny were slow out of the gate and Tallaght dominated possession and territory for the first twenty five minutes. Louise Leonard and Larissa Marenelli were carrying strongly and scrum-half Eileen Shanahan was putting in some massive hits. However despite all the possession Tallaght were unable to translate it into points and the game remained scoreless. They also lost wing Sorcha Burns to a shoulder injury.
Then Kilkenny burst into life and scored a try through their forwards to make it 5-0. Then the Kilkenny outside centre Emer Kelly came into the game with a vengeance twice scoring brilliant breakaway tries which were converted to make it 19-0 to Kilkenny. However Tallaght came back strongly and skipper Martina Fitzpatrick scored a try that Grainne Flood converted to make the half-time score 19-7 to Kilkenny.
In the second half Tallaght continued to compete strongly and inside centre Chloe Conroy scored from close range and Flood again converted to make it 26-14 to Kilkenny. Kilkenny were under pressure and Kim Littlefield and Emma Irwin were taking the game to them. However Tallaght couldn't score again and then Emer Kelly broke away again to complete a hat-trick of tries to make the final score 33-14 to Kilkenny.
Tallaght coach Sean Bishop was proud of his team's effort. "We were up against a really good team today but we competed really well with them for long periods. Their excellent outside centre, who scored a hat-trick, was the difference between the teams. So we'll take huge encouragement from that into next season. It's really great to finish the season on a positive performance and the girls deserve their party afterwards. I want to thank the players and coaches for all their hard work all season. And I especially want to thank everyone who came out to support us this morning, especially the men's team who have a final later today. It's a hugely positive day for the club and we're already looking forward to next season."
Player of the match: Kim "Letter" Littlefield
Tallaght RFC
Veronica Criado
Lisa O'Connell
Larissa Marenelli
Aimee Travers
Hilary Allen
Martina Fitzpatrick (Captain)
Kim Littlefield
Louise Leonard
Eileen Shanahan
Grainne Flood
Sorcha Burns
Chloe Conroy
Aisling Pyke
Doireann O'Byrne
Abbie Keeley
Samantha Ledden
Caoimhe Hogan
Nikita Murray
Emma Irwin
Lisa Kennedy
Laura Dalton
Clodagh Cullagh