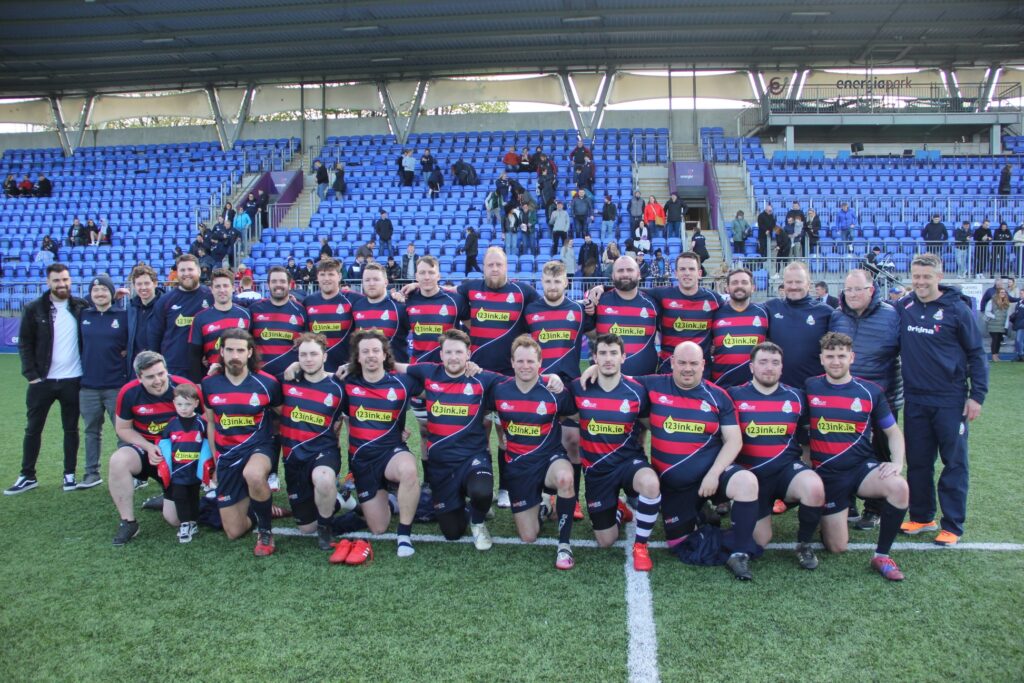 Tallaght 1sts 32
Try: David Clarke, Simon Collie, Rob Hudson, Ciaran Rudd, Aaron Hickey
Penalty: Rob Hudson
Conversion: Rob Hudson 2
Old Wesley 38
Winters Cup Final
Energia Park
23/04/2022
Tallaght took on Old Wesley in Energia Park in the final of the Winters Cup.
Tallaght started brightly and their first try came off a well worked line out by Ken MaGovern and Al Moore. From the ensuing ruck, it was a simple but powerful burst by inside centre Dave Clarke which was enough to score the try. Rob Hudson converted to make it 7-0 to Tallaght. But Wesley hit back with a good move from their backs which outside centre Adam Killeen finished to make it 7-5. Tallaght hit back with a penalty from Hudson to make it 10-5.
After such a bright start the game went into a bit of a lull with both teams making mistakes at lineouts. But Tallaght were struggling to exit their twenty two and from a lineout close to their line Wesley number eight Matthew Cherry was able to burst through on the blindside to score a try to tie the game up at 10 points all.
Then on the 32 minute mark, Tallaght struck again when good short passes from Adam Nolan and Daryl Keogh put outside centre Simon Collie away and he stepped full back James Egan to score an excellent try under the posts which Hudson converted to make it 17-10 to Tallaght.
Tallaght then suffered a blow though losing winger Leön Tanfin to an ankle injury and he was replaced by Ciaran Rudd who took over as full back with Rob Hudson moved to the left wing. Wesley counter attacked off a loose kick through Adam Killeen who offloaded to Robert Fitzgerald who looked set to score but Ciaran Rudd stopped him dead with a fine tackle. However Wesley went through a couple more phase but Matthew Cherry burrowed his way over for his second try of the match. Out-half Andrew Scanlon converted to make it 17-all.
Tallaght won a lineout in the Wesley half but were penalised for obstruction. Then Wesley went wide again and Adam Killen kicked ahead cleverly. Tallaght looked to have enough cover but the ball took a wicked bounce and Wesley full back James Egan took advantage to score a try. Scanlon converted to give Wesley a 24-17 half-time lead.
Wesley started strongly in the second again consistently stretching Tallaght out wide and only a knock on close to the line by flanker Paul BK prevented another try. Tallaght suffered another injury blow when out-half Daryl Keogh had to be withdrawn to be replaced by Jordan Corrigan with Dave Clarke moving to out-half.
But Tallaght soaked up the pressure and hit back again on the 50 minute mark when Ken McGovern offloaded to put flanker Niall Mahon away. Mahon timed his pass superbly to take out the two Wesley defenders and put Rob Hudson away for an excellent try to make it 24-22 to Wesley. Then from a Wesley twenty two drop out Tallaght number eight Aaron Hickey took the ball in his own half and showed great pace and footwork to beat three defenders on a sixty yard run before offloading to Ciaran Rudd who scored the try to make it 27-24 to Tallaght. Unfortunately Hickey had to leave the field injured shortly afterwards in another blow to Tallaght.
Wesley came straight back at Tallaght again but under pressure, Wesley out-half Scanlon passed the ball directly into touch. But then Wesley took a tap penalty and Niall Mahon looked to have turned the ball over for Tallaght but somehow Wesley got the ball back and their number eight Matthew Cherry burrowed his way over again to complete a hat-trick of tries. Scanlon converted to put Wesley back in front at 31-27.
With more Tallaght injuries Leön Tanfin and Aaron Hickey both returned to the pitch despite nursing their own knocks. With five minutes to go Adam Nolan and Niall Mahon combined to put Hickey away close to the line and he showed great strength to get over the line for a try to make it 32-31 to Tallaght. Tallaght took the restart and kicked out of their half but the kick was partially deflected and Wesley ran it back. Then Wesley scrum-half Cameron Wood spotted a gap at a ruck and raced through to beat the last Tallaght defender to score under the posts. Scanlon converted to make it 38-32 and though the brilliant Tallaght support kept roaring their team on they couldn't find another score and Wesley celebrated the win.
Tallaght coach Tom Leigh was gutted with the result but hugely proud of his team. "I'm heartbroken for the lads to lose it with the last score. The lead changed hands several times in the last twenty minutes and everyone who came out today were treated to a superb cup final. Congratulations to Old Wesley, they're a very well drilled team who play a high-tempo game. but we went toe to toe with them for the whole game despite losing players to injury. I'm so proud of the lads and we also want to thank our brilliant support who came out to noisily shout us on for the whole game. We've got DLSP on Wednesday in the John Madden Cup quarter-final which is tough ask on the lads after such a physical game today. But hopefully we can get through and bring a cup back to Tallaght this season."
Man of the match: The whole squad
Tallaght RFC
Alan Sower
Ken McGovern (Captain)
Adam Nolan
Patrik Toth
Colin Morrison
Niall Mahon
Al Moore
Aaron Hickey
Nick McGuinness
Daryl Keogh
Leön Tanfin
David Clarke
Simon Collie
Aaron Shanahan
Rob Hudson
Mark Curley
Tony McManus
Josh O'Brien
Jordan Corrigan
Ciaran Rudd
Photos: David Kelly