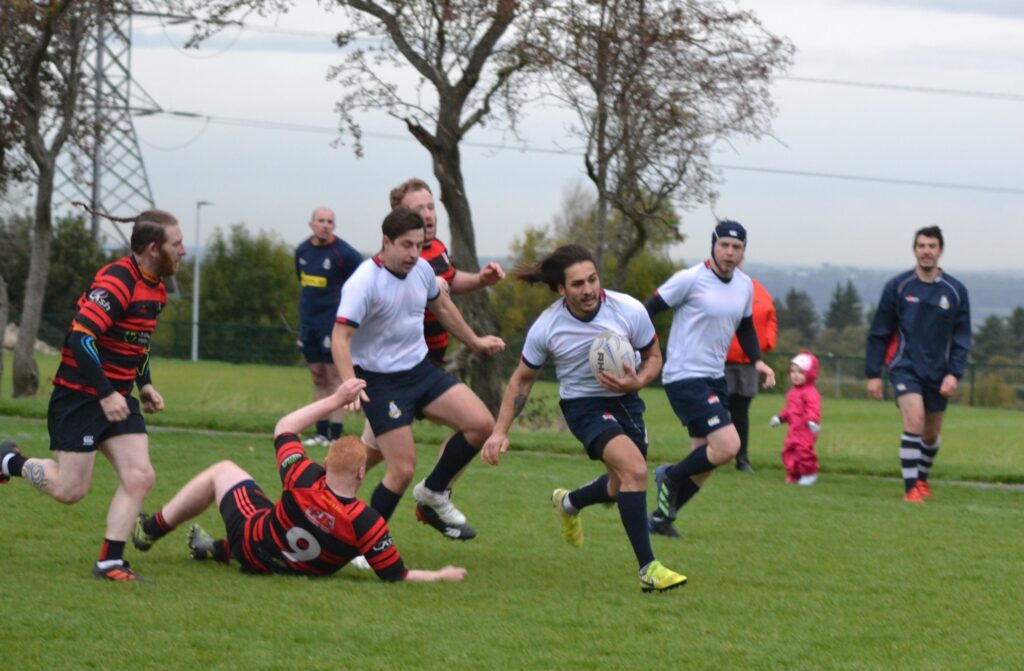 Tallaght 1sts 50
Try: Aaron Hickey 2, Al Sower, Orhun Orel, Rob Browner, Ciaran Rudd, Daryl Keogh, Ezequiel Roldan Olivera
Conversion: Rob Hudson, Rob Browner 4
Clane 29
Leinster League Division 3
Heavey Technology Park
16/10/2022
Tallaght took on Clane in Leinster League Division 3 looking to regain momentum after losing away to North Meath two weeks ago. Though Tallaght were at home, the game was moved to Stillorgan-Rathfarnham's pitch as this Tymon Park pitch was vandalised again last week.
Tallaght began well and scored after only three minutes when number eight Aaron Hickey broke the line and raced away for a typical barnstorming try. Rob Hudson converted and Tallaght were 7-0 up. It wasn't long before Tallaght were on the scoreboard again when an excellent break from flanker Mark Keogh set up a try for prop Al Sower. Tallaght weren't always doing themselves favours though with some questionable decisions at times, and they conceded a try off some sloppiness from a lineout to reduce the margin to 12-7.
However the Tallaght scrum were demolishing Clane, consistently driving them off their own ball. After earning a penalty from a scrum Hickey tapped it and Niall Mahon and Andy Rudd went close before Hickey himself scored his second try of the match. Rob Browner took over the kicking from the injured Rob Hudson and converted to make it 19-7. Orhun Opel had replaced Hudson and was making his presence felt with some big hits. He showed his strength again by breaking several tackles to get Tallaght's fourth try, Opel's first for the club, which earned them the bonus point. Andy Grace came on and made several big carries and after another great burst, the ball was moved wide and Tallaght showed great handling skills to put Rob Browner in for the try. Browner converted his own try to make it 31-7 at half-time.
Clane started the second half brightly and scored a try to make it 31-12. But Tallaght responded well with hooker Ken McGovern offloading superbly to Daryl Keogh who put Ciaran Rudd away to score under the posts. Browner's conversion made it 38-12. Tallaght were rampant now with the likes of Colin Morrison, Rosemar Alves and Alan Moore making big carries. Daryl Keogh was the next to score for Tallaght when he broke away to score under the posts to give Browner another handy conversion to make it 45-12. Then Leön Tanfin showed good awareness to put Jordan Corrigan away and though he looked like he could have scored the try himself, he instead passed inside to Ezequiel Roldan Olivera who scored his first try for the club to make it 50-12. Tallaght got a little tired in the last quarter and their concentration wavered. To Clane's great credit, they kept fighting and scored three fine tries in the last ten minutes and converted one of them to make the final score 50-29 to Tallaght.
Tallaght coach Matt Gill was delighted with his team's performance. "Our scrum dominance gave us a great platform and once we got our wide game going, we scored loads of really good tries. Yes, we got a little fatigued in the last quarter of the match and fair play to Clane, they kept going and it was a little annoying to concede those three tries at the end. But overall it was an excellent team performance. We've a tough game next week away to the Midland Warriors but we know if we bring our "A game", we'll have a really good chance. I want to thank all our friends, family and the women's team who came out in great numbers to support the lads today in the rain. Also massive thanks to Stillorgan-Rathfarnham for lending us their pitch and facilities today and also to the other clubs that offered their pitches. While it was very disappointing to see our pitch attacked it was heartening to see the support offered by the rugby community."

Man of the match: Orhun Orel

Tallaght RFC
1. Alan Sower
2. Ken McGovern
3. Matt Gill
4. Patrik Toth
5. Alan Moore
6. Niall Mahon (Captain)
7. Mark Keogh
8. Aaron Hickey
9. Andy Rudd
10. Daryl Keogh
11. Leön Tanfin
12. David Clarke
13. Ciaran Rudd
14. Rob Hudson
15. Rob Browner
16. Andy Grace
17. Rosemar Alves
18. Colin Morrison
19. Orhun Orel
20. Jordan Corrigan
21. Mick Corrigan
22. Ezequiel Roldan Olivera

Photos: Mark Luttrell & Alexsandro Sadiku