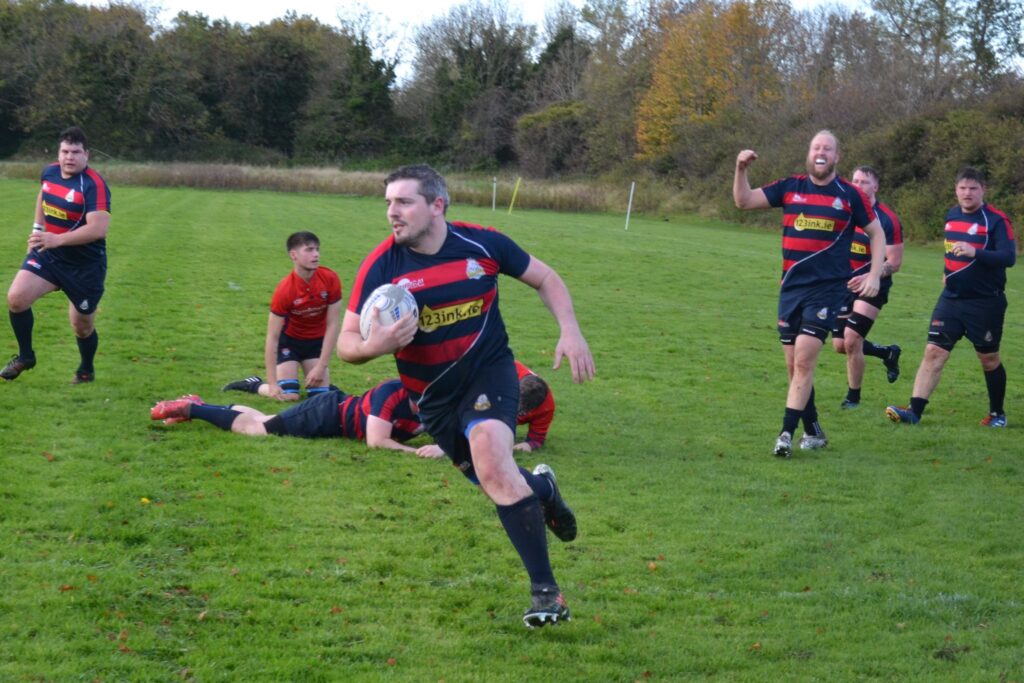 Tallaght 1sts 38
Try: Andy Grace, Daryl Keogh 2, Al Sower, Simon Collie
Conversion: Rob Hudson 3, Rob Browner 2
Penalty: Rob Hudson
Ardee 7
Leinster League Division 3
Tymon Park
06/11/2022
Tallaght took on Ardee in Leinster League Division 3 after a three-week break since their last game.
Tallaght started well and Rob Hudson opened the scoring with a penalty to make it 3-0 to Tallaght. Then after several drives, Tallaght prop Andy Grace forced his way over for Tallaght's first try of the match and Hudson added the extras. Then flanker Aaron Hickey broke clear from the halfway line and made fifty metres before offloading to Andy Rudd who passed to Daryl Keogh to score the try. Hudson converted again to make it 17-0 to Tallaght.
Then a heavy rain shower arrived and Tallaght got a little sloppy and Ardee intercepted a pass off a scrum and ran it back under the posts for a try which they converted to make it 17-7. But Tallaght soon hit back when good passing from Niall Mahon put prop Alan Sower in for a try in the corner. Rob Hudson kicked an excellent conversion to make it 24-7 at half-time.
Tallaght took a while to get going in the second half and they wasted some great attacking positions by giving away soft penalties. But they earned a scrum ten metres out and Aaron Hickey put Daryl Keogh through for his second try of the match which secured the bonus point. Rob Browner took over the kicking and nailed the conversion. There was one more try for Tallaght and it was the best one of the game. Ardee were on the attack but the ball went loose and Niall Mahon spun it out wide and prop Rosemar Alves burst clear. The big man showed good speed and skills to link with Rob Browner who put Simon Collie away to race clear and score under the posts. Browner converted to make the final score 38-7. There was just time for Tony McManus to pick up a yellow card for a high tackle.
Tallaght coach Matt Gill was delighted with his team's performance. "We started well and implemented our gameplan successfully. The lads scored some lovely tries and Rob Hudson kicked superbly. At times we got a little sloppy and our discipline probably cost us a few scores. But I was happy we kept going to the end and didn't concede late tries like the last couple of games. There were a lot of strong performances out there but Daryl Keogh was excellent today and took both his tries very well. We've got matches for the next four weeks in a row with Ratoath away this Friday. If we can bring this sort of form to that run of games, we should be in good shape by the Christmas break."
Man of the match: Daryl Keogh
Tallaght RFC
1. Alan Sower
2. Ken McGovern
3. Andy Grace
4. Patrik Toth
5. Alan Moore
6. Mark Keogh
7. Aaron Hickey
8. Niall Mahon (Captain)
9. Andy Rudd
10. Daryl Keogh
11. Rob Hudson
12. David Clarke
13. Orhun Orel
14. Ciaran Rudd
15. Rob Browner
16. Matt Gill
17. Rosemar Alves
18. Tony McManus
19. Colin Morrison
20. Ezequiel Roldan Olivera
21. Leön Tanfin
22. Simon Collie

Photos: Mark Luttrell & Alexsandro Sadiku