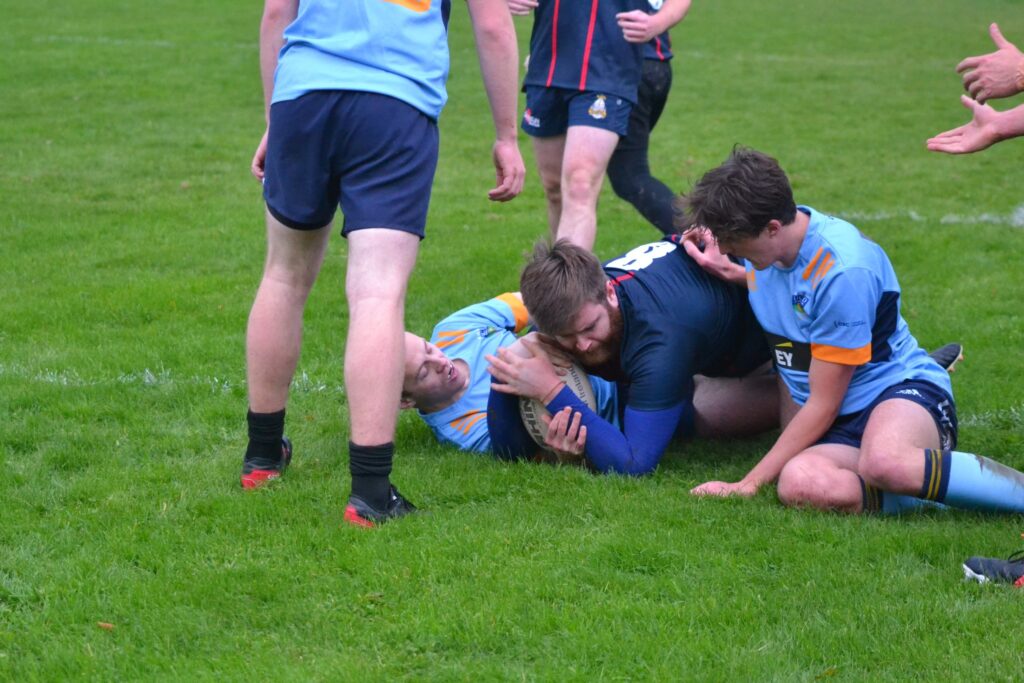 Tallaght 2nds 35
Try: Liam Quinn, Wayne Stewart, Andy Caswell, Esteban Vargas De Pablos
Conversion: Rob Hudson 3
Penalty: Rob Hudson 3
UCD 36
Metro League Division 10
Lakelands
12/11/2022
The Tallaght men's second team took on UCD at home in the Metro League Division 10. UCD had three wins from three games so far this season but Tallaght started brightly with out-half Rob Hudson kicking a penalty to give Tallaght a 3-0 lead. But UCD were moving the ball well and they took advantage of space out-wide to score a try to make the score 5-3.
Tallaght didn't take long to respond though and Karl Segrave won a turnover deep in the UCD half. Scott Hyland took the lineout expertly and offloaded to powerful number eight Liam Quinn who forced his way over for a try to make it 8-5 to Tallaght. UCD then had a dominant spell and they took advantage of some disorganisation in the Tallaght defence to score two converted tries to take a 19-8 lead.
But Tallaght hit back with some strong carries from Sean Judd and Mick Corrigan putting Tallaght in a good position. Then Rob Hudson put full back Wayne Stewart, who was captaining the team for the first time, in for a try which Hudson converted to make it 19-15. UCD score another try to make it 24-15 but then Tallaght hit right back when Andy Caswell forced his way over from close range. Rob Hudson kicked a superb touchline conversion to make the half-time score 24-22 to UCD.
Tallaght had their best spell of the game in the first fifteen minutes of the second half. First Rob Hudson put Esteban Vargas De Pablos away to score his first try of the club under the posts, which Hudson converted to make it 29-24. Then strong carries from Dylan Quinn and Rosemar Alves respectively won two short-range penalties which Hudson kicked to make the score 35-24 to Tallaght after sixty minutes.
Tallaght began to tire in the last quarter of the game and UCD hit them on the break to score a try in the corner to make it 35-29. UCD looked to have scored another try but their centre knocked the ball on stretching to ground the ball under the posts. With time running out, Tallaght naively tried to run the ball out of their own twenty two and turned down several chances to exit through kicking. Tallaght kept losing ground on each phase and eventually they were forced to kick from behind their own line. But UCD took the lineout quickly and with Tallaght too fatigued to chase up, UCD scored a converted try to take a 36-35 lead.
Tallaght fought to get a winner and Esteban Vargas De Pablos was put clear and was only stopped by an outrageous high tackle that arguably deserved more than the yellow card that was shown. Replacement Simon Collie also made a superb mazy run and was only prevented from scoring a try by a last gasp tap tackle. In the end, UCD were relieved to kick the ball out to take a one-point win.
Tallaght manager John Cowan was proud of his team's effort. "It's of course disappointing to lose by a point when we'd come back in the game so well after a tough start. But it was a really entertaining game which ebbed and flowed as both teams had dominant spells. But I want the lads to be proud of themselves as they really put it up to one of the top teams in the division. Dylan and Liam Quinn had really strong games and our half-backs Luke Worrall and Rob Hudson were excellent with Rob's place-kicking absolutely top class. But our man of the match was Esteban Vargas De Pablos who was playing only his second game of rugby ever but was technically so good in attack and defence. I also want to thank our sponsors The Square, Tallaght for providing the new kit which the lads were wearing today."
Man of the match: Esteban Vargas De Pablos
Tallaght RFC

1. Andy Caswell
2. Simon Gaskell
3. Simon Connollan
4. Brian Donnolly
5. Sean Judd
6. Scott Hyland
7. Mick Corrigan
8. Liam Quinn
9. Luke Worrell
10. Rob Hudson
11. Esteban Vargas De Pablos
12. Karl Segrave
13. Dylan Quinn
14. Eric O'Dwyer
15. Wayne Stewart (Captain)
16. Rosemar Alves
17. Kevin Quinn
18. Aaron O'Loughlin
19. Leon Tanfin
20. Simon Collie

Report: Jim O'Connor