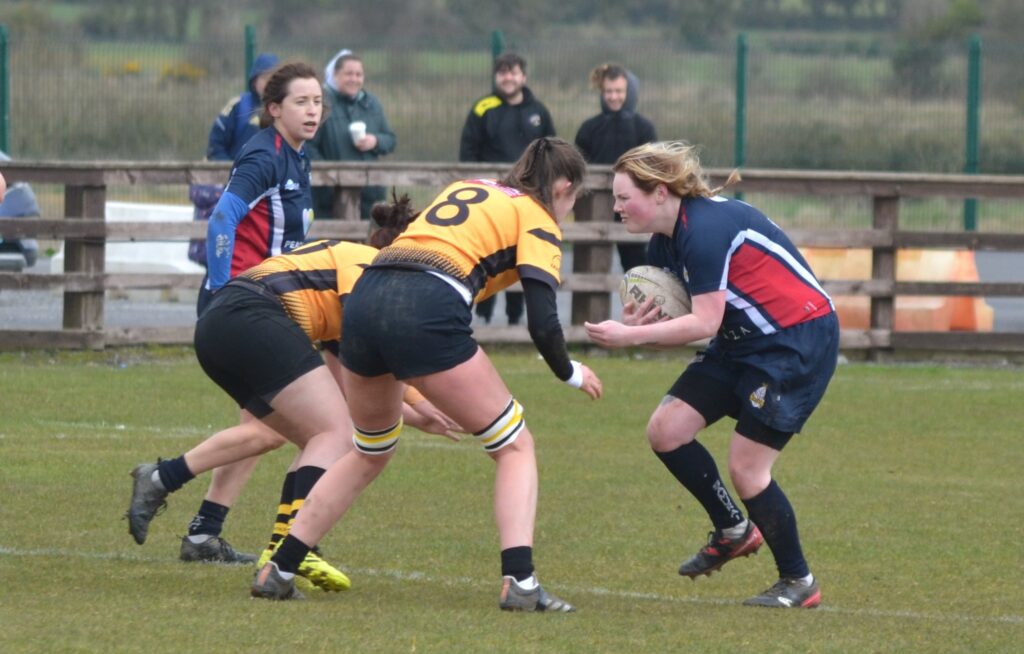 Ashbourne R.F.C. 12

Tallaght R.F.C 5
Try: Kim Littlefield

Women's Leinster Division 5 Cup semi-final
Milltown Road
26/03/2023
Six weeks after Tallaght clinched the league against Ashbourne, they were back at the same venue in the Division 5 cup semi-final. Due to Tallaght's last game being conceded by DLSP, Tallaght hadn't played a match in those six weeks, while Ashbourne had two more league games to keep their match sharpness.
You could see the rustiness in Tallaght's play early on. Tallaght played almost the entire first half in their own twenty two defending as Ashbourne came at them again and again. Tallaght's lineout was misfiring and it meant Tallaght didn't have confidence to kick to touch. So Tallaght kept trying to run the ball out of their twenty two but every time the ball was just turned back over to Ashbourne after a few phases.
Tallaght defended heroically to keep Ashbourne out given all the possession they had with the likes of Samantha Ledden and Orlaith Plunkett putting in crucial tackles. They conceded two kickable penalties but Ashbourne missed both of them. However eventually the pressure told and Ashbourne scored a try just before half-time to lead 5-0 at the break.
In the second half Tallaght improved and started putting together some decent phases which got them close to the Ashbourne line. But their handling let them down at the crucial moments and the chances went begging. They also lost a couple of players to injury. But one thing this Tallaght team has shown this season is character. As time was running out Tallaght still trailed but they kept fighting and with the game in added-on time eventually vice captain Kim Littlefield got over for a try to make it 5-all. It looked like the game would go to extra time but Ashbourne got back down the field and scored a converted try to take a 12-5 win.
Tallaght coach Hayley Whyte was disappointed for her team but wanted to focus on the season as a whole. "It's disappointing to finish up with our only defeat of the season, but I'm still so proud of everything we've achieved. After six weeks off, we feared we mightn't be as sharp and that proved to be the case. Fair play to Ashbourne, we had two great battles with them in the league but they got into the game quicker than us and good luck to them in the final. Even though we weren't at our best today, the girls still showed the character to almost take the game into extra time. We were a bit short of forwards on the bench so club legend Lorraine McManus agreed to sub for us and she came on and put in a fine shift. It also meant she got to play with her niece Nicole Fanning for the first time, so that was lovely."
"I want to thank all our players and coaches for their efforts this season and also our great sponsors Peachylean and our brilliant supporters. We're already looking forward to next season."
Player of the match: Samantha Ledden
Tallaght RFC
Emma Irvin
Orlaith Plunkett
Samantha Ledden
Aimee Travers
Martina Fitzpatrick
Lisa O'Connell
Kim Littlefield
Louise Leonard
Eileen Shanahan (Captain)
Grainne Flood
Jensen Byrne
Nicole Fanning
Chloe Conroy Kearns
Aiison Lyons
Doireann O'Byrne
Stacy Vernon
Hilary Allen
Niamh Moore
Aisling Pyke
Ellen Crotty
Nikita Murray
Lorraine McManus
Lisa Kennedy
Photo: Mark Luttrell