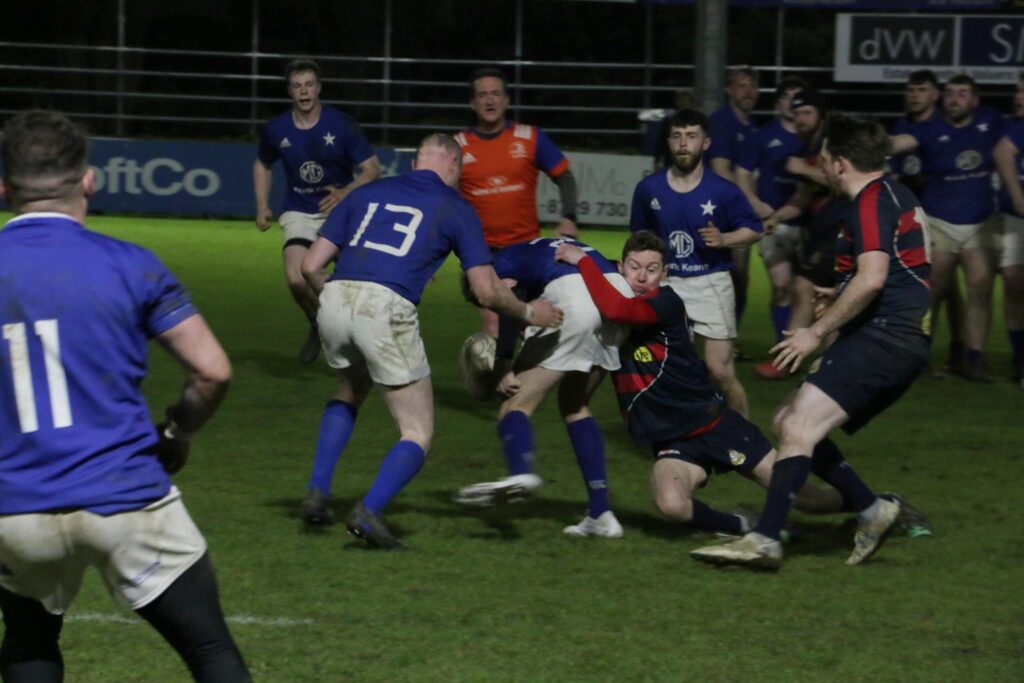 St. Mary's 24
Tallaght 1sts 17
Try: Rosemar Alves, Rob Hudson, Leon Tanfin
Conversion: Rob Hudson
Winters Cup Quarter-final
Templeville Road
05/04/2023
Tallaght's men's first team travelled to Templeogue to take on St. Mary's in the Winters Cup on a Wednesday evening under lights.
The game was pretty even for the first twenty minutes with both team's defences well on top. Eventually Mary's broke the deadlock by kicking a penalty to take a 3-0 lead. But Tallaght hit back when Aaron Hickey intercepted a pass from a scrum on halfway and raced away. He made it close to the line but Mary's conceded a penalty stopping him and Ezequiel Roldan Olivera took a quick tap and put prop Rosemar Alves over for a try to give Tallaght a 5-3 lead.
Mary's hit back and looked to have opened Tallaght up with a linebreak but wing Rob Hudson intercepted the ball and kicked ahead. He showed great pace to chase up his kick and touch down for a try. He converted his own try to make it 12-3 to Tallaght. Mary's hit back with a converted try to make the half-time score 12-10 to Tallaght.
In the second half Tallaght struggled with the referee's interpretation at the breakdown and started conceding a lot of penalties. Mary's place-kicking was excellent and they converted three of the penalties to take a 19-12 lead. Tallaght pored the pressure on Mary's but then a loose pass was picked up by Mary's who raced away to score to make it 24-12. Tallaght kept fighting and Adam Nolan's pass put Leon Tanfin in for a consolation try with the last play of the match to make the final score 24-17.
Tallaght head coach Matt Gill was disappointed with the result but proud of his team's effort. "We weren't at our best today but it's hard to pick up the rhythm again when we haven't played a match in a month. Credit to Mary's, they were the better team on the night and deserved their win. But it was a good cup-tie and I'm proud of the character the lads showed. While it's always disappointing to end the season with a loss, we need to remember we've won eight of the twelve games we've played this season. We just need to stay together and the days of lifting trophies will be back again soon."
"I want to thank all the players for their hard work this season. I also want to thank our assistant coaches Gary Brennan and Colin Keogh for their brilliant work. Thanks to Ste Heaney and all the committee for their tireless efforts and of course, the amazing Tallaght supporters who've been with us through thick and thin. Finally I want to make mention of a couple of lads who've played their last games for Tallaght tonight. Aaron Hickey is off to Canada, but he's been an absolute star for us over the last couple of seasons. And Tony McManus has been a brilliant servant to the club starting from youths rugby and becoming a stalwart in the front row for many years. Both lads will be missed but we hope to see them around in the years to come."
Man of the match: Daryl Keogh
Tallaght RFC
1. Alan Sower (Captain)
2. Tony McManus
3. Rosemar Alves
4. Patrik Toth
5. Alan Moore
6. Graham Timmins
7. Colin Morrison
8. Aaron Hickey
9. Ezequiel Roldan Olivera
10. Daryl Keogh
11. Rob Hudson
12. David Clarke
13. Simon Collie
14. Ciaran Rudd
15. Rob Browner
16. Adam Nolan
17. Matt Gill
18. Scott Hyland
19. Andy Rudd
20. Leon Tanfin

Photos: Alex Sadiku