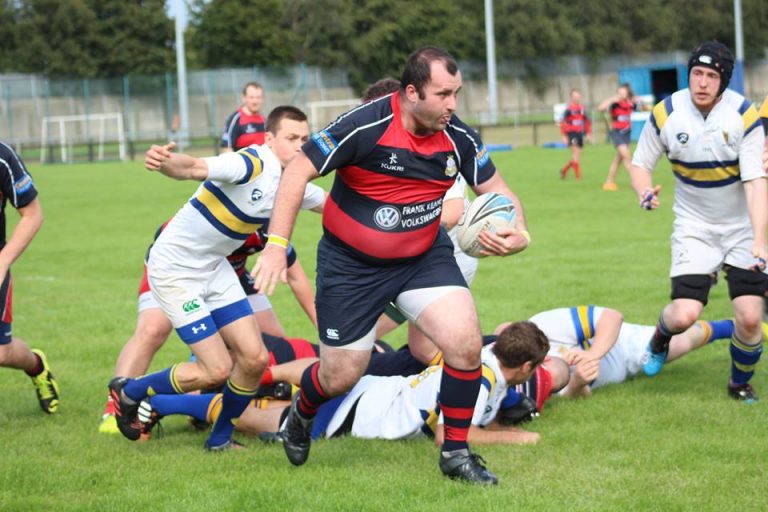 Tallaght 2nds 12
Try: Jide Adigun, Adam Nolan
Con: Adam Nolan
CYM 18
Guilfoyle James Cup
Tymon Park
11/04/2022
The Tallaght men's second team took on CYM at home on a miserable Tuesday evening in the lashing rain.
Tallaght started well and had possession in the CYM half but with handling treacherous in the conditions, they couldn't turn it into points. CYM started to dominate and Tallaght resisted with some stout defence with the likes of Brian Donnelly and Graham Timmins making some big hits. However after defending their line for an extended period CYM finally broke through for a try to make the halftime score 5-0 to CYM.
CYM kicked a penalty early in the second half to make it 8-0. But then after good pressure for Tallaght, wing Jide Adigun burst through two tackles to get over the line for a try to make it 8-5. CYM kicked another penalty to make it 11-5 but Mark Kenny's left boot was gaining yards for Tallaght and putting them in good positions. Flanker Mick Corrigan made a great break and kicked ahead and Tallaght won a penalty. From the penalty, Adam Nolan forced his way over for a try which he converted himself to give Tallaght a 12-11 lead with ten minutes to go. However Tallaght couldn't hold on and CYM scored a late converted try to make the final score 18-12.
Tallaght manager John Cowan was proud of his team's effort in their final game of the season. "We didn't want to ask the lads to play on the Easter Weekend so the only option was to play early on Tuesday evening. That meant a lot of the lads had to come straight from work but we got great numbers out, even with the rain pelting down. Though conditions were really tough, the lads put in a great performance and were unlucky in the end not to win it. So that's the end of our season and while it's been tough at times, we've put in some great performances and most importantly introduced a whole raft of new players to the club. I want to thank the players and the coaches for all their hard work."
Man of the match: The whole squad
Tallaght RFC

1. Brian Donnelly
2. Simon Gaskell
3. Joshua Sweeney
4. Graham Timmins
5. Joe Ivers (Captain)
6. Kevin Quinn
7. Mick Corrigan
8. Adam Nolan
9. Pedro Silva
10. Sean Smyth
11. Jide Adigun
12. Mark Kenny
13. Dave Mahon
14. Alex Sadiku
15. Wayne Stewart
16. Gavin McKeon
17. Luke Worrell
18. Karl Segrave