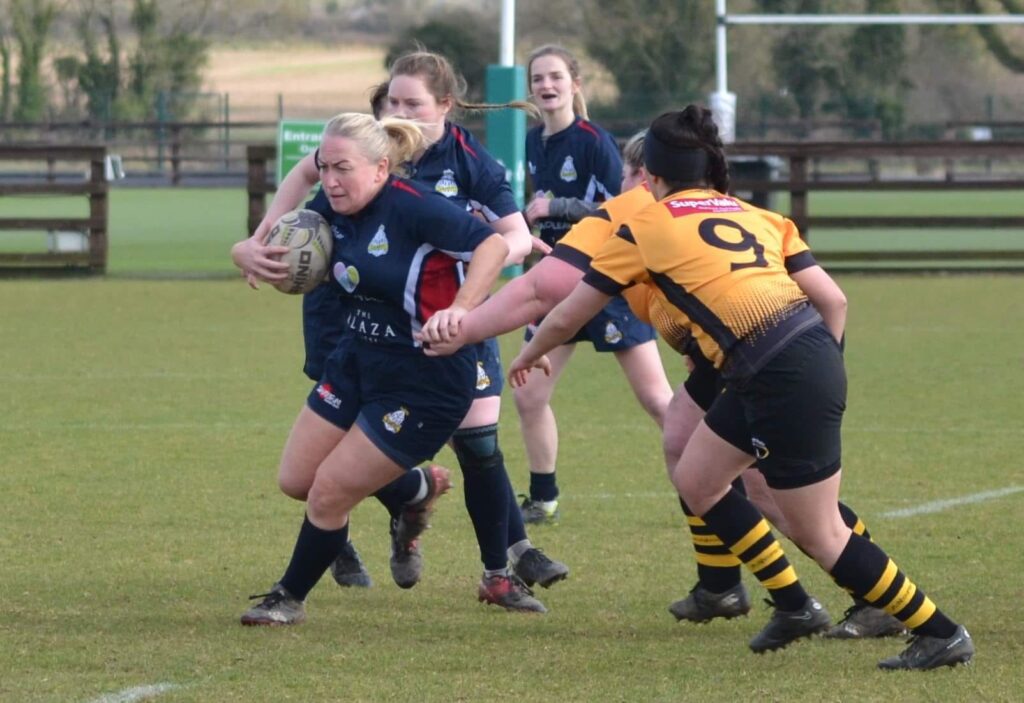 Martina Fitzpatrick
It's been a summer of change for Tallaght Rugby Club. Some great people have moved on for various reasons after making invaluable contributions to the club. Others have shifted roles and some former players have stepped up to coaching and committee roles. 
Martina Fitzpatrick has moved from Women's Developer officer and stalwart player to become the first female Director of rugby in the club's history. "Taking on the role of Director of Rugby was not an easy decision for me but I felt I had done all I could as Women's Development Officer so the move felt right this year. It's an honour to have been voted in, especially as I'm the first woman to do so for Tallaght Rugby.
Although we are a small club we have big plans and the committee is working hard to make those plans a reality, All the committee have full time jobs so it shows their love of the club to give up a large amount of their free time to Tallaght RFC. My main focus this year is recruitment for all teams. Specifically our club cannot grow without bringing the Youth Section on and the club is currently out and about in the Tallaght area holding free fun sessions called "Rugby on the Green" where we pick a green and invite children of all ages to take part in some rugby based fun activities! Tallaght is not known for rugby and we want to change that!
I am looking forward to the season ahead and I hope I look back in April next year and can feel proud of what was achieved by myself and the great club that is Tallaght Rugby!"

Former skipper Adam Nolan has been named as the men's first team head coach. 
"For me it's a massive honour to take over as Tallaght's head coach. From starting in the club as a youth player to becoming head coach it's an incredible honour. My hope for the season ahead is to help grow and develop the men's section with the hope of ending the season with silverware. The team has shown over the years the great quality in the squad, but there is an added challenge of losing some experienced players. But so far through preseason the growth and learning has been excellent with players really stepping up.
John Cowan continues in the key role of Manager of the men's seconds team.
"As manager of the Men's 2nds team, my goal is to help new players learn the game and to give any returning or veteran players an opportunity to continue to play the sport they enjoy at a level they are comfortable with. The club works hard to provide the people of Tallaght with the opportunity to play rugby, and I hope anyone interested in taking up the sport – especially during the World Cup – will come and join us. Our door is always open."
Hayley Whyle made a huge impact in her first season as Women's head coach winning Division 5, the first ever silverware for the women's team in the club's history. While she will remain as head coach she has also taken on the additional role of Women's development officer as well.
"Our hopes and aims for this season are to build on our foundations set last season. We have a number of new players down who have shown some great promise, as well as the welcome return of some experienced players. We have a big jump up this season in the higher league but we're all really looking forward to the challenge and rising to it! We have a new addition in our coaching set up with Shane Martens who has been a welcome addition, and brings a wealth of experience."
Tom Hall is continuing in the role of Youth Development Officer.
"I took on the role of Youth Development Officer two years ago. Tallaght was formed with youth in mind and has grown numbers significantly in the youth section in recent years. There is a thriving minis section for boys and girls under 12 and Tallaght is playing 15 a side youth rugby at under 13s and under 14s this season. Competition for players is a challenge with the amount of soccer and GAA clubs in the area. However, we have forged a wonderful culture at the club which keeps the youth in the area coming back.
We work with the local schools and together with Leinster organise schools blitzs throughout the year. We are always open to new players of all ages and abilities to join us. We also have opportunities for coaches to join the club for the youth section."
Stephen Heaney has moved from the Director of Rugby role to take over as Chairman,
"It's a huge honor to be trusted with the Chairman role, I'm excited to continue building on the great work others before me have done and hopefully maintain the momentum to secure our "forever home". There's a lot of exciting things happening in the club. To mention a few, the youth section is growing massively thanks to the great work of the YDO team and volunteer coaches. Our women's team is moving up to Div 4 after winning Div 5 last season and it will be great to see how they get on at the higher level. I'm looking forward to seeing how the men's teams go this year with the all-new coaching team made up of past players from the club Adam Nolan and Ciaran Rudd.
"Going into our 20th year as a club we truly do have a bright future ahead! We're providing a fantastic service to our members and local community. I'd like to thank all the volunteers for their hard work, it's not said enough but it's massively appreciated and we wouldn't be where we are without their tireless hard work. We've had some recent challenges along the way, pitch vandalism, covid-19, lack of grounds and resources but I'm very hopeful we're on an upward trajectory and will continue to grow together as a club."
"I'd encourage everyone young and old to consider signing up to rugby. There is something special about the sport and something truly special about Tallaght Rugby Club."
Ken McGovern is another player who has retired but has taken the role of Honorary Secretary. Luke Tyrell and Emma Louise Keogh will continue in the roles of Treasurer and Public Relations Officer respectively.
It's an exciting time across the club and they're eager to have more people join them on their journey.