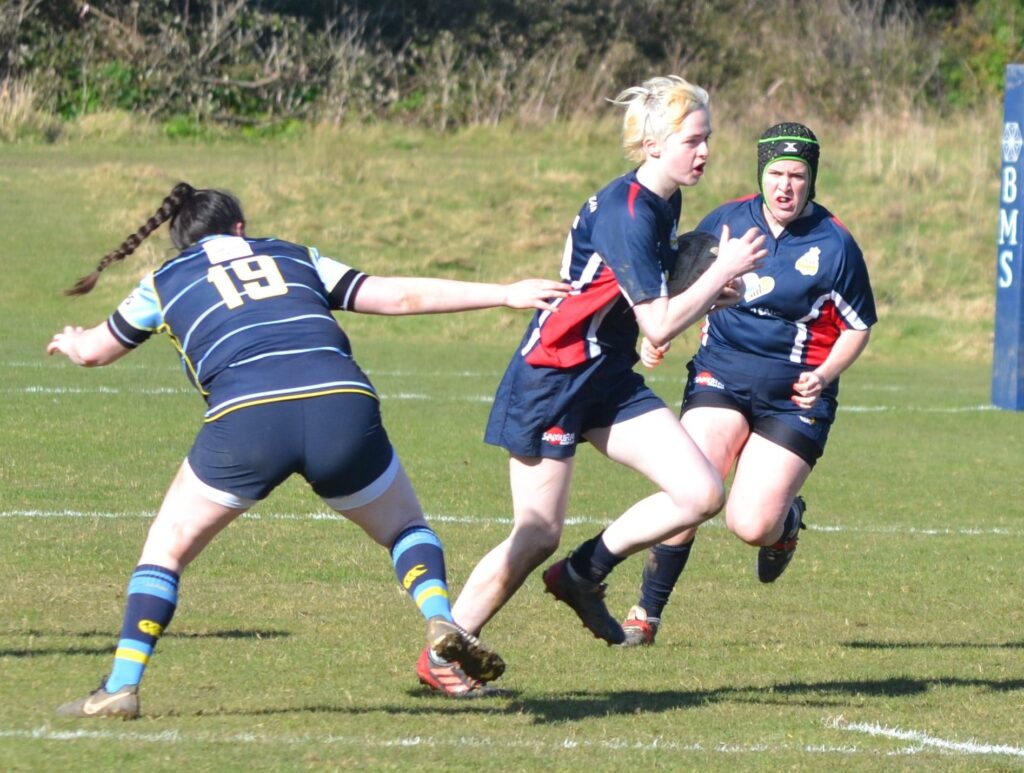 Abbie Keeley
Tallaght 73
Try: Aisling Pyke 4, Nicole Fanning, Eileen Shanahan 2, Sorcha Burns, Ellen Crotty, Abbie Keeley, Grainne Flood
Conversion: Grainne Flood 8, Louise Leonard
Tullamore 15

Women's Leinster Division 4
Tymon Park
24/09/2023
Tallaght's women's team played their first home game of the season against Tullamore in Division 4 of the Women's league.
Because Tullamore were short of players, the game was played with ten a side. But it didn't take Tallaght long to score. Aisling Pyke held her width and Grainne Flood got the ball out to her to streak away for the opening try of the match after two minutes. Tallaght had barely stopped celebrating before they were scoring again. Straight from the restart centre Nicole Fanning broke away for a try and Grainne Flood kicked the conversion to give Tallaght a 12-0 lead.
Tallaght's discipline wasn't great though and some needless penalties let Tullamore back into the game. They kept the ball through multiple phases and got over for a try to make the score 12-5. It didn't take for Tallaght long to respond though with Aisling Pyke bursting through to score her second try of the match. And once again Tallaght had two tries in two minutes as skipper Eileen Shanahan broke away to score under the posts. Grainne Flood converted both to make the score 26-5 to Tallaght.
Credit to Tullamore, their heads didn't drop. They hung onto the ball well and their exciting winger broke away for two fine tries to reduce the deficit to 26-15 and briefly threaten to make the game a contest. However Sorcha Burns soothed any Tallaght nerves by breaking away and riding a despairing tackle to score a try in the corner. This made the half-time score 31-15 to Tallaght.
In the second half Tullamore began to tire and skipper Eileen Shanahan broke away for her second try of the match. With Flood off the field, her wife Louise Leonard took over the kicking to make it 38-15. Shanahan could have had a hat-trick shortly afterwards after breaking clear again. But she unselfishly tried to pass to a supporting runner and the ball went to ground. It didn't matter though as instead Aisling Pyke completed her hat-trick of tries shortly afterwards. Pyke then scored her fourth try of the match to make it seven tries in the first two games of the season for the centre.
Ellen Crotty scored a typical breakaway try and then Abbie Keeley got in for her first try of the season. The last word was left to Grainne Flood who scored and converted the final try of the match for a 21 point haul making the final score 73-15 to Tallaght.
Tallaght's head coach Hayley Whyte was delighted with the performance. "It was a bit of a challenge for us to play with reduced numbers with constant rotation of players. But I felt we adapted well and were really ruthless when we got chances. Shout out to Aisling Pyke who's scoring tries for fun at the moment and Eilleen Shanahan and Lisa O'Connell had really influential games. But Grainne Flood is the player of the match with her 21 points and moving from fly-half to scrum-half when needed. We're away to Edenderry next weekend, which we believe will be a tough test. But we're looking forward to the challenge and thanks as always for the great support we received on the sideline."
Player of the match: Grainne Flood
Tallaght RFC
Lorraine McManus
Orlaith Plunkett
Martina Fitzpatrick
Abbie Keeley
Samantha Ledden
Kim Littlefield
Lisa O'Connell
Louise Leonard
Eileen Shanahan (Captain)
Grainne Flood
Niamh Moore
Aisling Pyke
Nicole Fanning
Ellen Crotty
Sorcha Burns
Lisa Kennedy
Karen Corrigan
Aimee Travers
Nikita Murray
Jensen Byrne
Roisin Nic Ulieagoid
Doireean O'Byrne