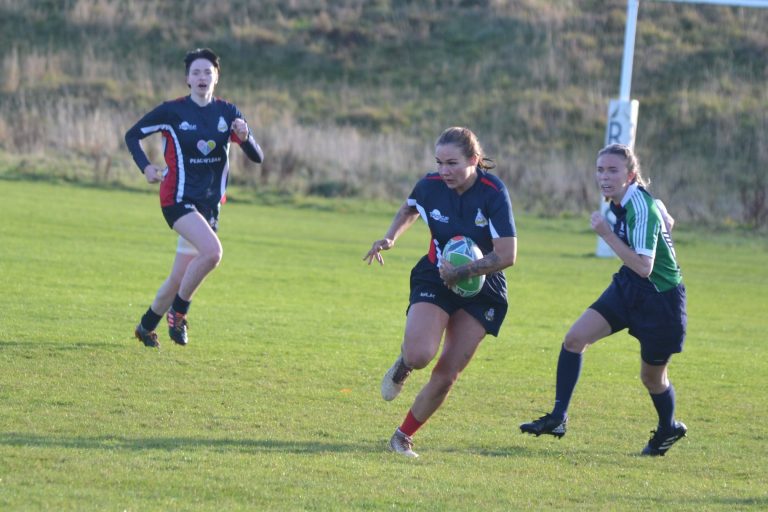 Chloe Conroy
Edenderry 22
Tallaght 14
Try: Martina Fitzpatrick, Chloe Conroy
Conversion: Louise Leonard 2

Women's Leinster Division 4
Coolavacoose
01/10/2023
Tallaght's women's team travelled to Offaly to take on Edenderry in Division 4 of the Women's league.
Tallaght got trapped in their own half for most of the first half but defended gamely. But from a five metre scrum the ball squirted out the side and the Edenderry scrum-half Aoife Shakespeare pounced on the ball and ran over unopposed for the try. It gave Edenderry a 5-0 lead which they kept until half-time in a game where both teams struggled to get fluency. Tallaght wing Niamh Moore put in a couple of massive tackles which were the highlight of the first half for Tallaght.
In the second half the physicality of the game took its toll with Tallaght picking up some knocks to key players. Tallaght did look certain to score when Aisling Pyke took a superb line off a ruck to break through the defence. She looked certain to score but was only denied a certain try by a high tackle ten yards out from the line. It might have been a yellow card and a penalty try but instead the referee only gave a penalty, From the penalty Tallaght were camped on the line but when the ball went wide it was knocked on by Edenderry to kill the chance and the referee completely missed it. To make it worse Edenderry went straight down the field and scored a fine try through right wing Leah Grant. Grant was soon on the scoresheet for a second time and both tries were converted by Faye Lynch to give Edenderry a commanding 19-0 lead.
Tallaght kept fighting and replacement Emma Irvin started to make inroads with some big carries. Vice captain Martina Fitzpatrick started to come into the game in a big way and she forced her way over the line for a try which Louise Leonard converted to make it 19-7. Edenderry came back up the field and smartly kicked a penalty in front of the posts to make it 22-7. That penalty would show its value when replacement Chloe Conroy forced her way over from close range which Leonard again converted to make it 22-14, just a point outside a losing bonus point for Tallaght. Tallaght kept coming but ultimately they ran out of time.
Tallaght's head coach Hayley Whyte was disappointed with the result but proud of her player's attitude. "Today was a serious step up from the last couple of weeks. Edenderry played well and we couldn't get going in the first half which was frustrating. It was a tough, physical game and we lost a couple of key players. But we stuck at it and started to show what we could do in the second half helped by the likes of Chloe Conroy, Roisin Nic Ulieagoid and Emma Irvin who all came off the bench to make a big impact. Emma came on and just took on Edenderry physically with her ball carrying. It's been tough playing three weeks in a row but we have next week off before back to back home games against Wanderers and South East Lions. We'll take the lessons from today and try to improve to bring ourselves up to this level."
Player of the match: Emma Irvin
Tallaght RFC
Karen Corrigan
Orlaith Plunkett
Samantha Ledden
Lorraine McManus
Martina Fitzpatrick
Kim Littlefield
Lisa O'Connell
Louise Leonard
Eileen Shanahan (Captain)
Grainne Flood
Niamh Moore
Aisling Pyke
Nicole Fanning
Sorcha Burns
Doireean O'Byrne
Lisa Kennedy
Nikita Murray
Aimee Travers
Emma Irvin
Jensen Byrne
Roisin Nic Ulieagoid
Chloe Conroy