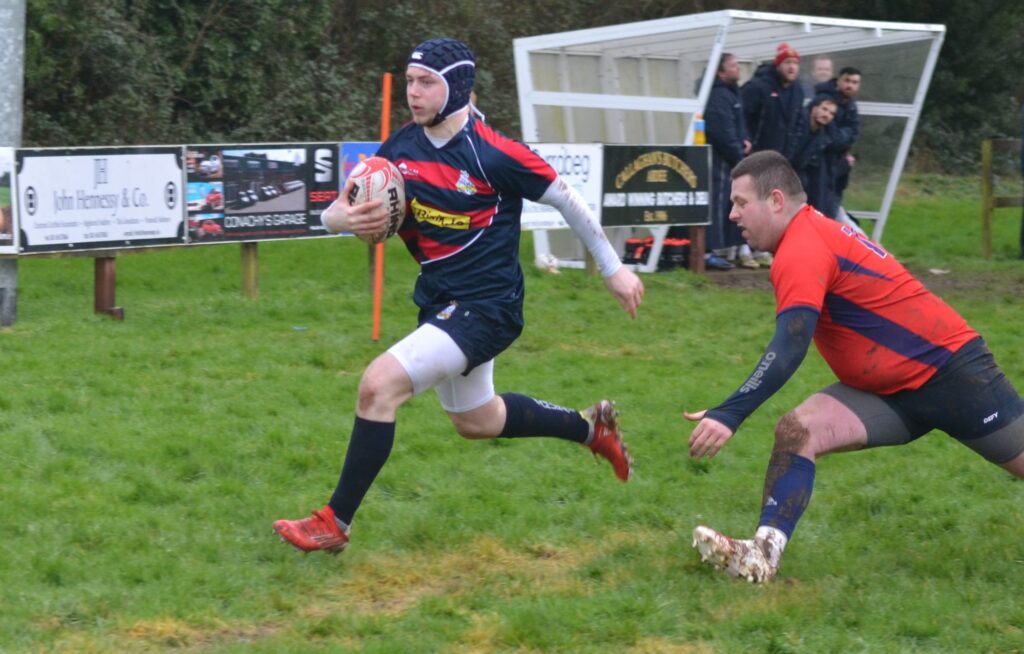 Leön Tanfin
Old Wesley 24

Tallaght 35
Try: Darryl Keogh, Rob Hudson, Leon Tanfin, Andy Rudd
Penalty: Rob Hudson 2, Mark Kenny
Conversions Rob Hudson 2, Mark Kenny

Metro League Division 6
Donnybrook
14/10/2023
Tallaght took on Old Wesley in their first away game of the season in Metro Division 6.
Tallaght started confidently with number eight Colin Morrison making some strong carries. The Tallaght scrum was also going well. Tallaght did suffer an early blow though when experienced centre Simon Collie had to be replaced due to injury. From a scrum inside the Wesley 22 metre line Dave Clarke put inside centre Darryl Keogh over for a try under the posts. Rob Hudson converted the try and then tacked on a penalty to give Tallaght a 10-0 lead.
But the experienced Wesley team hit back with a try to make it 10-5 after 25 minutes. Tallaght responded with a double whammy to surprise their hosts. First full back Raheel Hussain made a great break and put Rob Hudson away to finish with aplomb in the corner. Two minutes later Hudson kicked ahead and regathered his chip. He immediately offloaded to replacement centre Leon Tanfin who streaked away to score under the posts. Hudson converted to give Tallaght a 22-5 lead at halftime.
In the second half Tallaght started brightly and Hudson kicked an excellent penalty into the wind to increase the lead to 25-5. Old Wesley are an experienced team though and it was their turn for a period of dominance. They got their offloading game going and got two converted tries from it to reduce the defecit to 25-19 with 20 minutes to go.
However Tallaght started to fight their way back into the contest. The front row of skipper Alan Sower, Rosemar Alves and Brian Lacey were massive in the scrum and in the loose. Flanker Jordan Corrigan made some big hits and Kevin Quinn was at his spiky best carrying from the second row alongside the tireless Patrik Toth. Mark Kenny came off the bench to take over the kicking and kicked a penalty to make it 28-19. Old Wesley tried to fight back but in their desperation they threw a loose pass which Andy Rudd intercepted smartly to run in a try to seal the game. Old Wesley got over for one more try to leave the final score a deserved 35-24 win for Tallaght.
It was new Tallaght Head Coach Adam.Nolans first win and he was immensely proud of his team. "We played some great rugby in the first half and scored some terrific tries to take a strong lead. We dropped our intensity a bit in the second half and fine team that Wesley are, they got back into into it. But I'm really proud of the character we showed to work our way back down the pitch and get the scores to see the game out. Our bench came on and made a positive impact as well which was great for the whole squad."
"A lot of players had big games for us today. Rosemar Alves and Mick Corrigan worked very hard up front and Rob Hudson and Darryl Keogh were outstanding in the backs. But Leön Tanfin came off the bench to replace Simon Collie and the biggest compliment I can pay him is that we didn't miss Collie. He made several big tackles, a couple of smart turnovers and took a superb support line for his try. We're looking forward to next week's game against Trinity at home to see how this team can progress further."
Man of the match: Leön Tanfin
Tallaght RFC
1. Alan Sower (Captain)
2. Brian Lacey
3. Rosemar Alves
4. Patrik Toth
5. Kevin Quinn
6. Mick Corrigan
7. Jordan Corrigan
8. Colin Morrison
9. Andy Rudd
10. David Clarke
11. Rob Hudson
12. Daryl Keogh
13. Simon Collie
14. Alexsandro Sadiku
15. Raheel Hussain
16. Gavin McKeon
17. Adam Nolan
18. Saeed Mekki
19. Mark Kenny
20. Josh Worrall
21. Sean Smyth
22. Luke Worrall
23. Leön Tanfin