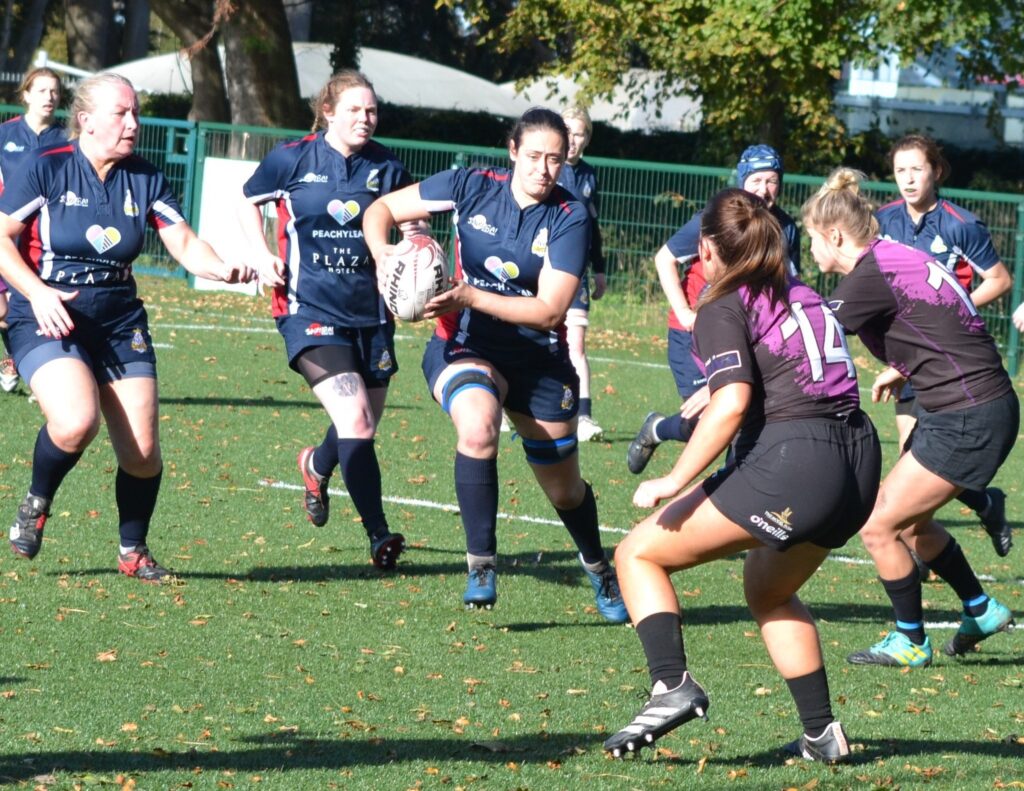 Tallaght 46
Try: Aisling Pyke, Sorcha Burns, Ellen Crotty 3, Abbie Keeley, Eileen Shanahan, Nicole Fanning
Conversion: Grainne Flood 3
South East Lions 7

Women's Leinster Division 4
Blackrock College
22/10/2023
It was first versus second in the table as second-placed Tallaght took on table toppers South East Lions in Division 4 of the Women's league. With their home pitch declared unplayable after Storm Babet, Blackrock College kindly allowed Tallaght the use of their all-weather pitch.
The Lions started well and got the first try of the match through their big forwards and converted to take a 7-0 lead. But Tallaght hit back quickly and smart passing from Grainne Flood and Sorcha Burns put Aisling Pyke in for a try in the corner to make it 7-5. On a sunny and dry October day with barely any wind conditions were perfect for running rugby, especially on the fast track. Tallaght advanced up the field off multiple phases and wing Sorcha Burns finished off the try in the left hand corner to give Tallaght a 10-7 lead.
The Lions came back and had some phases in the Tallaght half but the Tallaght defence held out. Then from a scrum number eight Louise Leonard put wing Ellen Crotty away and she raced home to score a great try. Grainne Flood converted to make it 17-7 to Tallaght. Straight from the kick-off Leonard and Crotty combined again for an almost identical try to make it 22-7 to Tallaght. The Lions hit back again and had some good phases close to the Tallaght line with their powerful ball carriers.
But once again Tallaght's defence held them out and second row Abbie Keeley broke away for a fine try to make it 27-7. Then Ellen Crotty raced away again to complete her hat-trick of tries and Grainne Flood converted to make the half-time score 34-7 to Tallaght.
The Lions were struggling for numbers and so the second half was played with thirteen a side. It didn't slow Tallaght down though. More fine passing between the backs and the forwards released skipper Eileen Shanahan for another try. Then prop Karen Corrigan showed great handling skills twice in the same move to help Nicole Fanning score the final try of the match. Grainne Flood converted to make the final score 46-7.
Tallaght's head coach Hayley Whyte was delighted with her side. "I was really proud of the way we played today. It was a tough start but no one panicked and we worked our way back into the game. Our passing and support play from the forwards and backs was superb. We played heads up rugby and backed ourselves and got the reward with eight tries. Every single player made a great contribution but Louise Leonard made multiple assists and that earns her the player of the match award. We have the bank holiday weekend off next week but we're looking forward to Kilkenny away on Friday the 3rd of November."
There was further good news for Tallaght with the confirmation that Director of Rugby, Women's vice captain and all round club legend Martina Fitzpatrick has been nominated for the Philip Preston award for Tallaght person of the year. There would be few more deserving winners.
Player of the match: Louise Leonard
Tallaght RFC
Karen Corrigan
Nikita Murray
Emma Irvin
Samantha Ledden
Abbie Keeley
Martina Fitzpatrick
Lisa O'Connell
Louise Leonard
Eileen Shanahan (Captain)
Grainne Flood
Sorcha Burns
Aisling Pyke
Nicole Fanning
Ellen Crotty
Niamh Moore
Stacey Vernon
Jensen Byrne
Lisa Kennedy
Vicky Cobbe
Kim Littlefield
Doireann O'Byrne
Chloe Conroy