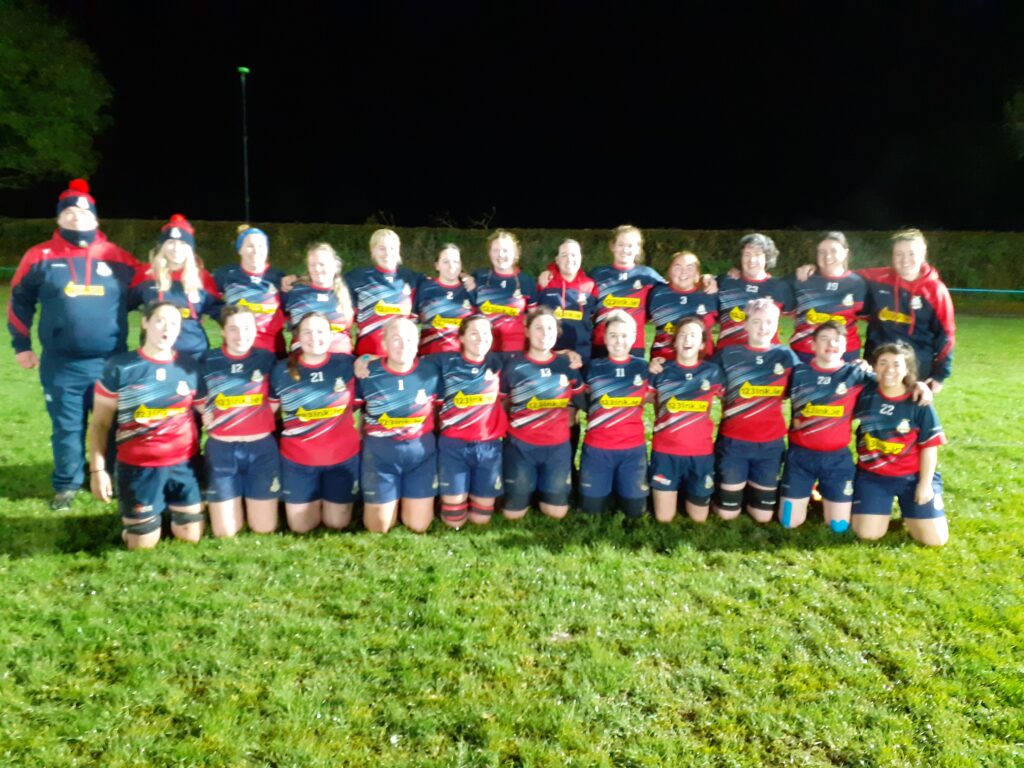 Kilkenny 17
Tallaght 20
Try: Ellen Crotty, Abbie Keeley, Eileen Shanahan
Conversion: Louise Leonard
Penalty: Louise Leonard

Women's Leinster Division 4
Foulkstown
03/11/2023
The Tallaght women's team took on Kilkenny away on a cold but dry Friday evening in Division 4.
Tallaght started well and were camped in the Kilkenny twenty two for the opening ten minutes. But the Kilkenny defence was resolute and Tallaght couldn't score. Then Kilkenny had a strong period of pressure in the Tallaght twenty two but the Tallaght defence held out and eventually forced a turnover. The game continued in that pattern for the first 30 minutes with defences on top.
Tallaght broke the deadlock when they started getting their offloading game going. Hooker Orlaith Plunkett made massive yardage off a carry taking Tallaght close to the Kilkenny line. From a forthcoming tap penalty, Louise Leonard put wing Ellen Crotty over in the corner for the first try of the match and Tallaght led 5-0. Kilkenny hit back strongly forcing Tallaght to concede several penalties in their own half. Eventually the pressure told as they scored with the last play of the half and converted the try for a 7-5 half-time lead.
Kilkenny kept the pressure on at the beginning of the second half. Tallaght defended heroically, repelling Kilkenny several times but eventually Kilkenny got over the line again to take a 12-5 lead. It wasn't looking good for Tallaght but they attacked from deep in their half and nearly every player touched the ball as they passed their way forward. As they got closer to the Kilkenny line Emma Irvin offloaded to Louise Leonard who juggled the ball but just kept control to put Abbie Keeley over for the try. Leonard converted a magnificent team try to tie the match at 12 points each.
Tallaght had the momentum now and more sharp passing inside their own half released skipper Eileen Shanahan who outpaced the cover to run in a superb try from the halfway line to make it 17-12 to Tallaght. With the game in injury time, Kilkenny hit back again with another try but the conversion drifted wide so the scores were tied again at 17-all. But Tallaght had two minutes left and they got back down the pitch and won a penalty to the right of the posts. Louise Leonard showed composure to knock over the penalty over to make it 20-17 to Tallaght. There was still time for Kilkenny to kick off but the ball didn't go ten yards. From the scrum on halfway, Tallaght just needed to kick the ball out to win and Shanahan duly obliged to end a cracking contest.
Head coach Hayley Whyte was thrilled with her side's performance. "It was a tough first half but we defended really well. In the second half we adjusted our approach and started attacking out wide and trusting our handling skills. We were rewarded with a couple of fantastic tries and even though Kilkenny kept fighting back, we had the belief to get back down for the winning kick. It was such a great team performance that I couldn't pick a player of the match so the whole squad gets it. I want to thank the new women's team shirt sponsors 123ink.ie. It was our first game wearing the new kit and it was great to get a win on the road in it."
Player of the match: The whole squad
Tallaght RFC
Martina Fitzpatrick
Orlaith Plunkett
Emma Irvin
Samantha Ledden
Abbie Keeley
Kim Littlefield
Lisa O'Connell
Louise Leonard
Eileen Shanahan (Captain)
Grainne Flood
Sorcha Burns
Aisling Pyke
Nicole Fanning
Ellen Crotty
Doireann O'Byrne
Shauna Fitzgerald
Lisa Kennedy
Hilary Allen
Roisin Ni Uileagoid
Jensen Byrne
Chloe Conroy