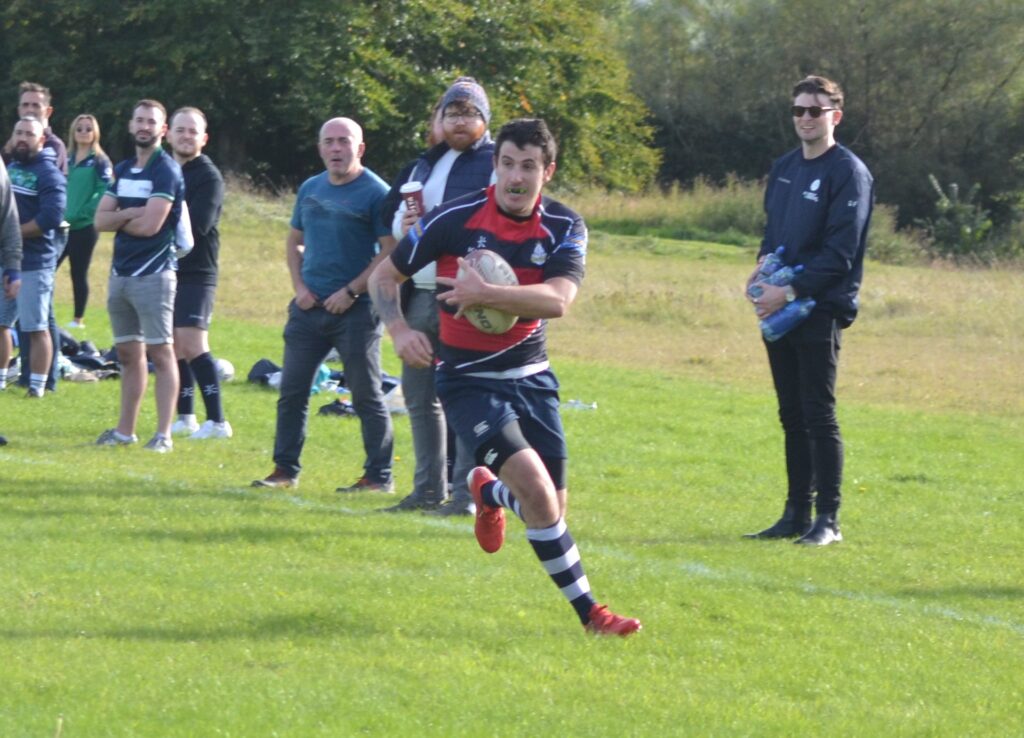 Swords 12

Tallaght 16
Try: Kevin Quinn
Penalty: Rob Hudson 3
Conversions Rob Hudson

Metro League Division 6
Balbriggan RFC
4/11/2023
Tallaght took on Swords in Metro Division 6 in a game moved to Balbriggan RFC as the Swords home pitch was waterlogged.
Tallaght struggled in the first half in the soggy conditions to impose themselves on the game. They weren't helped by their discipline which gifted Swords several penalties of which they kicked four to take a 12-0 lead. Yellow cards for Andy Grace and Graham Timmins also didn't help. Rob Hudson did kick a penalty for Tallaght to make it 12-3 at half-time.
Tallaght improved in the second half though. Hudson kicked two more penalties to make it 12-9 and then Kevin Quinn forced his way over the line for a try which Hudson converted to make the final score 16-12 to Tallaght. The win puts Tallaght in third place in the table.
Tallaght head coach Adam Nolan was relieved to get the win but proud of his team's effort. "We were a little lucky today if we're honest. We didn't do ourselves any favours with our discipline especially with backchat to the ref. Despite the poor discipline and giving Swords a lead, the team showed great character to stick together to make an excellent comeback! From 12-3 down at half time to keep Swords scoreless in the second half and score 13 unanswered points is incredible. Everyone played their part and really stepped up in the second half. We didn't play our best but it's the sign of a good side to win when not playing well and the lads showed excellent character to play themselves back into the game."
"There were some big performances again this week with skipper Alan Sower, Simon Collie and Patrik Toth to just name a few. But Daryl Keogh really shone playing at scrum-half for the first time and grew as the game went on. Jordan Corrigan started at number eight today, also a first for him, and was a monster in the loose. So Jordan and Daryl are our joint men of the match. Special mention to Colin Quill who played his first game for Tallaght today and great to see club legend Andy Caswell back in a Tallaght jersey.
Joint man of the match: Daryl Keogh/Jordan Corrigan
Tallaght RFC
1. Andy Grace
2. Brian Lacey
3. Rosemar Alves
4. Graham Timmins
5. Kevin Quinn
6. Mick Corrigan
7. Alan Sower (Captain)
8. Jordan Corrigan
9. Daryl Keogh
10. David Clarke
11. Mark Kenny
12. Rob Hudson
13. Simon Collie
14. Alexsandro Sadiku
15. Raheel Hussain
16. Simon Gaskell
17. Andy Caswell
18. Saeed Mekki
19. Patrik Toth
20. Colin Quill
21. Dave Mahon
22. Ciaran Rudd