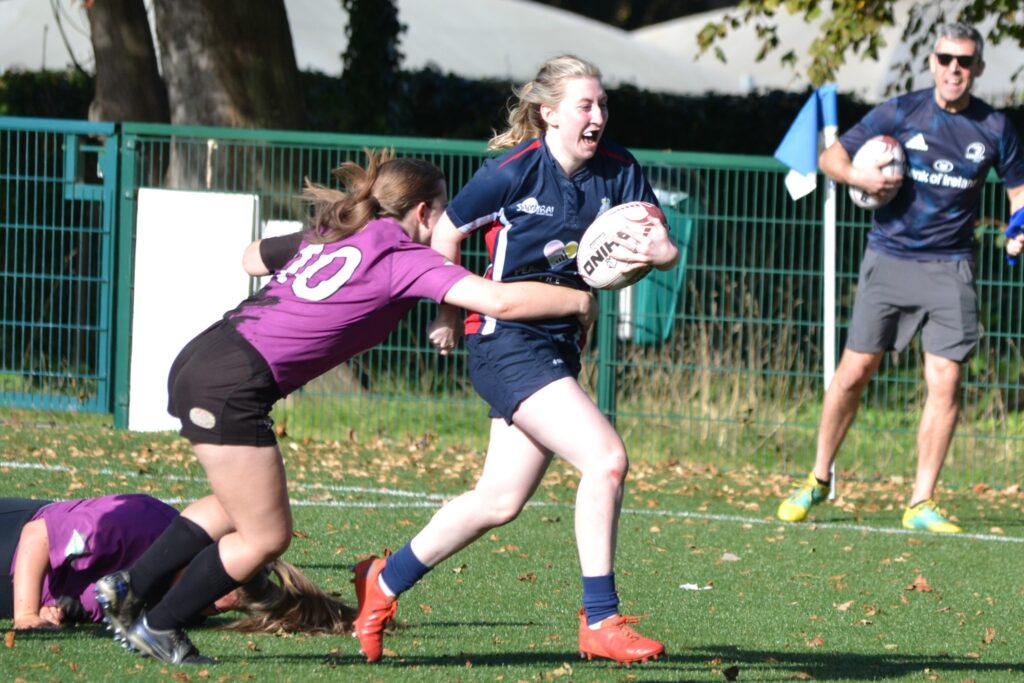 Ashbourne 25
Tallaght 15
Tries: Niamh Moore, Lorraine McManus, Roisin Ni Uileagoid

Women's Leinster Division 4
Archerstown Road
12/11/2023
The Tallaght women's team took on Ashbourne away in Division 4 looking to maintain their place at the top of the table.
The two teams renewed their rivalry after Tallaght beat Ashbourne to win Division 5 last season, although Ashbourne knocked Tallaght out of the cup before going on to win it. Ashbourne started the game well and were carrying aggressively. Tallaght were tackling too high and conceded a couple of penalties. After sustained pressure, Ashbourne broke through to score the first try of the game to take a 5-0 lead.
Tallaght hit back quickly though. Strong carries from Orlaith Plunkett and Nicole Fanning forced Ashbourne to concede a series of penalties in their twenty two. From a tapped penalty Louise Leonard went to the blindside to put winger Niamh Moore in for her first try for the club to tie the game at 5-all. Ashbourne hit back with another try to make it 10-5. Tallaght responded again with a superb flowing move which was completed when Lorraine McManus and Doireann O'Byrne exchanged passes and McManus touched down the try in the corner. Then the Ashbourne left wing busted through two tacklers to race away to score a fine try which made it 15-10 to Ashbourne at half-time.
Tallaght needed a strong start to the second half but Ashbourne's tactical kicking game was strong and put them in good positions. Tallaght's tactical kicking suffered by comparison and they found themselves getting bogged down in their own half. There was some brave resistance from Tallaght though particularly from replacement full back Jensen Byrne who made superb cover tackles on three different occasions to save certain tries. Eventually the pressure told though and Ashbourne scored a converted try to take a 22-10 lead.
Tallaght fought back again and a nice pass from Nicole Fanning put replacement Roisin Ni Uileagoid in for her first try for the club in the left hand corner to make it 22-15. With time running out though more poor discipline from Tallaght conceded a penalty in front of the posts which Ashbourne kicked to make the final score 25-15 and deny Tallaght a losing bonus point.
Head coach Hayley Whyte was disappointed with her side's performance. "Credit to Ashbourne, they played better and deserved their win but we left that game behind us today if we're honest. Our tackling, decision-making, ruck speed, line speed and discipline was second best all day. It was a big game but we lacked that big game intensity from the start. When we played as a team, we connected with each other and scored some great tries. But too many players were playing as individuals looking to win the game on their own with a moment of brilliance. But those moments won't win games like this, we have to play as a team and play the gameplan. I know and the team knows that we're better than what we showed today."
"We've played every team in this Division now and have won five and lost two. But we'll have Edenderry and Ashbourne at home in the second half of the season. I still believe we can win this league but we have to take the lessons from today into the rest of the season."
Player of the match: Jensen Byrne
Tallaght RFC
Samantha Ledden
Orlaith Plunkett
Emma Irvin
Martina Fitzpatrick
Lorraine McManus
Kim Littlefield
Lisa O'Connell
Louise Leonard
Eileen Shanahan (Captain)
Grainne Flood
Abbie Keeley
Nicole Fanning
Chloe Conroy
Niamh Moore
Doireann O'Byrne
Shauna Fitzgerald
Lisa Kennedy
Karen Corrigan
Nikita Murray
Jensen Byrne
Roisin Ni Uileagoid