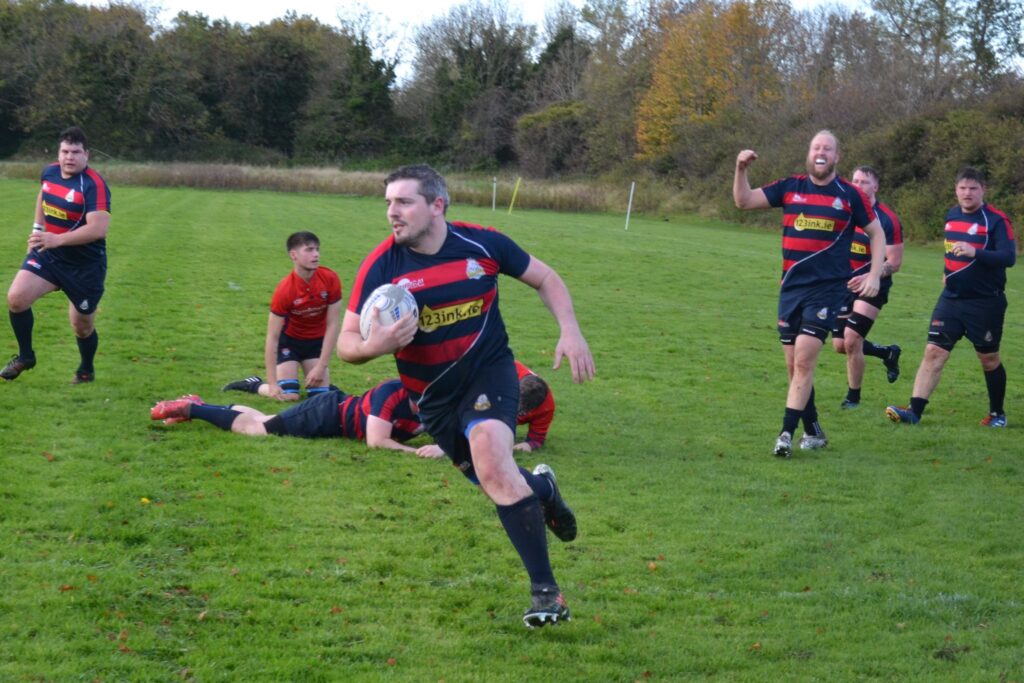 Greystones 18

Tallaght 18
Try: Alex Sadiku, Leön Tanfin, Mick Corrigan
Penalty: Rob Hudson

Metro League Division 6
Dr. Hickey Park
11/11/2023
Third placed Tallaght took on first placed Greystones in Metro Division 6 in a game moved to Greystones as the Tallaght home pitch was declared unplayable by the council despite hardly any rain during the week.
Tallaght started well and were making good progress off strong carries from Brian Lacey and Jordan Corrigan which earned Tallaght a penalty shot at goal. It was away to the left from a good distance out but Rob Hudson nailed it to give Tallaght a 3-0 lead.
Then from a scrum just inside their own half half backs Darryl Keogh and Dave Clarke launched a backline move. Leon Tanfin made the break and fed full back Raheel Hussain. Hussain passed to Hudson who timed his pass perfectly for fellow wing Alex Sadiku to score his first competitve try at this level. This made it 8-0 to Tallaght but Greystones hit back with a converted try to make the halftime score 8-7.
At the start of the second half Greystones were dominant. They got their offloading game going and found spaces out wide in the Tallaght defence. They scored an unconverted try and added a penalty kick to take a 15-8 lead. Greystones came again at Tallaght and were camped in their twenty two but big hits by Darryl Keogh, Al Sower and Graham Timmins kept them out.
Tallaght started getting on.the front foot again and from a break by Darryl Keogh Tallaght earned good field position for tight head prop Adam Nolan to launch a speculative cross field kick with a trajectory that could only be described as "wonky". Miraculously Leon Tanfin was able to pluck the kick from the air and get over the line for a try. This reduced the deficit to 15-13 but Greystones hit back again with a penalty to make it 18-13. Tallaght kept going though and in the final play of the game Kevin Quinn put Mick Corrigan over in the corner for a try to tie the game up. It was also Corrigan's first try at this level. The difficult touchline conversion was missed meaning the very entertaining contest finished an 18-all draw.
Tallaght head coach Adam Nolan was proud of the his team came back. "We played really well in the first half, our shape in both attack and defence was really good. We slipped off that level for ten minutes at the start of the second half and they got a decent lead. But once again, we showed great character to come back and snatch a draw. Greystones are a good side so to come away with two points is a decent result and the lads are actually disappointed we didn't win. We had a tough start to the season with a couple of heavy defeats but the lads has bounced back really well."
"There were lots of contenders for man of the match. Brian Lacey and Kevin Quinn carried the ball very strongly up front and Leön Tanfin and Alex Sadiku were both excellent in attack and defence. But we went with Mick Corrigan as man of the match. Mick is one of a number of players who's come into the team this season and he's improved with every game. He's converted from winger to flanker in the last couple of seasons and he's eager to learn and works really hard. The whole squad was delighted to see him get his first try at this level. We've a tough run of three games in a row now before the Christmas break but we're enjoying our rugby again and we're looking forward to it."
Man of the match: Mick Corrigan
Tallaght RFC
1. Alan Sower (Captain)
2. Brian Lacey
3. Adam Nolan
4. Graham Timmins
5. Patrik Toth
6. Mick Corrigan
7. Kevin Quinn
8. Jordan Corrigan
9. Daryl Keogh
10. David Clarke
11. Rob Hudson
12. Simon Collie
13. Leön Tanfin
14. Alexsandro Sadiku
15. Raheel Hussain
16. Colin Morrison
17. Sean Smyth
18. Karl Segrave
19. Mark Kenny
20. Luke Worrall
21. Dave Mahon